(Last Updated On: January 16, 2023)
This post contains affiliate links which means that if you click and make a purchase I may receive a small commission, at no cost to you. All opinions are my own.
Touring Graceland is at the top of many tourists' minds when planning to visit Memphis. Here are a few tips for visiting Elvis's home.
I became an Elvis fan when I was young. As a latchkey kid, I watched a LOT of television, and I loved musicals.  I first discovered Elvis the actor when I stumbled upon the "Beach Party"-isk movies. At some point, I watched more of his films and listened to his music, and really liked it.
While I really like Elvis, I don't think of or refer to him as the King of Rock 'N Roll. I know music history too well to give him that moniker. But when I visited Memphis, Tennessee, for a travel conference, Touring Graceland – the home of Elvis Presley, was at the top of my list during my first visit to Memphis, Tennessee. 
[This post on Touring Graceland was originally published in August 2020, and updated in August 2022.]
If you're planning a visit to Graceland, here are a few tips to help you plan.
Touring Graceland: A little History
Graceland is the home Elvis purchased in 1957 when he was 22 years old. He bought the house for $102,500, and it sits on nearly 14 acres and is located in at 3764 Elvis Presley Boulevard in Memphis, Tennessee. 
Touring Graceland: Logistics
Once at the Graceland, visitors can go to the ticket office to decide what type of Elvis experience they want, and pay the entry fee. I found the ticket rates to be very pricey. As of the date of this blog, the ticket options and prices are:
Ultimate VIP Tour: $196.00

Elvis Entourage VIP $128

Elvis Experience Tour  $44-$77 ($44 for children and $77 for adults)

Elvis Presley's Memphis + Planes $27- $48
There are discounts available for Seniors, Active and Retired Military and AAA Members.
I opted for a basic self-guided tour that included the Graceland Mansion and grounds tour. I decided not to pay the additional $5-10 to tour Elvis's airplane.
The on-site parking costs $10.
Touring Graceland:  The Experience
The tour starts in the visitor center with a brief movie about the life and legacy of Elvis. After that guests were ushered into an outdoor covered waiting area where we waited for a minibus to drive us across the street to the Graceland mansion.
Once outside of the famed front steps, a Graceland docent gives a brief introductory explanation of how and when Elvis purchased the home and land and we were invited to start our self-guided tour. Each guest is given an iPad and a set of headphones for the tour. I was surprised to discover that tour is narrated by Elvis enthusiast, "Uncle Jesse" or John Stamos from the sitcom Full House.
Stepping into Graceland felt like entering a 70s-time capsule. Each room is decorated in the kitschy 70s style that Elvis was famous for. The virtual aspects of the tour added context which helped to bring the rooms to life. I enjoyed the interactive features including photos and videos of Elvis in the rooms.
The most famous room in the house is the Jungle Room. It was decorated after Elvis's favorite vacation spot – Hawaii.  There's green carpet everywhere… including on the ceilings. There's also wooden furniture, and intricate wood carvings on display in this room.
The pool room was interesting. Fabric covered the walls and ceiling. It reminded me of something out of a horror film. Elvis's media room was bright yellow and blue. He apparently had three televisions going at all times, two to watch two different new stations and one for comedy.
Touring Graceland: The Grounds & Meditation Gardens
After touring the mansion, visitors can head outdoors to tour the grounds which included Elvis's trophy room, his father's office, a swimming pool, and the final stop was the Meditation Garden. 
Elvis, his mother, father and twin brother who was sand other members of his family are buried there. From here you take a mini-bus back to the main building.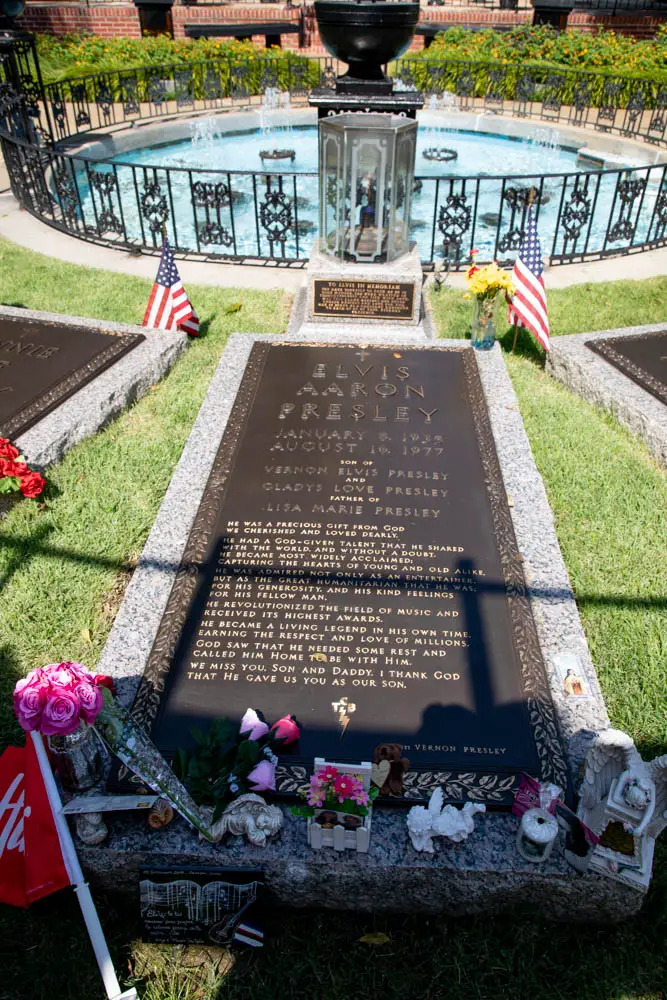 Touring Graceland: The Museum and Shops
There is a museum and movie studio near the main building and entrance. In this area, you can tour Elvis's cars, clothing, and other memorabilia. For an added fee you can also tour the Lisa Marie, Elvis's airplane. There's the Graceland Guesthouse, which is a hotel for visitors who want a more immersed Graceland experience.
Graceland is the #1 tourist attraction in Memphis and one of the second-most visited house in America, falling behind only the White House. In all the tour took me about an hour to complete, not including wait time. I learned a great deal about Elvis, the person, and really enjoyed seeing the 1970s come to life.  Overall, I really enjoyed my day at Graceland and I'd highly recommend it.
If you enjoyed this review of Elvis Presley's Graceland, you might also like:
Pin Touring Graceland for later: