(Last Updated On: June 25, 2023)
This post contains affiliate links which means that if you click and make a purchase I may receive a small commission, at no cost to you. All opinions are my own.
If you're planning a trip to the nation's capital, you're in for a treat. And if you're not? Well, my 'ultimate family guide to visiting Washington, DC' itinerary might just change your mind.
From world-renowned museums to globally inspired cuisine, this city is steeped in far more than just history. Although, the history alone is a great reason to visit.  As a DC native who was born and raised in the area, I'm ready to divulge all my favorite spots in DC, along with the best times to visit and where to stay when you do.
Get ready to build the Washington, DC itinerary of your family's dreams with this complete guide to my stomping grounds and the seat of the country's government!
Best Time of Year to Visit Washington, DC with Kids
One of the things I love most about this amazing city is you can find a reason (or several, actually) to visit in any season!
Whether you're taking a summer family vacation, or planning a spring break, Washington, DC is a fabulous tourist destination in any season.
Spring: Spring is my second favorite season to experience in DC… Not only is the weather milder — making it very walkable for all ages — but the city is in bloom, in every sense of the word. The National Cherry Blossom Festival takes place March through April and brings visitors from around the world.
 Summer: Washington, DC is spectacular for summer vacations. A summer visit means being able to escape the heat in one of the many Smithsonian museums and hike the beautiful trails of Great Falls.
 Fall: I'd be lying if I said that fall in DC wasn't my all-time favorite time of the year. Watching the leaves change color all around the monuments is breathtaking (visit Georgetown!) and there are tons of amazing fall events for your family to explore.
Winter: Spending the winter in DC means cozying up in the city's best restaurants, taking in shows at The Kennedy Center, and shopping the city's markets.
Best Ways to Get Around Washington, DC with Kids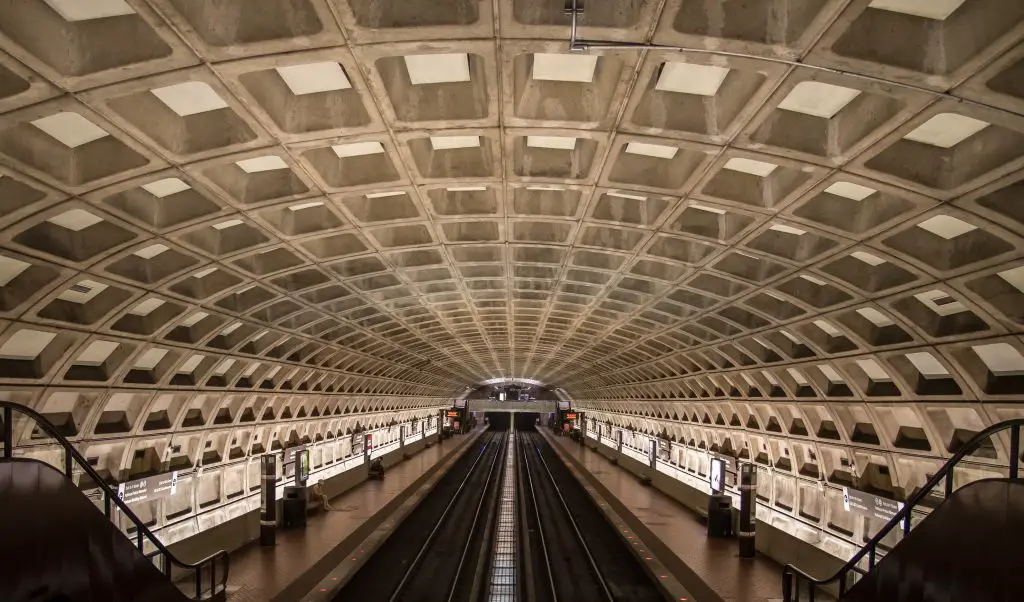 Washington, DC is an incredibly walkable city with more than one way to get around. First off, if you're traveling to the city by plane, you'll be happy to know that our nation's capital boasts three nearby airports:
Reagan National Airport (DCA) – 15 minutes to downtown DC
Washington Dulles International Airport (IAD) – 35 minutes to downtown DC
Baltimore/Washington International Airport (BWI) – 1 hour to downtown DC
Once you're inside the city, travel is a breeze! Here are some of the best ways to get around DC:
Metro. Not only is the DC Metro system fun to ride, but it can take you to virtually every part of the city. Although it's not perfect, the Metro is an easy way to avoid traffic, and SMARTRIPⓇ cards are relatively inexpensive.
Rideshare. Like any bustling city, DC is littered with rideshare services like Uber and Lyft. I typically don't have to wait more than 5 minutes to grab an Uber or Lyft in the city.
Bike. Another great way to get around DC is by bike! If you're from out-of-town, Capital Bikeshare is DC's bike-share system, which hosts over 5,000 bikes that are available at over 650 locations city-wide.
Scooter. If you're familiar with city life, then you've probably noticed (or maybe even ridden) the Lime, Bird, and other electric scooters that are scattered all over town. Many of these scooters are app-powered, so all you need to ride them is your smartphone! Not only are they a terrific way to explore the monuments in style but riding them is seriously fun.
Best Things to Do in Washington, DC
This iconic city is filled with historic sights, immaculate art, and mouth-watering food. It can be overwhelming to decide what to do! Here are my picks for some of the best things to do in Washington, DC in any season:
Visit the Washington, DC Museums
Would it really be a trip to Washington, DC if you didn't stop by our nation's finest selection of museums? One of the most amazing things about museum-hopping in DC is that many of the museums (including the Smithsonian Institute's many) are free to visit! Below are some of my family's favorite Smithsonian museums in DC.
Natural History Museum. One of the most popular history museums anywhere in the world, this incredible spot is as fun to explore as it is educational. Your kids will have so much fun that they won't even realize they're learning!
National Museum of African American History and Culture. This museum is the ideal place to learn about the richness and diversity of the African American experience in an interactive way. Stop in to see Nat Turner's bible, Harriet Tubman's hymnal, Chuck Berry's famous Cadillac El Dorado, and so much more.
National Air and Space Museum. If your young ones are interested in planes and rockets, then you must take them here. It's one of the most well-known Smithsonian museums, and for good reason.
Explore Washington DC Memorials and Monuments with your Family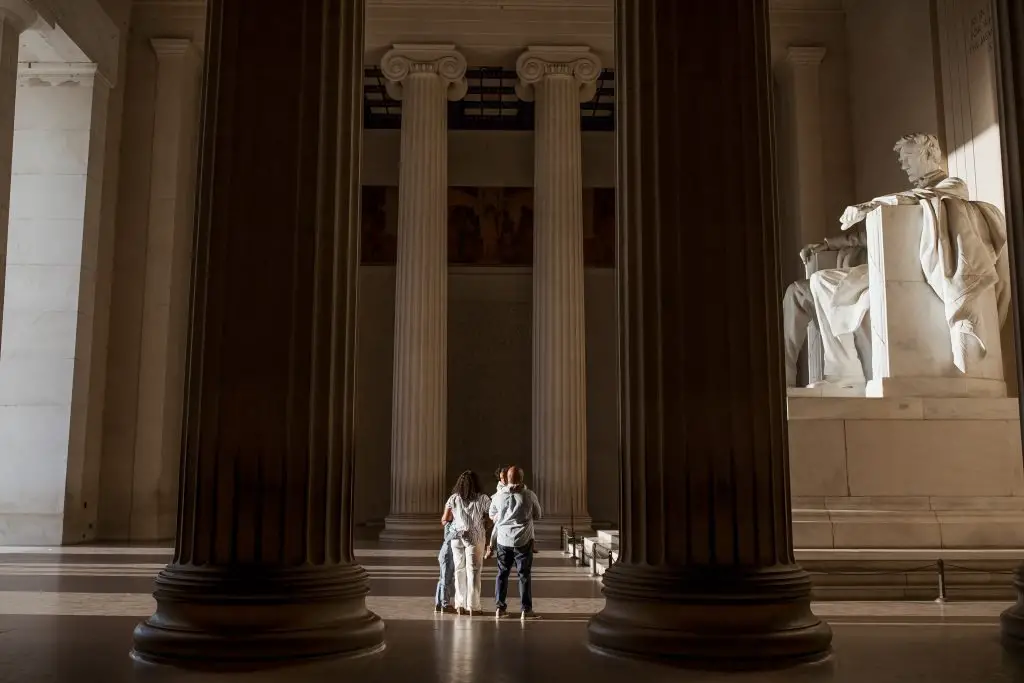 If you've explored the streets of DC, then you know that this city is home to some of our nation's finest memorials and monuments. From the Lincoln Memorial to the Washington Monument to the World War 2 Memorial, there are plenty of monuments and memorials to explore in DC.  Because DC is so walkable, it's easy to see them the old fashion way. If you want to try exploring in style, hop on a segway or an electric scooter.
Local tip: All the monuments are lit up at night, making for some pretty incredible photo opportunities. I highly recommend paying them a visit after-hours, even if you've already seen them during the day. Trust me, it's a totally different experience at night.
Bask in the Beautiful Botanic Gardens
The U.S. Botanic Gardens truly is a sight to see. Located beside the U.S. Capitol Building, I highly recommend adding this live plant museum to your DC bucket list. During the spring, the colors and floral scents will take your breath away.
If you go in the fall or wintertime, the Botanic Gardens are a great way to escape the chilly air. And if you visit during winter, you'll find the gardens filled with winterberries and other greenery.
Hang Out at the National Arboretum
The National Arboretum is one of DC's hidden treasures. If you're looking for a place to picnic, go for a jog, or take a stroll through nature, this is the spot for you.
With its famous sculptures, stunning gardens, and breathtaking scenery, the Arboretum is a spectacular place to walk around. Not only that, but it also hosts a ton of different events that are fun for the whole family.
Soak up the Waterfront Views in District Wharf
Washington, DC's District Wharf has some of the best waterfront views in the city. The Wharf is the ultimate day-trip destination with its array of shops, delicious restaurants, and waterfront adventures.
I highly recommend renting some kayaks and exploring the Potomac River and exploring the water up close, or catching a show at The Anthem.
Eat Your Way Through Dupont Circle
Dupont Circle is one of DC's many cultural hubs. This neighborhood has something for everybody, from bustling nightlife to eccentric shops and exciting restaurants.
Whether you're in the mood for lobster rolls, sushi, hummus, or anything in between, you can find it here. Stroll through the neighborhood—I guarantee you'll find something (or several somethings) to fall in love with.
Stroll the Cobblestone Streets of Georgetown
DC's Historic Georgetown neighborhood is the ultimate walk-around destination. Stroll the charming cobblestone streets and feel you've stepped back in time. Many trendy restaurants and cafés are ready whenever you need a quick bite.
Shop 'Til You Drop at City Center
City Center is truly a shopper's paradise. Boasting over 40 world-class shops and fabulous eateries, you could spend entire days exploring all that City Center has to offer.  Make sure to check out their website to see if any events are taking place during your visit because there probably are!
Where to Eat with Kids in Washington, DC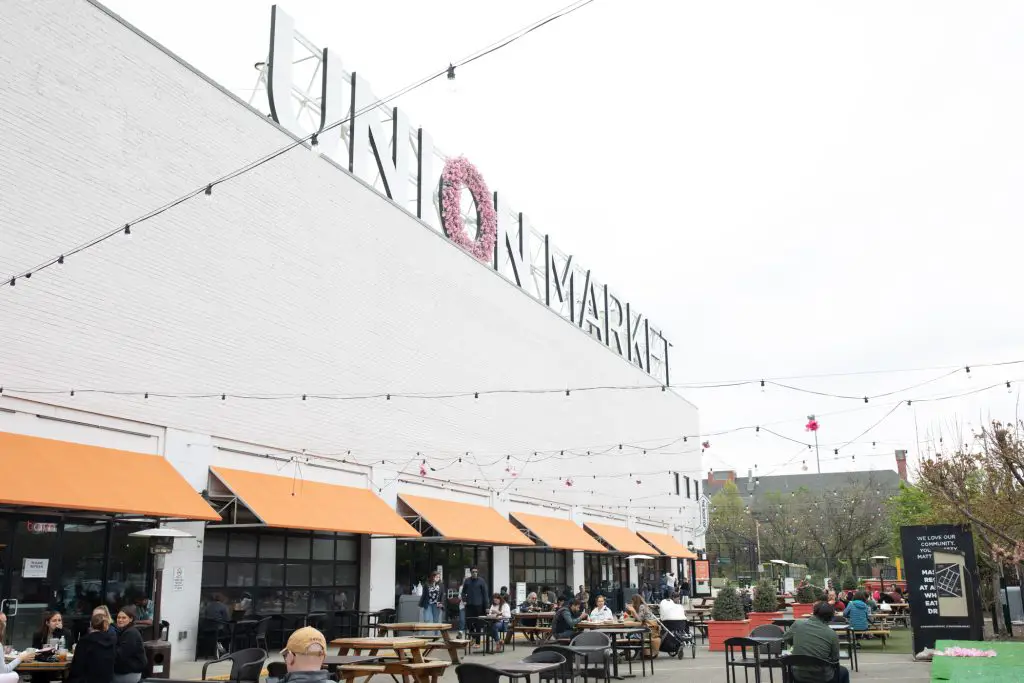 With so many delicious restaurants, cafés, and bars everywhere you turn, you're about to step into foodie heaven. Here are some of my favorite spots:
Brunch. If you're looking for a delicious and exciting brunch spot, you're in luck. DC has many fabulous brunch options, including Fiola Mare (if you're looking for a waterfront meal) or Barrel for some Southern staples.
Anything. Union Market has endless culinary options guaranteed to please even the pickiest of eaters. With over 40 local vendors, you will surely encounter DC's best eats, desserts, and coffee.
Dessert. Got a sweet tooth? No problem! Baked & Wired takes cupcakes to a whole new level, Tiger Fork makes drool-worthy bubble waffles, and TAKODA Restaurant & Beer Garden has some killer fried Oreos.
Local fare. Interested in tasting a Washington, DC staple, visit Ben's Chilli Bowl to try their famous half-smoke or chili cheese fries.
Where to Stay with Kids in Washington, DC
DC is loaded with hotels, hostels, and Airbnbs ready to handle any (and all) of your accommodation needs. Whether you're looking for a romantic spot to stay with your honey or a comfortable hotel to enjoy with the family, DC has it all.
Here are a few of my top recommendations on where to stay in DC:
Budget-friendly. Crowne Plaza Crystal City is a terrific lodging option that won't break the bank. Located just across the river, you're just a short metro ride from downtown DC. Rooms cost $110 per night, and the hotel offers free airport transportation.
Mid-range. The River Inn is a quaint and charming hotel with beautiful views of the city and the river. Rooms start at around $170 per night.
Luxury. Just two blocks from the mall and the White House, the stunning Sofitel Washington DC Square Hotel is walking distance from the Smithsonian Museums and perfect for sightseers. You can get a room for about $350 per night.
For a more comprehensive list of Washington, DC's family-friendly hotels, check out 10 Best Hotels in DC for Families.
Washington, DC, is the ideal city for inspired global cuisine, family-friendly activities, and a hearty dose of history. With this Ultimate Family Guide to Visiting Washington, DC, in tow, your visit to our nation's capital is guaranteed to be all that and more. Check out this article for more unique things while visiting Washington, DC  
If you enjoyed this post on the Ultimate Family Guide to Visiting Washington, DC, you might also find the following family travel articles helpful:
 Pin for Later: