(Last Updated On: August 2, 2023)
Recently, my family and I took an incredible 10-day trip to Egypt to immerse ourselves in Egyptian culture and learn all about Ancient Egyptian history. This captivating country is filled with rich culture, incredible food, and stunning architecture from Cairo to Aswan. 
Building out a travel itinerary before you leave is essential if you're planning a trip to Egypt. To help you get started and hopefully provide some inspiration, I'm sharing my 10-day Egypt travel itinerary of the best places to go, things to do, and where to stay in Egypt. 
 Visa and Entry Requirements
Before you start your Egypt adventure, check the visa requirements for your country. Most people can get a visa on arrival at major airports or Egyptian embassies. Check your passport to make sure is valid for at least six months beyond the date you plan to leave for Egypt.
Best Time to Visit 
Egypt's climate varies, and the best time to visit really depends on your preferences. The cooler months from November to April are ideal for exploring the ancient sites, while the summer months from May to September can be scorching, especially in the desert regions. We visited in July which I do NOT recommend.
About This Egypt Itinerary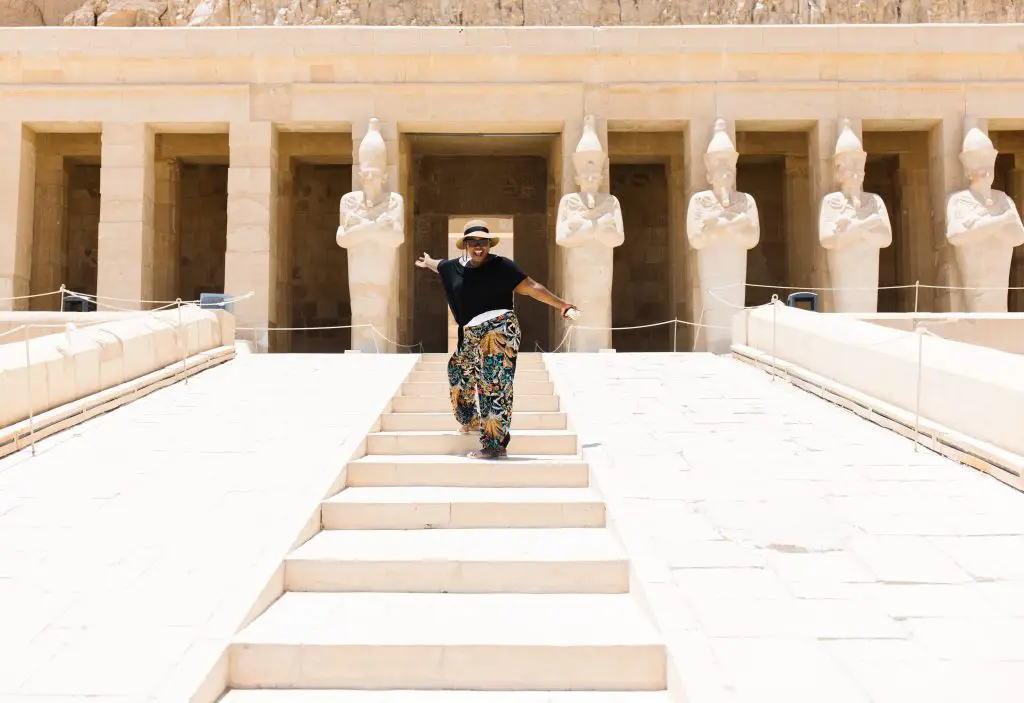 This Egypt itinerary includes a Nile River Cruise, which I believe is a must-have Egypt experience. Our Nile Cruise started in Aswan, and we made various stops as we snaked along the ancient river to Luxor.  For full details on the Nile River Cruise, read our article Nile River Cruise Guide: Aswan to Luxor.
When we travel internationally, we generally do research ahead of time and plan our itinerary ourselves. But since we wanted to ensure we were seeing and learning as much as we could about ancient Egypt we hired a tour company that supplied us with Egyptologists at every stop along our itinerary.  For our trip, we hired Rami's Insight Tours as our guide. We had a driver and Egyptologist. The experience was costly but well-worth it to have a private group tour with knowledgeable and sometimes entertaining guides.
While I'm usually in the weeds with trip planning, it was really nice to sit back and have everything taken care of.  And because we chose a family-run company, we got to have a few traditional Egyptian dinners with our guide, Rami's family and were invited to attend a Bedouin wedding which was an experience we will never forget. 
Egypt Itinerary Day 1: Arrive in Cairo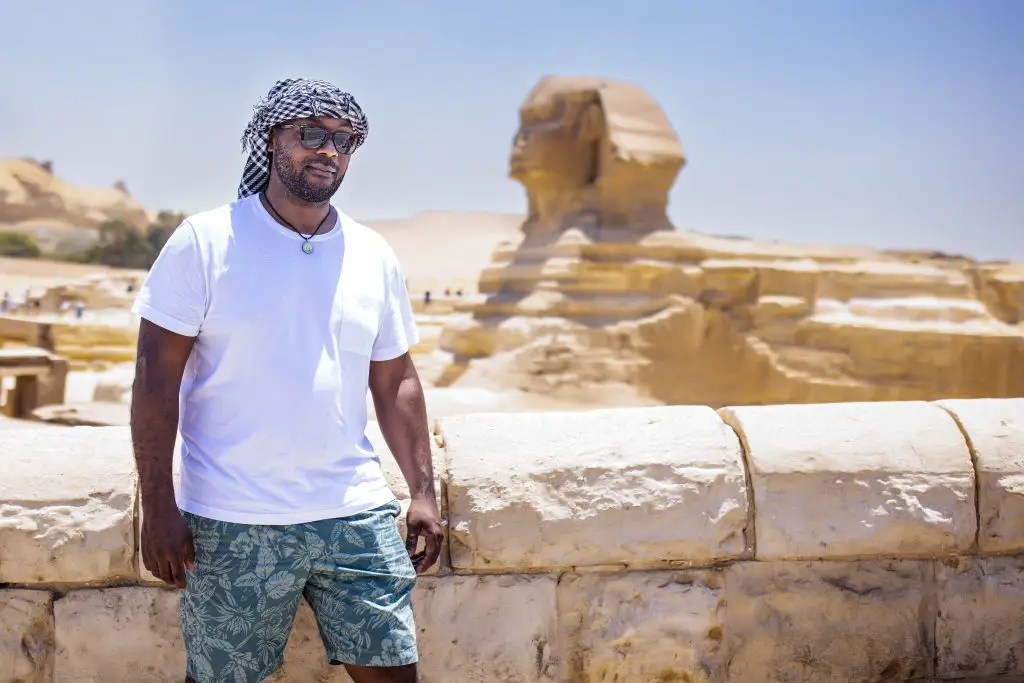 We arrived in Cairo late at night, so the only things we explored were the cozy beds at our homestay. Arriving later in the day is pretty standard for most flights from the United States to Egypt, so don't anticipate doing much more than sleeping on your first day. 
As Egypt's capital city, Cairo is home to many historic sites and incredible things to do. My family and I made sure to get a good night's sleep after flying into Cairo so we could rest up for a big day of visiting the iconic sights of the city. 
Where to Stay in Cairo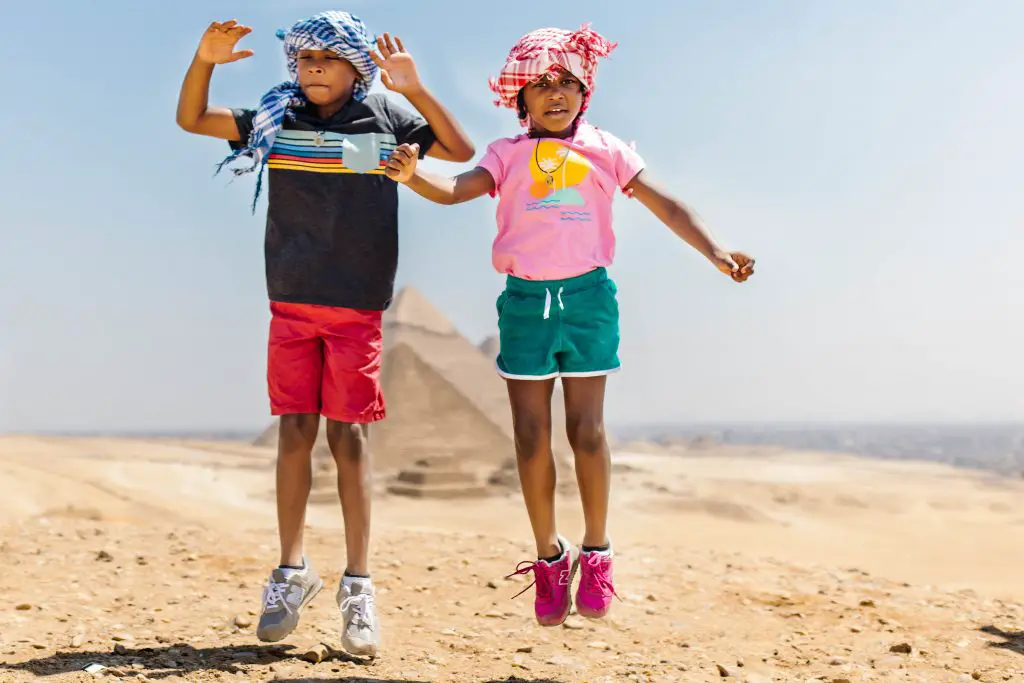 There are number of really nice hotels in Cairo. We decided that we wanted to live with the people of Cairo and opted for a homestay with our Egypt guide and his family right outside of the Giza Complex. But if you're looking for a traditional hotel, with stunning view of Giza, there are quite a few to choose from.
Four Seasons Hotel Cairo at First Residence This hotel's prime location offers easy access to iconic attractions such as the Pyramids of Giza, the Egyptian Museum, and the vibrant Khan El Khalili bazaar. 
Kempinski Nile Hotel Cairo The Kempinski Nile Hotel Cairo is nestled along the banks of the legendary Nile River. Situated in the vibrant heart of downtown Cairo, this five-star luxury hotel offers a perfect blend of modern luxury and timeless Egyptian charm.
Marriott Mena House. This iconic five-star hotel is located at the foot of the Great Pyramids of Giza and showcases breathtaking views, lavish accommodations, and we've heard they have impeccable service.
Egypt Itinerary Day 2 Cairo: The Pyramids of Giza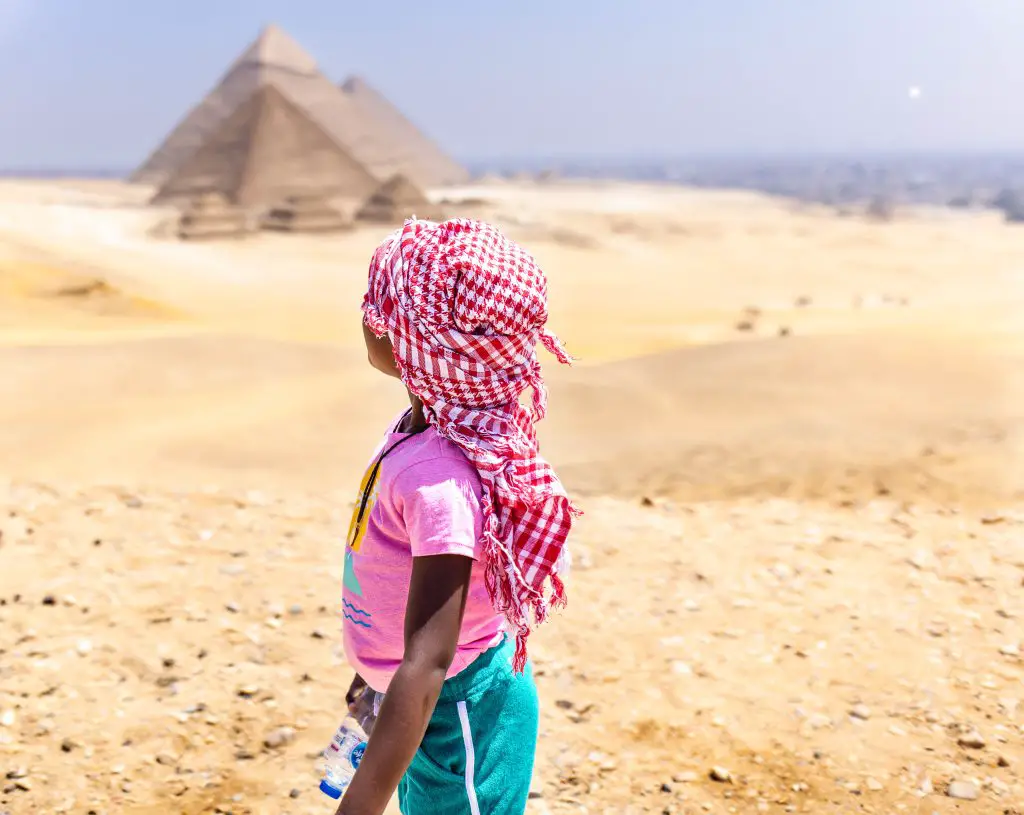 When we awoke on our first full day in Cairo, I could hardly contain my excitement. The Giza Pyramid Complex consists of nine ancient pyramids and the Great Sphinx. While you can explore the complex on your own, I recommend opting for a guided tour to make the most of your time with a deep dive into Ancient Egyptian history.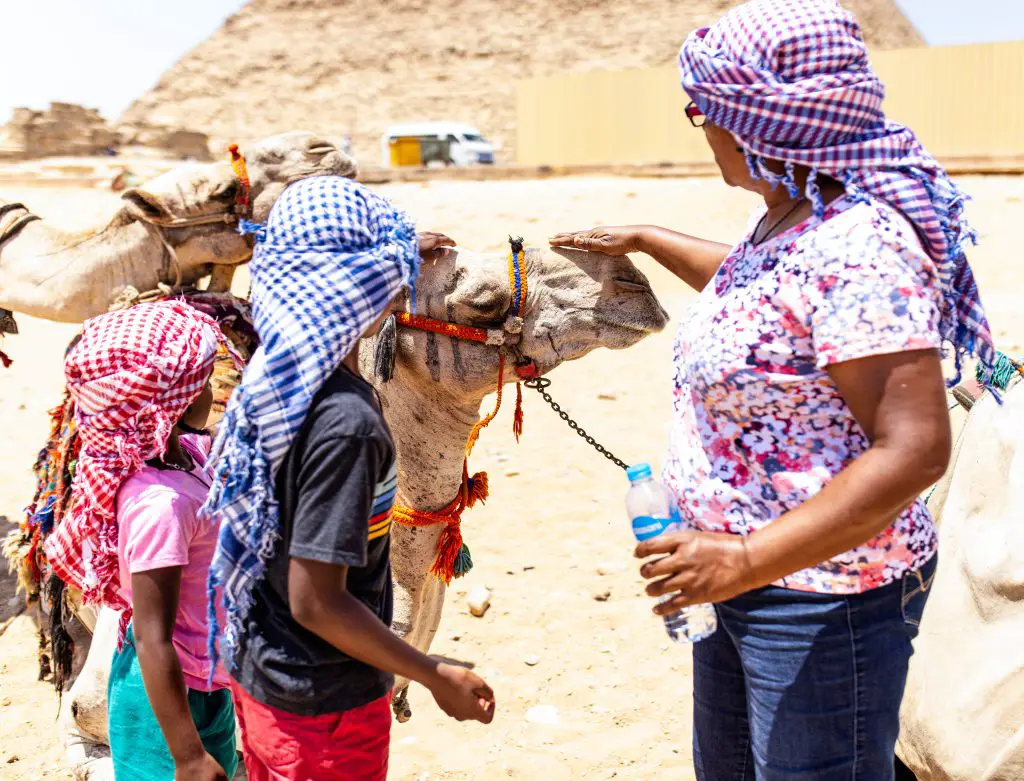 You can choose from a private tour, a group tour, or even a tour that includes a camel ride through the desert. There's so much to do and see in the Giza Pyramid Complex, so I would plan on spending at least a few hours here. 
Egypt Itinerary
Day 3 Cairo: Coptic Cairo and Hanging Church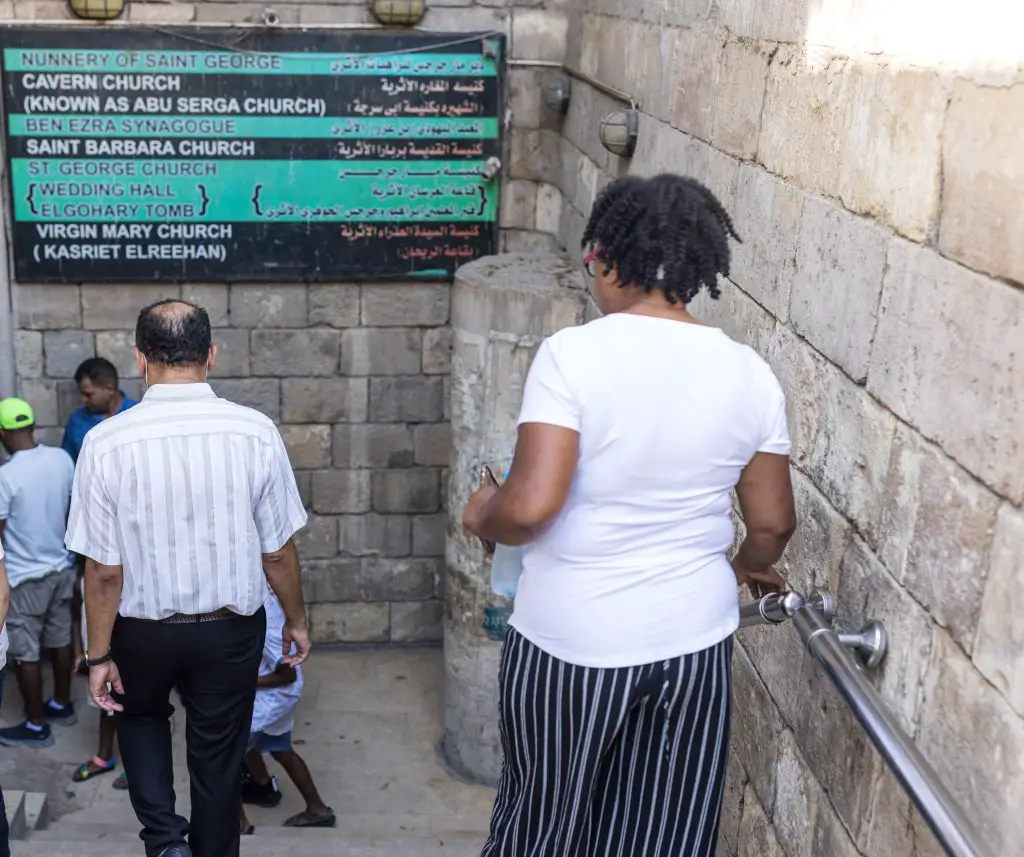 Coptic Cairo is a charming area in Old Cairo where Coptic Christians have lived for thousands of years. Today, this part of the city boasts a combination of holy Christian and Islamic sites. 
While there are six Christian churches in Coptic Cairo, the Hanging Church is easily the most noteworthy of the bunch. It's one of the oldest churches in Cairo and is one of the top sights in this area. If you have free time, enjoy a relaxing afternoon at Al-Azhar Park, a 30-hectare public park that's widely considered one of the best parks in the world. 

Egypt Itinerary
Day 4 Cairo: Egyptian Museum, Citadel and Saqqara
The Egyptian Museum is home to the world's largest collection of Egyptian artifacts, including many of King Tut's treasures. This top tourist attraction is an absolute must during a trip to Egypt, so make sure to work it into your travel itinerary.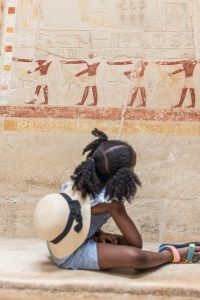 On the same day we visited the Egyptian Museum in Cairo, we also made a stop at the Citadel to see the Mosque of Muhammad Ali. This beautiful alabaster mosque is extravagant inside and out, with architectural features that will take your breath away. If we had more time, I would've loved to visit the Mosque of Ibn Tulun as well. As the oldest mosque in Egypt, it's definitely worth checking out when you're in Cairo.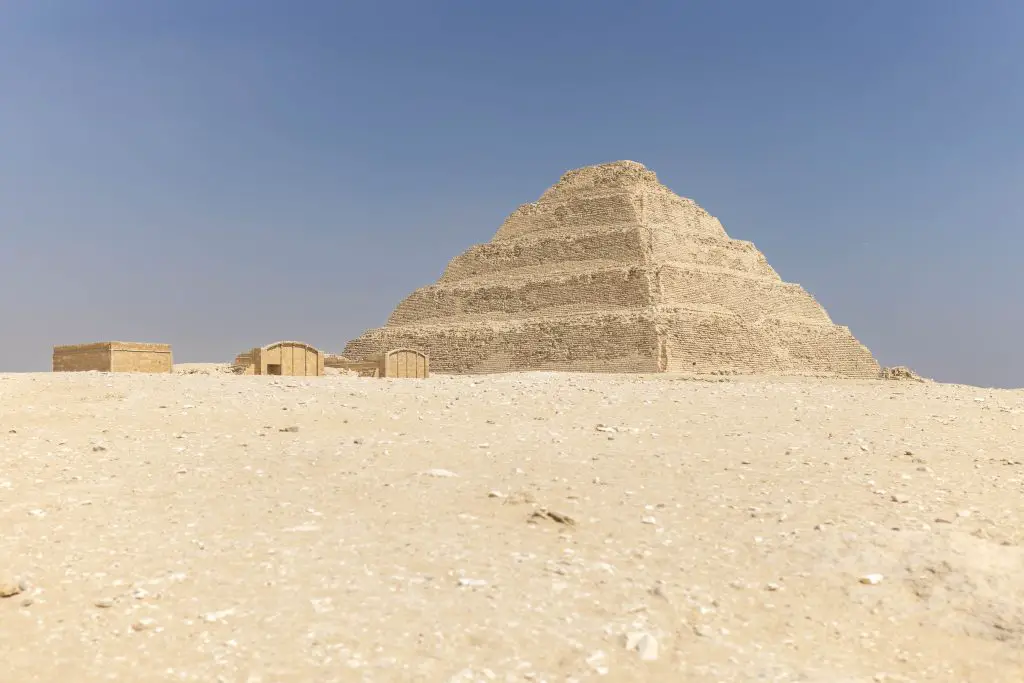 For the full list of things to do in Cairo, read our article Things to do in Cairo.
Egypt Itinerary
Day 5: Fly to Aswan, and Visit the Nubian Villages, and Abu Simbel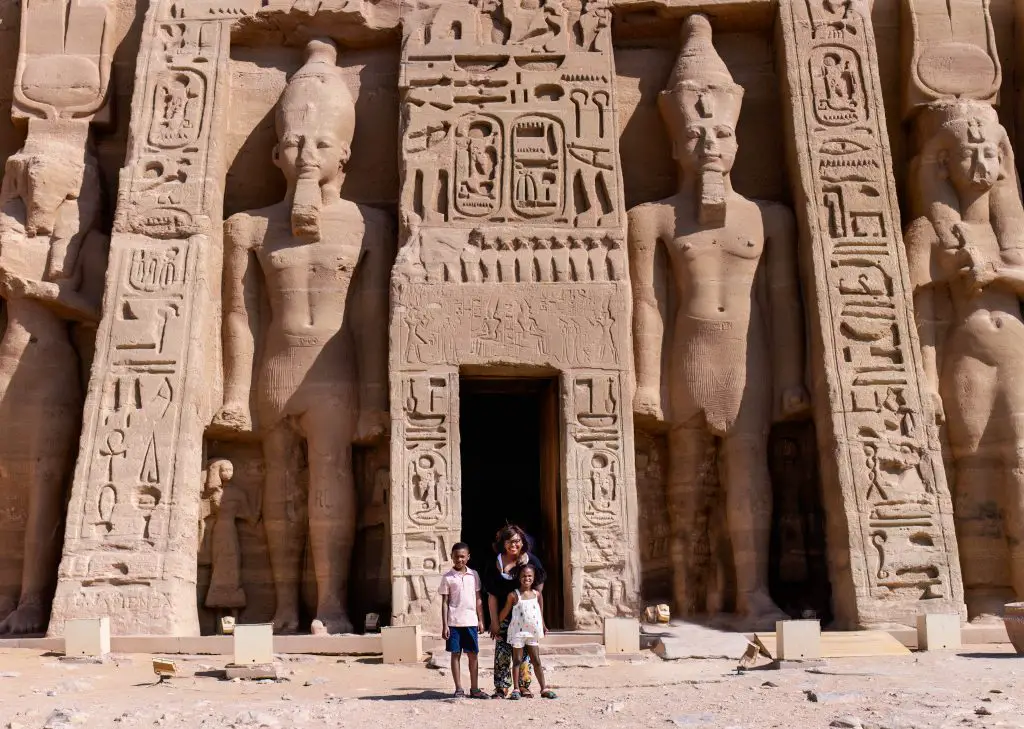 After four incredible days in Cairo, we flew to Aswan for the next leg of our trip. While we were there, we drove to the striking Abu Simbel Temples, which were built in honor of Ramses II and are among the most famous in Egypt.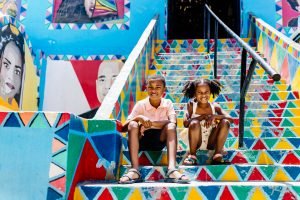 Next, we enjoyed a delicious lunch in the vibrant Nubian Village. This unique area has a culture of its own and contains the most colorful homes in the country. After we spent some time exploring Aswan's Nubian Village, we checked in for our Nile River Cruise.
Learn More: Guide to the Nubian Villages: A Vibrant Gem in Aswan, Egypt
Where to Stay in Aswan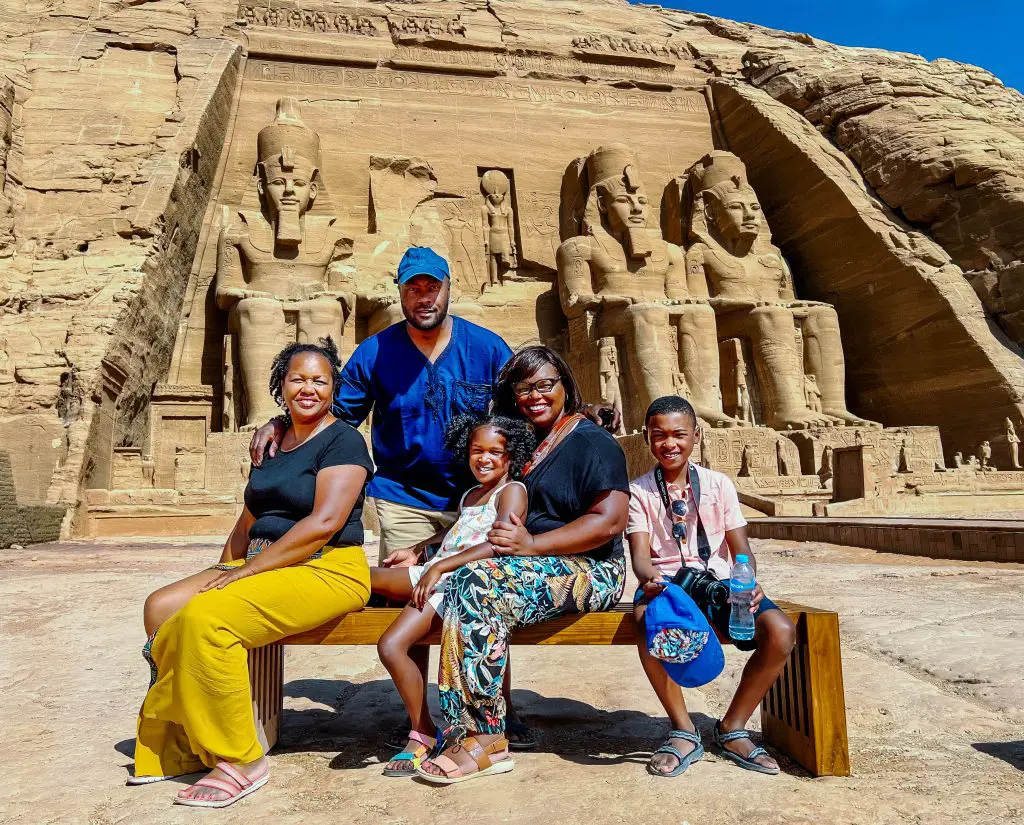 Our Nile River Cruise departed from Aswan so instead of staying in a hotel we visited the city for a day and stayed aboard the vessel overnight before departing for Luxor. If you're not planning on cruising along the Nile, here are some hotel options in Aswan to choose from. 
Sofitel Legend Old Cataract. This 5-star hotel's location along the banks of the Nile River makes it the perfect jumping off point for a felucca boat ride or a visit to the nearby Philae Temple. 
Movenpick Resort Aswan. This four-star resort offers stunning views of the Nile River and features stylish accommodations, excellent dining options, and a range of recreational facilities. 
Tolip Aswan Hotel. Tolip Aswan hotel is a four-star hotel and it's a great base for checking the city and enjoying the nearby attractions.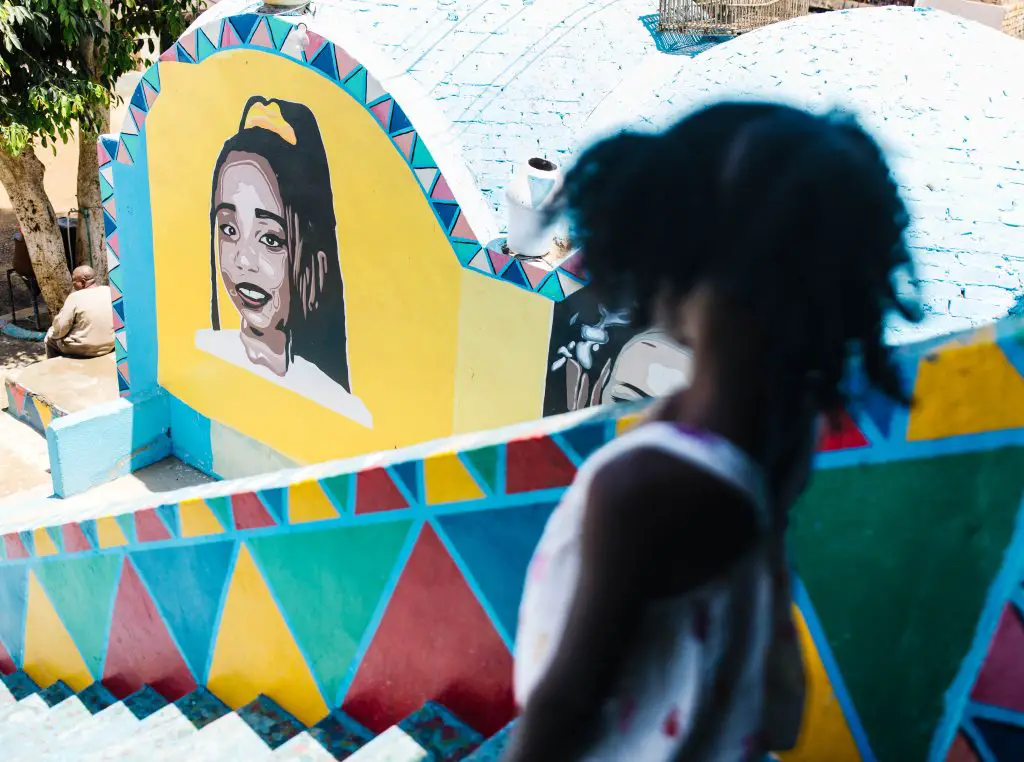 Egypt Itinerary
Day 6-7: Nile River Cruise,
Visit Kom Ombo, and Edfu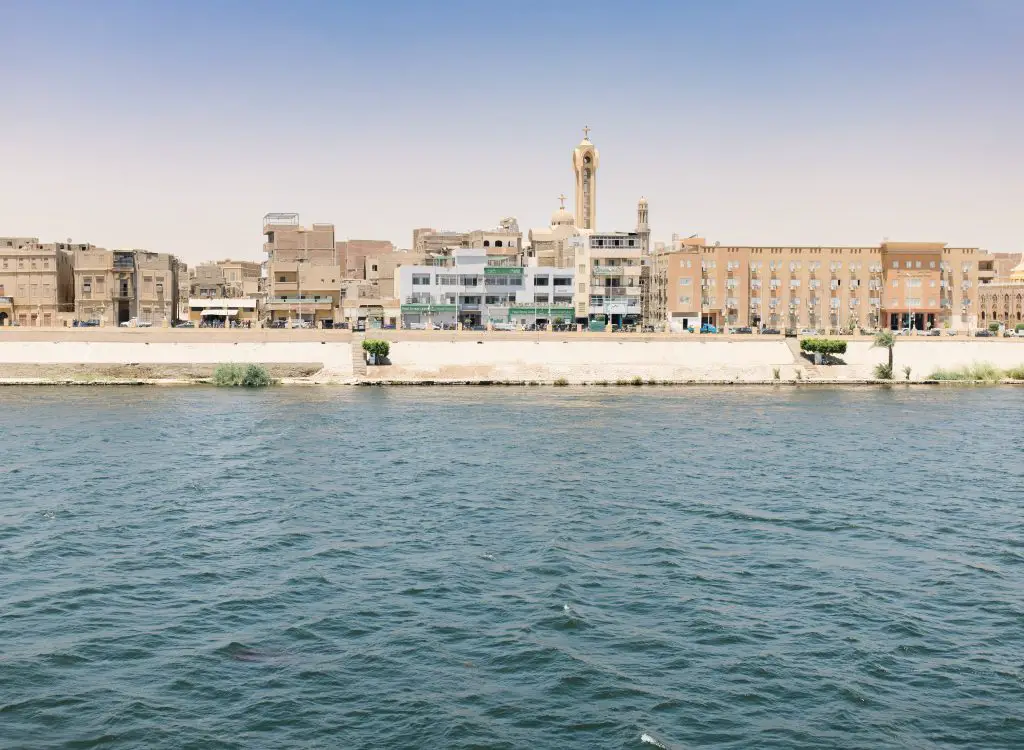 It's cruise time! If you're looking for the best way to hit all the top sights along the Nile River, you can't go wrong with a Nile River Cruise. We started our first cruise day with breakfast before making a stop at the Temple of Isis on Philae Island.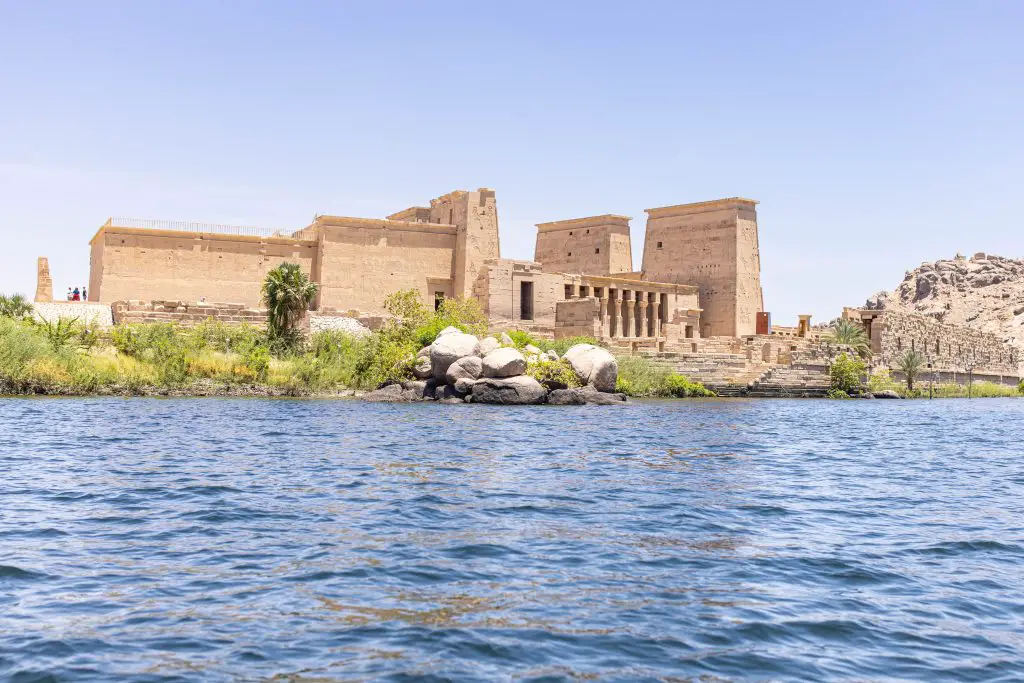 On the second day of our river cruise, we made stops at the Crocodile Museum and the Temples of Kom Ombo and Edfu. Learning all about why crocodiles are a sacred totem to the Nubian people was fascinating and the temples we explored were so beautiful.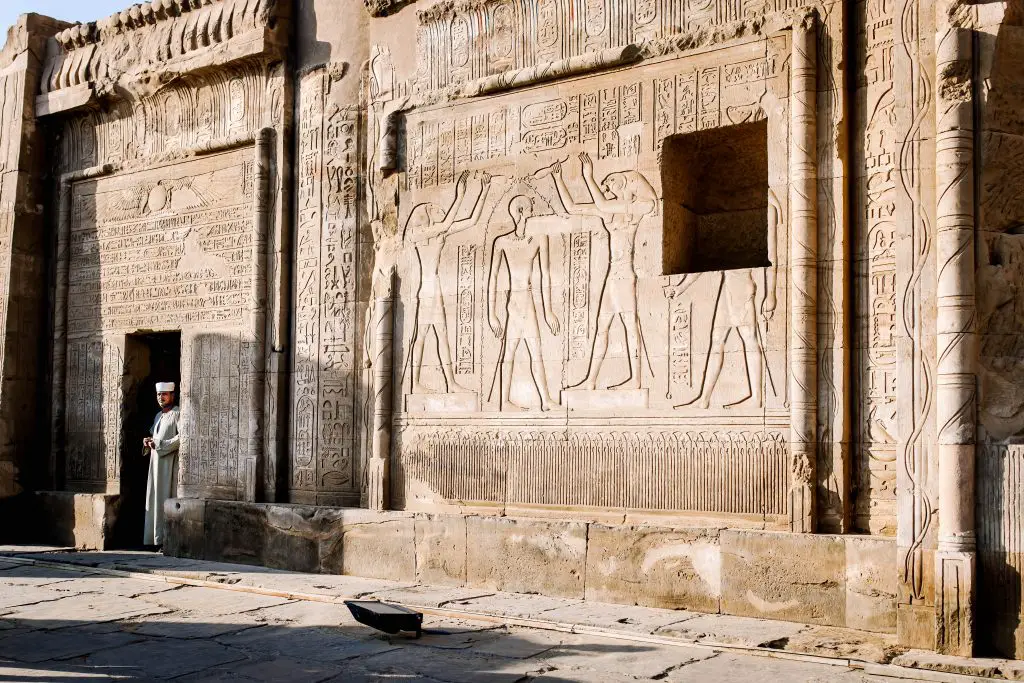 For more information on what to expect during a Nile River Cruise, read Nile River Cruise Guide: Aswan to Luxor.
It's easy to book a Nile River Cruise, here are some prices and options. 
Egypt Itinerary
Day 8-9: Visit
Valley of Kings, and Hatshepsut Temple, Arrive in Luxor and Disembark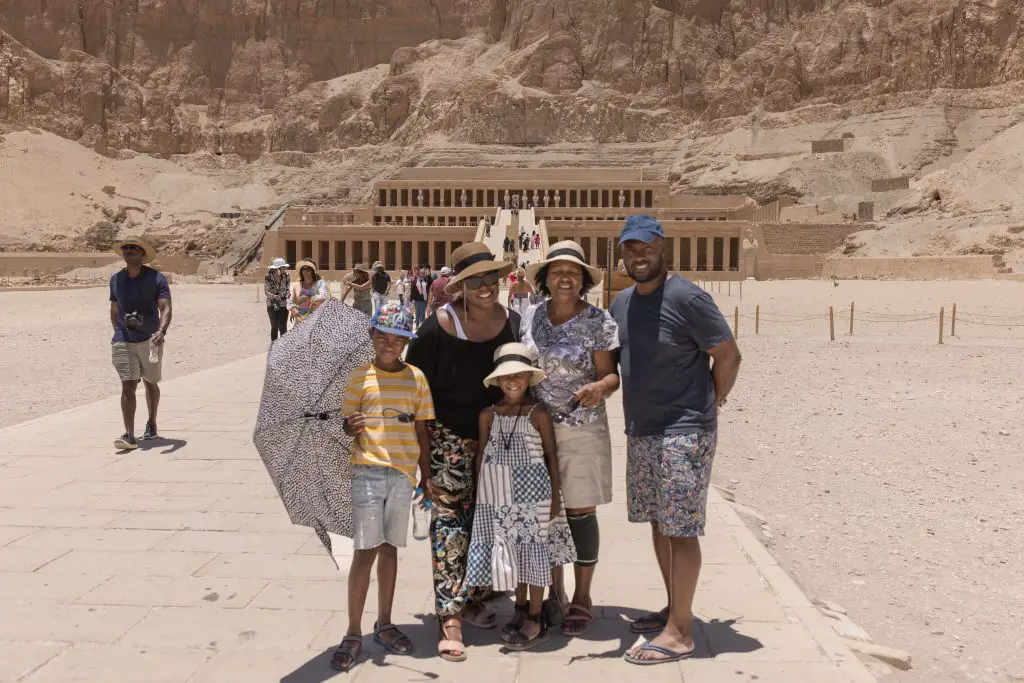 The next few days of our Nile River Cruise were filled with endlessly exciting stops at Egypt's most popular tourist attractions. We visited the Valley of the Kings, the Hatshepsut Temple, the Karnak Temple, and the Statues of Memnon.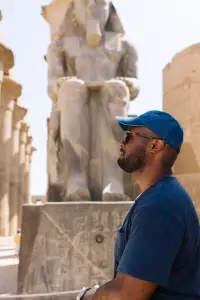 To read more about our time in Luxor, read our article Best Things to do in Luxor, Egypt
Where to Stay in Luxor
Steigenberger Nile Palace Luxor – Convention Center. This 5-star hotel sits atop prime real estate along the banks of the Nile River and one of the key draws are it's spectacular views of the Nile.
Hilton Luxor Resort & Spa. This 5-star hotel also provide stunning views of the Nile while also close to a number of ancient sites. 
Sofitel Winter Palace Luxor. This hotel offers guests the chance to enjoy luxury and great service with close proximity to Luxor's historical sites. 

Egypt Itinerary Day 10: Fly back to Cairo and Head Home
When we finally reached the last day of our family adventure, I was sad to leave but thrilled with everything we were able to experience during our time. Ten days in Egypt is a great amount of time to see the country's top sights, especially if you plan on incorporating a multi-day Nile River Cruise like we did. 
Additional Egypt Travel Tips
Safety and Etiquette
I generally do not participate in discussions about the safety of a destination or country.  I believe safety is relative to a number a variables that aren't easily quantifiable.  But so many people have asked some variation of  "Is Egypt Safe?" To answer that question, my family and I felt safe during our stay in Egypt.  While Egypt is relatively safe, it's essential to remain vigilant and aware of your surroundings. Respect local customs and dress modestly when visiting religious sites. Bargaining is common in markets, so don't hesitate to negotiate prices.
Packing & Currency
Pack comfortable clothing suitable for the weather, sun protection, and a refillable water bottle. Carry small denominations of Egyptian currency (Egyptian Pounds) for tips and smaller purchases. Stay hydrated and keep your travel documents and valuables secure.
Well, that just about covers it. I hope that reading about our 10-day Egypt itinerary helped to provide some inspiration for your next trip. 
Pin for later: