(Last Updated On: July 28, 2023)
This post contains affiliate links which means that if you click and make a purchase I may receive a small commission, at no cost to you. All opinions are my own.
Looking for a guide to visiting the Ngorongoro Crater in Tanzania? Well, look no further.  Tanzania is an enchanting country where raw wilderness meets breathtaking landscapes, and the heart of wildlife thrives. Among the country's most remarkable wonders lies the Ngorongoro Crater – a UNESCO World Heritage Site and one of Africa's most spectacular natural treasures. In this comprehensive travel guide, we will take you on a journey through the Ngorongoro Crater, uncovering its rich wildlife, diverse habitats, local culture, best times to visit, activities, and practical tips to make your visit a memorable and responsible experience.
My trip to the Ngorongoro Crater was years ago, but I'll never forget how this breathtaking place made me feel. At one point, the sheer magnitude of its beauty brought me to tears. The 100-mile volcanic crater is the world's largest unbroken crater and is commonly called the "eighth wonder of the world."  
I decided to visit Tanzania to visit a friend who was there working in the Peace Corps at the time. Before planning our trip, I'd never even heard of Ngorongoro Crater.  But since my visit to Tanzania, I've explored countless destinations on all seven continents, and this place —  the Ngorongoro Crater still holds the top spot in my book for its indescribable beauty. 
Understanding Ngorongoro Crater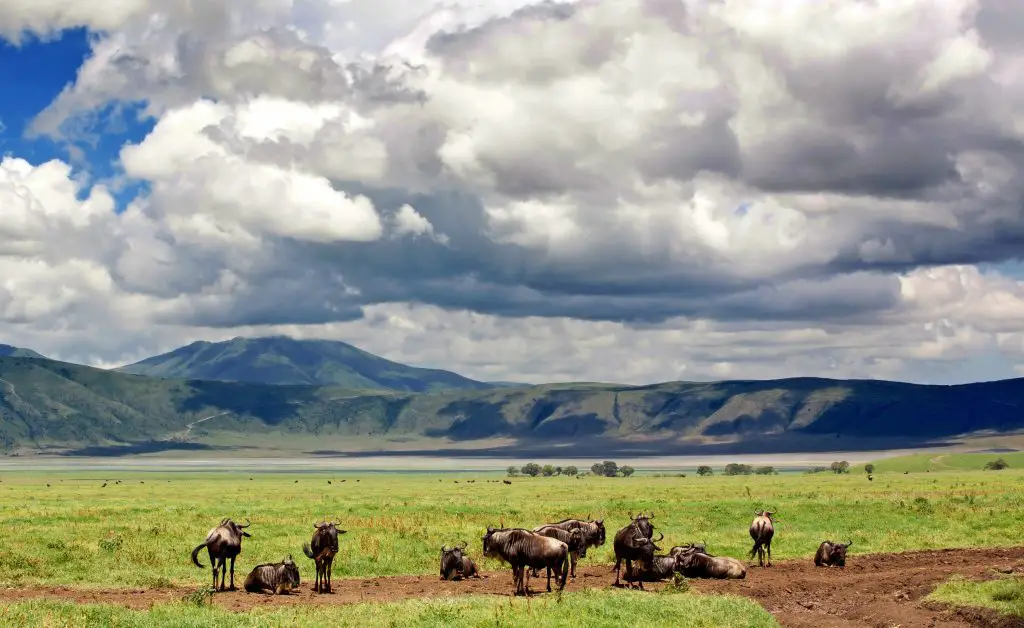 If you're looking for the best place to see wildlife in Tanzania, visiting this UNESCO World Heritage Site is an absolute must. The allure of this natural wonder is enough to warrant a visit on its own, but the fact that it's home to over 30,000 animals makes it one of Africa's top destinations for wildlife sightings. 
The name 'Ngorongoro' has raised many questions over the years. Where did it come from? It's actually a simple case of onomatopoeia! Maasai pastoralists named the crater after the sound a cowbell makes when it jingles from a cow's neck: ngoro ngoro. 
Staring into the Ngorongoro Crater for the first time is a surreal experience. Because of its enclosed nature, the crater has formed its own ecosystem over the years and is now home to lush grasslands, forests, swamps, springs, and lakes. The wide array of natural resources makes this area a safe haven for all sorts of remarkable wildlife.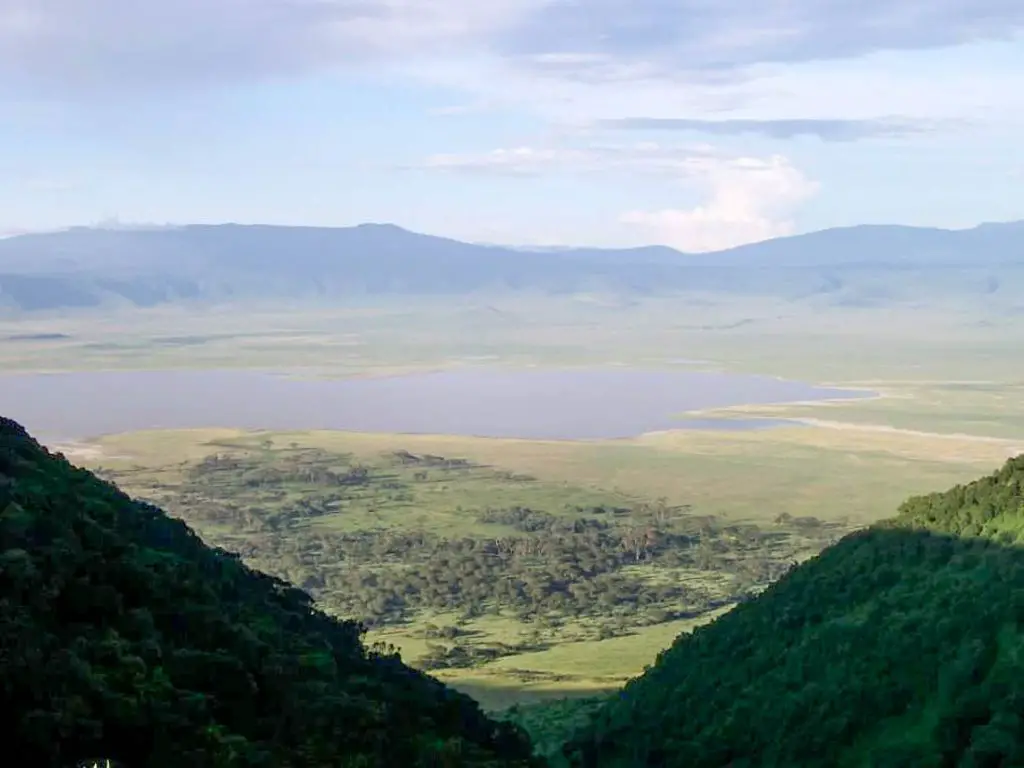 10 Cool Facts about Ngorongoro Crater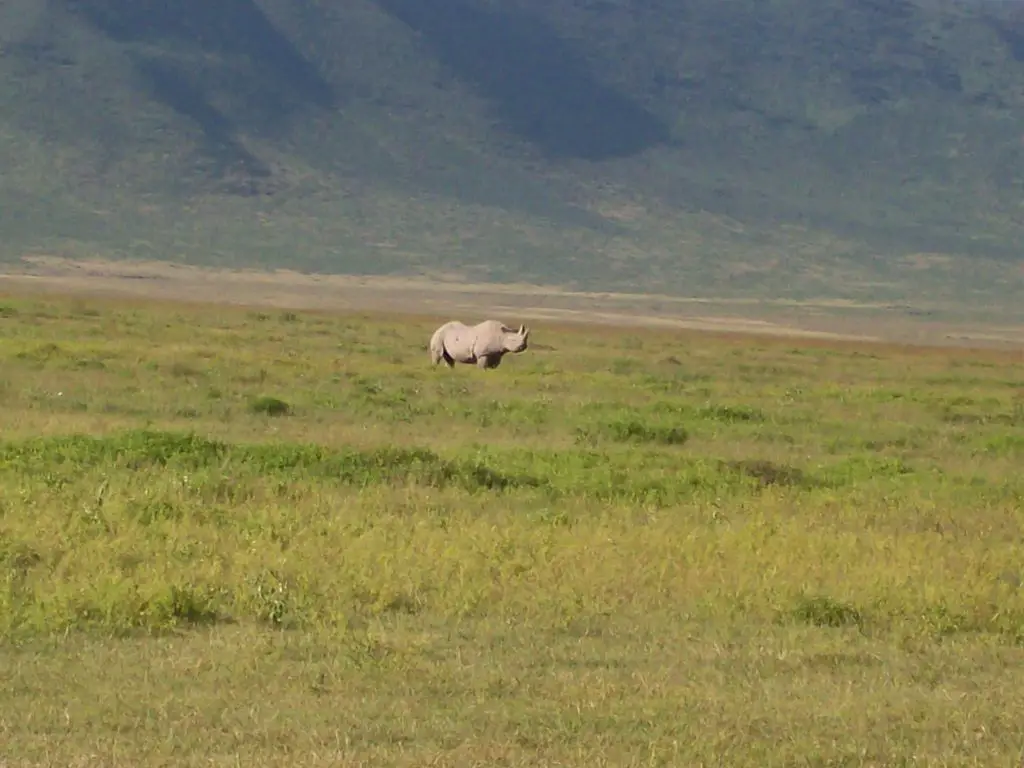 As I mentioned before, Ngorongoro Crater is the world's largest inactive, intact or unbroken volcanic caldera (that's not a lake). 
The Crater is one of the Seven Natural Wonders of Africa.
The crater is about 10 to 12 miles in diameter.
The crater is part of the Ngorongoro Conservation Area
There are three tribal groups indigenous to the area: Maasai, Datooga, and Hadza.
The Olduvai Gorge and Olduvai Museum is in the Ngorongoro Conservation Area. This site is where the first human fossils were discovered. 
There are more than 300 animal species that live in the Ngorongoro.
It's East Africa's Best place to spot the Big Five. (lion, elephant, African buffalo, leopard, and rhino)
There are no giraffes or impala live in the crater.
It's home to the densest population of lions.

How to Get to Ngorongoro Crater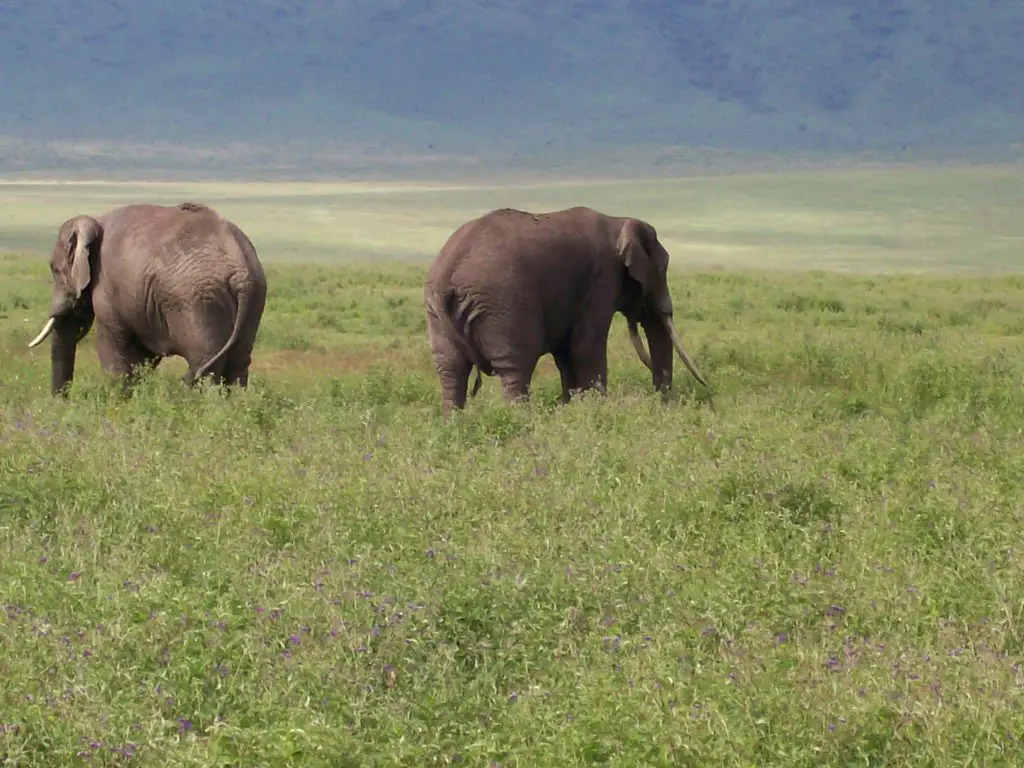 The Ngorongoro Conservation Area is accessible from various points in Tanzania. Located in the northern part of the country, the nearest major town is Arusha, and you can either drive or fly to the area. The most common entry points are Kilimanjaro International Airport (JRO) or Julius Nyerere International Airport (DAR) in Dar es Salaam. From either airport, you can arrange a domestic flight to Arusha, the nearest major city to the crater. From Arusha, it's a scenic four to five-hour drive to the Ngorongoro Conservation Area. For my journey and because I was on a tight budget, I flew from the United States into Dar es Salaam and took a 10 plus hour bus ride from Dar to Arusha.  It was quite the adventure. 
Many visitors combine a visit to Ngorongoro Crater with other iconic Tanzanian destinations like the Serengeti National Park and Lake Manyara.
Experiencing the Crater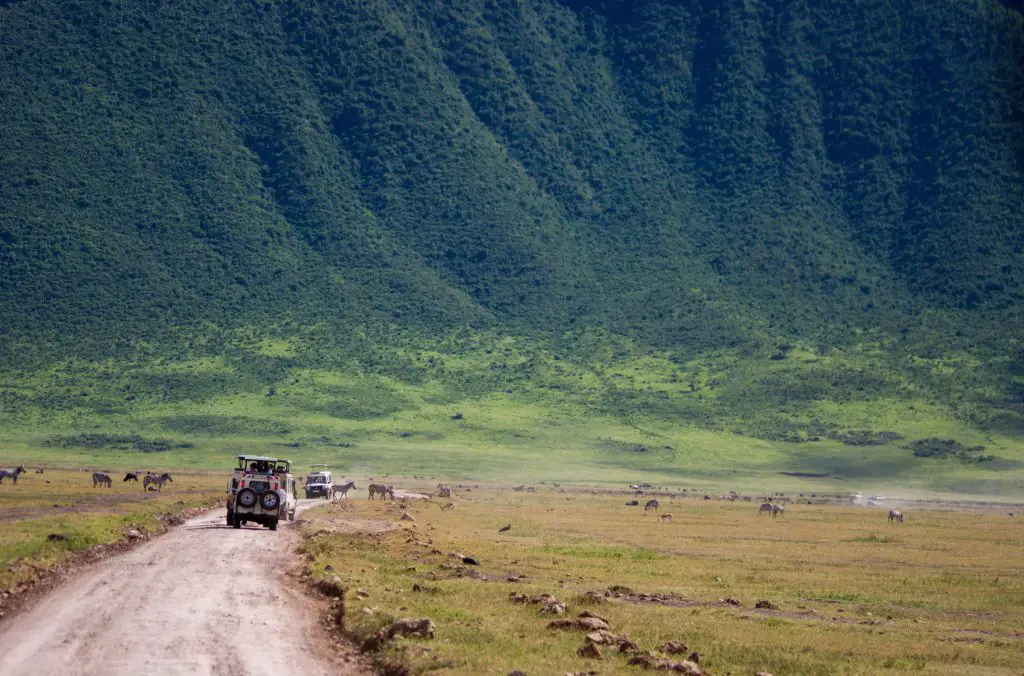 Visiting the Ngorongoro Crater typically involves a game drive – a thrilling expedition that takes you through the diverse landscapes and wildlife encounters. Game drives can be arranged through tour operators or lodges situated in and around the Ngorongoro Conservation Area. Here are some highlights of what you might experience during a game drive:
Lerai Forest: This lush and scenic forest at the crater's center offers a unique habitat for various wildlife, including elephants and monkeys. The density of vegetation here provides an excellent opportunity for spotting elusive animals.
Gorigor Swamp: A wetland area located within the crater, this is an ideal spot for birdwatching. You can witness a plethora of bird species, including flamingos, herons, storks, and ibises.
Lake Magadi: A soda lake that attracts flocks of flamingos and other water birds. The pink hues of the flamingos, combined with the golden savannah backdrop, create an unforgettable sight.
Gol Mountains: These scenic highlands at the crater's rim offer stunning panoramic views of the crater floor below. It's an excellent place for a picnic and to capture breathtaking photographs.
Cultural Experiences in Ngorongoro Crater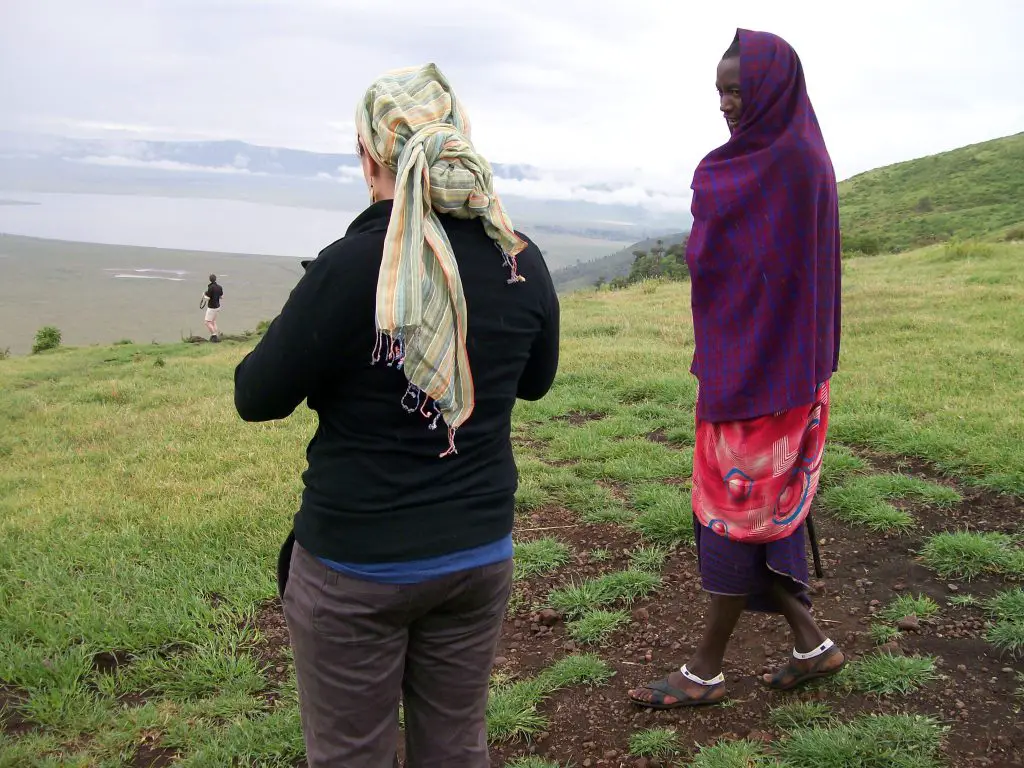 As mentioned in the fact section of this blog, the Ngorongoro Conservation Area is home to the Maasai people, one of Tanzania's prominent indigenous tribes. Engaging with the Maasai community provides a unique cultural experience. Some tour operators offer visits to Maasai villages, where you can learn about their traditions, lifestyle, and handicrafts. However, it's essential to approach such visits with respect and sensitivity towards their culture and privacy.
When To Visit Ngorongoro Crater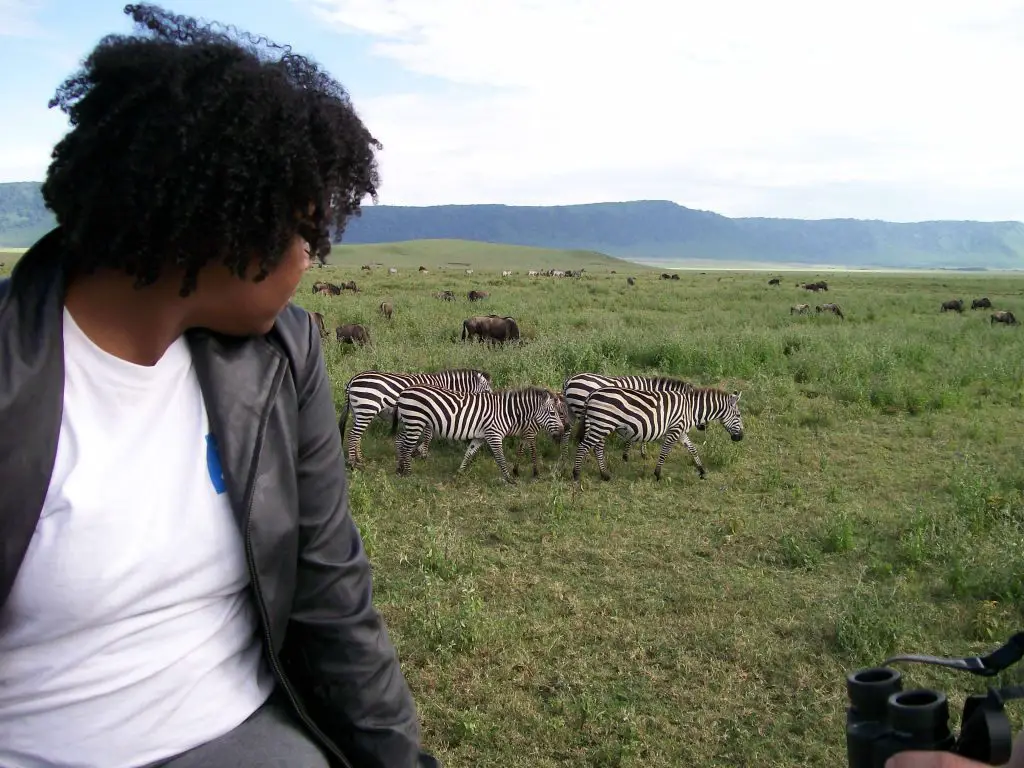 It's no secret that the peak season for viewing wildlife in Africa is between June and October. However, when it comes to the Ngorongoro Crater, there's really no bad time to visit. Wildlife can be found throughout the area during any season, so you're better off planning your trip around the weather or crowd density. I visited in March and was privileged to witness the Great Wildebeest Migration, which is recognized as one of the Seven Wonders of the Natural World, in nearby Serengeti National Park.
There are two wet seasons in Tanzania: April to May and November to December. If you're hoping for dry weather, you may want to avoid visiting during these times. On the other hand, if you're more concerned with avoiding huge crowds that could potentially hinder your viewing experience, then you might want to visit during the low season..
Conservation and Responsible Tourism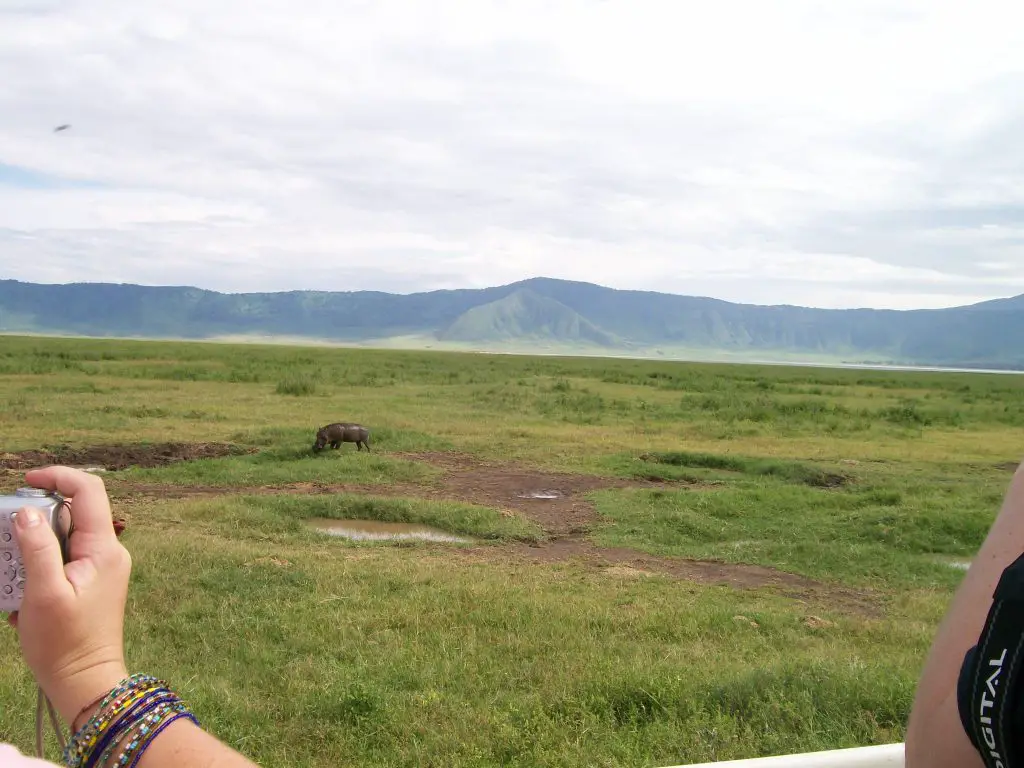 When visiting the Ngorongoro Crater, it's crucial to practice responsible tourism to preserve this fragile ecosystem and support the local communities. Here are some tips to minimize your impact:
Choose Responsible Tour Operators: Choose tour operators and accommodations that follow sustainable practices and support conservation efforts.
Respect Wildlife: Always maintain a safe distance from animals and avoid disturbing them. Never feed wildlife or leave any trash behind.
Cultural Sensitivity: When engaging with the Maasai community, be respectful of their traditions, ask permission before taking photos, and buy their crafts. I purchased a beautiful beaded necklace and bracelets. 
Where To Stay Near Ngorongoro Crater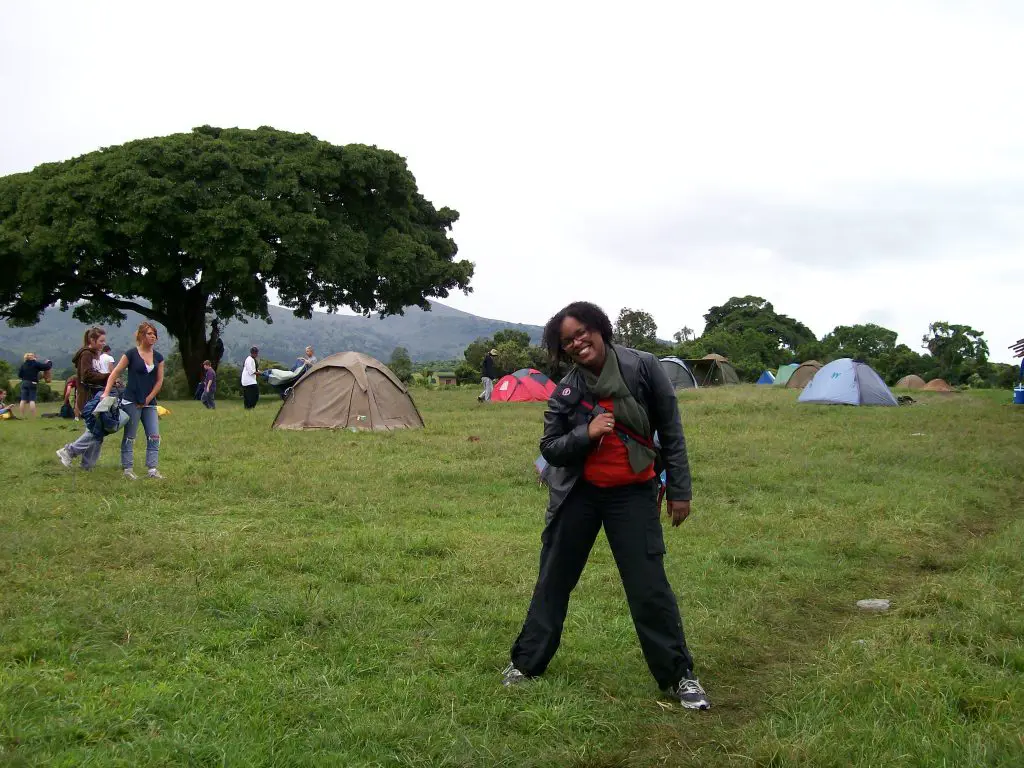 Regarding accommodation, you have several options ranging from luxury lodges to budget-friendly campsites. Some popular lodges are perched on the crater rim, offering stunning views, while others are located in nearby areas. Because the Ngorongoro Crater is only available to the public during the daytime, there are no accommodations within the crater itself. With that said, there are several hotel options to choose from in the surrounding area. For stellar views and a more luxurious stay, you can opt for one of the lodges on the rim of the Crater like the world-famous Ngorongoro Crater Lodge, or the less pricey Ngorongoro Serena Safari Lodge. 
As with any major tourist destination in Africa, the prices decrease as you go further out. If you don't mind a short drive into the Crater, there are plenty of budget-friendly safari lodges near Ngorongoro like the Ngorongoro Sopa Lodge and the Karatu Simba Lodge. 
I opted to stay at a nearby campsite during my time in Ngorongoro Crater and Serengeti National Park.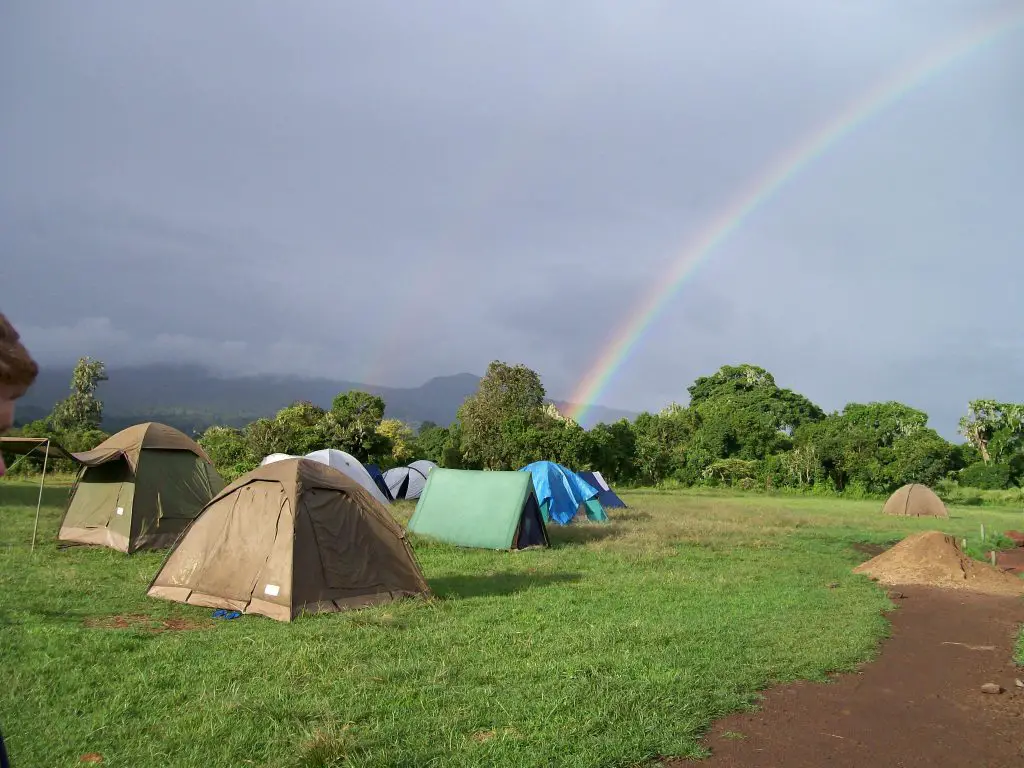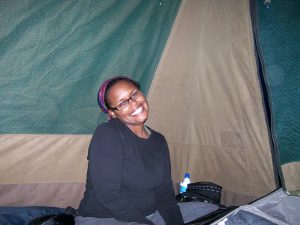 Wherever you choose to stay, keep in mind that it's just a place to lay your head and the real action is within the amazing Ngorongoro Crater.
What to Pack for Your Visit to Ngorongoro Crater
Pack sturdy and comfortable clothing, including layers for varying temperatures, a wide-brimmed hat, sunscreen, insect repellent, and a pair of binoculars. Remember to bring your travel documents, camera equipment, and any prescribed medications. If you're an American preparing to travel internationally, be sure to check the State Department's website for advisories and tips.
Related article: International Travel Checklist for Families
Ngorongoro Crater Tours and Tickets
There quite a few ways to experiences the Ngorongoro Crater and surrounding areas:
Final Ngorongoro Crater Thoughts
Visiting Ngorongoro Crater is a journey into the heart of East Africa's wild beauty. With its rich biodiversity, breathtaking landscapes, and fascinating cultural encounters, this unique destination promises an unforgettable experience. Prepare yourself for extraordinary encounters with wildlife, cultural immersion, and awe-inspiring landscapes that will leave a lasting impression.
By following this guide and respecting the conservation efforts, your visit to Ngorongoro Crater will be an unforgettable and ethically responsible experience. I'm already planning my next trip back to show my kids this astonishing natural wonder in beautiful Tanzania. 
Pin for later: