(Last Updated On: October 11, 2022)
This post contains affiliate links which means that if you click and make a purchase I may receive a small commission, at no cost to you. All opinions are my own.
How to Save Money on Your Family Vacation: 14 Tips and Tricks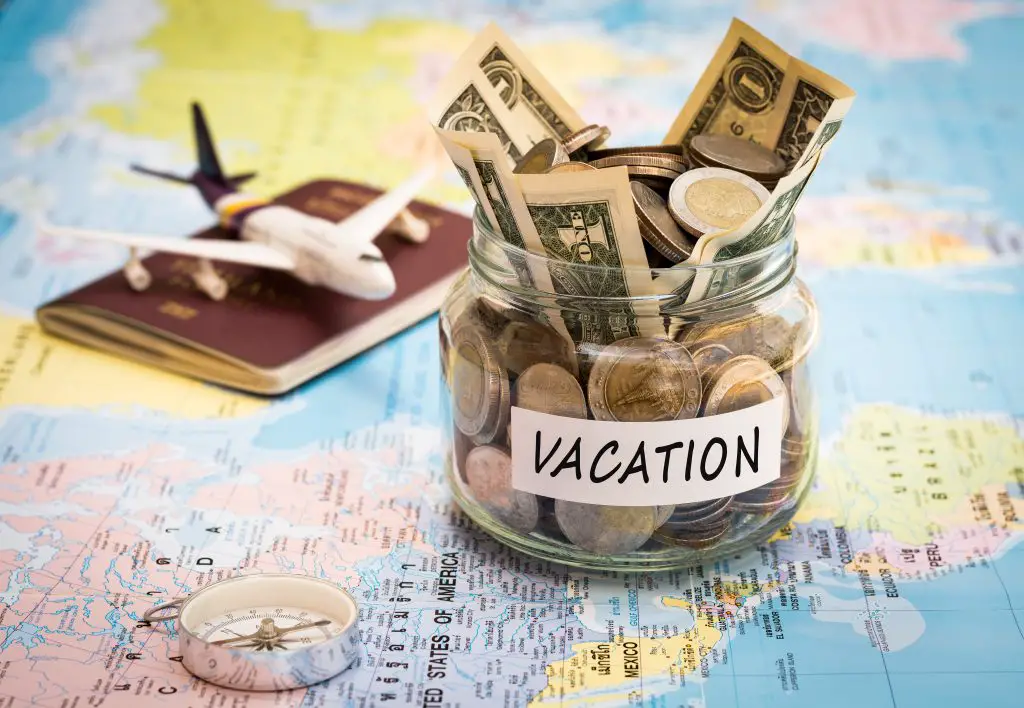 Family vacations can be costly. We already anticipate the upfront costs like airfare and hotel accommodations. There are a number of travel resources available to help cut some of those major costs down. But those smaller expenses like food, gas, and activities can add up quickly. As a family travel blogger, my mission is to encourage families to get out and explore. But, I know first-hand that for many, money is the biggest barrier that stands between families and a much-needed vacation.
I'm not a budget traveler per se, but I do like to cut costs on some travel expenses so that I can splurge on other experiences.
Here's how to save money on your family vacation:
Stay in a vacation rental or any accommodation with a kitchen
Food is a major expense while traveling. This is why staying at a or staying in a hotel with a kitchen or kitchenette can provide the biggest savings. We generally try to book our accommodations in a condo-style resort with a full kitchen. After check-in, we usually go to a local grocery store to pick up enough food for a few meals.
Enjoy the complimentary breakfast
If you can't book a hotel with a kitchen or kitchenette, opt for one that provides continental breakfast. That way, at least breakfast will be covered each day.
Bring your own snacks
My kids like to snack, A LOT. When we're planning to stay at a destination for more than a couple of days, I will buy snacks before our trip and bring them with me. I purchase snacks from stores like Walmart and Target to save. That way when my kiddos have the munchies between meals, we won't end up in a museum gift shop paying above market rate for snacks.
Explore local cuisine
When we go out for our meals, we try to always eat locally. Whether it's a popular mom-and-pop restaurant or street food, we love to get out and explore. The cuisine is an excellent way to learn some culture and history of the destination. It also can be cheaper than larger establishments.
Consider not staying close to all the action
When you stay at a resort or hotel in the thick of things, everything is more expensive. When I say everything, I mean EVERYTHING… accommodations, gas, and even groceries are more expensive the closer you are to the hot spots. So, staying on the outskirts of a destination can provide great savings.
Use public transportation
If you decide to stay close to all the fun, one way you can offset costs is to use public transportation. Using public transportation is also a cool way to see and interact with locals.
Add free activities to your itinerary
Before your trip, look up a list of fun things to do for free. I generally start my research with Pinterest and simply type into the search field "Free things to do in XYZ". See what that search yields. Next, check out the local destination's tourism board website to see if there are any free concerts, festivals, or museums you can explore during your trip. Also, you can do a quick search only for cool and unique playgrounds in the city you visit. My kids love playing in new parks.
Find budget-friendly activities
You can also do a quick Pinterest search to find cheap things to do in a city or "XYZ on a budget." That search should help you pinpoint some fun activities within your budget.
Visit a Hostel
If your search for budget-friendly activities doesn't yield good results, find a local hostel. Back when I was a backpacking student solo traveler, I found that hostels have a wealth of information about budget activities and travel. You can call ahead or stop in for a visit. The concierge at the hostel are either locals or have lived in the area for a while. They always have a long list of activities you can enjoy on a budget. Be sure to tip them, though. They're most likely students themselves.
Get a National Park Annual Pass
National Parks can cost anywhere from $5 to $55 per vehicle. So, if you're planning to visit more than once a year, you can save money by buying the annual National Park pass for $80.
Avoid souvenir shops
Avoid souvenir shops at all costs. If you would like to buy a knick-knack or souvenir, visit the local grocery store, Target or Walmart to get more affordable souvenirs for your friends and family.

Buy travel Insurance
I know that purchasing insurance adds costs upfront, but if something goes wrong while you're away, having travel insurance can save you hundreds and even thousands of dollars on the back end. To be honest, I don't buy travel insurance for every trip. I generally only buy insurance for domestic trips when the airfare is $350 or more. But I buy travel insurance for all of our international trips.
Set a travel budget and stick to it
We budget to spend $150 each day while on vacation. But since we choose accommodations with a kitchen, we spend less than that each day.
Use cash
Financial expert, Dave Ramsey, advises folks to use cash whenever possible. It's nearly impossible to overspend when you're using cash. I found that it's the easiest trick to help me stick to my budget. I use this tip on vacation and while at home.
Travel is not cheap, but there are ways to make the expenses more manageable. I hope these top 25 cheap travel tips that you should know about. What are your favorite ways to save? Let me know in the comments below.
If you enjoyed this post on how to save money on your family vacation, you will find the following articles helpful:
Pin these tips on how to save on your family vacation for later: