Miami is known for its warm temperatures, beautiful beaches, and lively nightlife. But a few short miles away from the world-famous South Beach there's a little-known historic gem ­— the Hampton House Motel. Once dubbed, the "first luxury hotel for Negros in the South," this Green Book Motel was the epitome of black excellence in Miami, FL in the 1960s.
As a native Miamian, Black History buff (earned a BA in African American Studies), and journalist (former writer for a Miami TV news station and reporter for a Black-owned Miami newspaper), I'm ashamed by how little I knew about the famed motel located in my backyard.  I knew of the Hampton House Motel as the "Hamps." To me, the Hamps was nothing more than a rundown, low-income housing complex where some of my family members once lived. It wasn't until the Hampton House was slated for demolition that I learned it had some historical significance.
After doing a little research, I decided to schedule a tour and was blown away by the depth and breadth of history that took place at the Hampton House Motel.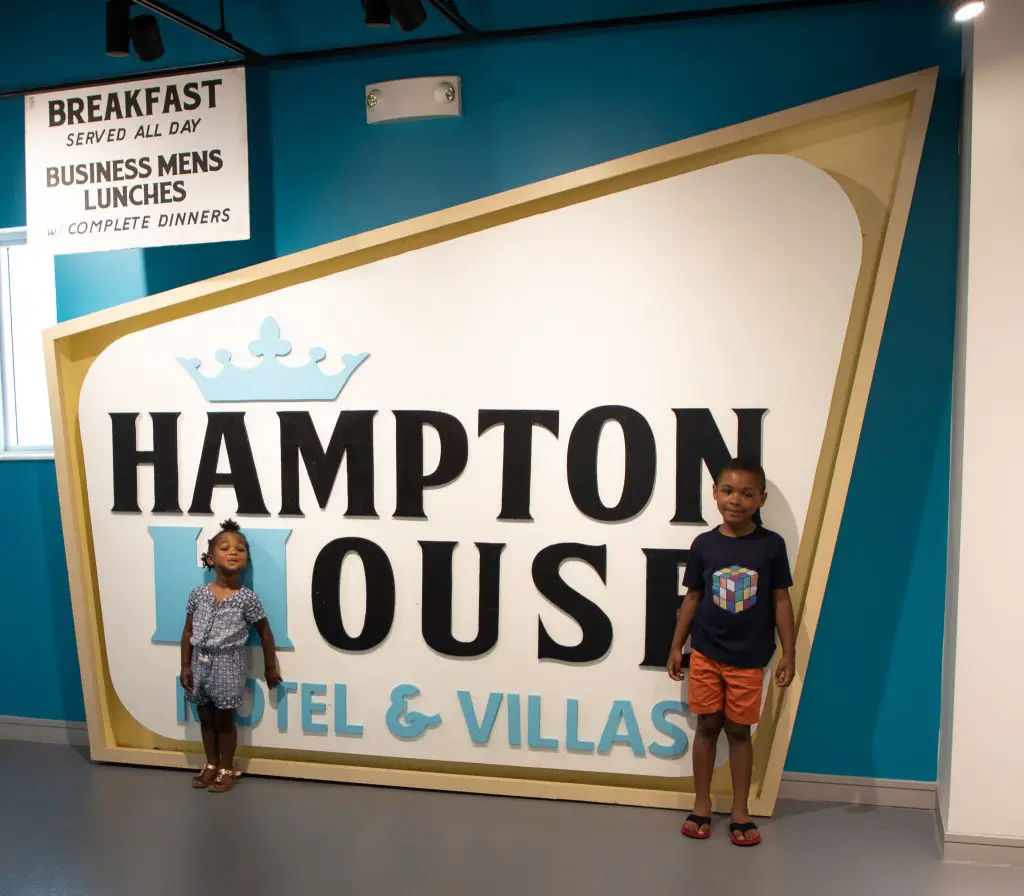 The Hampton House Legacy
In the 1960s, the Hampton House Motel was the gathering place for not only for local movers and shakers but also for larger-than-life performers, musicians, socialites, and politicians. Within the walls of this famed motel, a prominent preacher practiced one of the greatest speeches in history and a young fighter became the Champ.
The motel originally opened in 1954 as the Booker Terrace Motel. Situated on a 5-acre tract of land, the motel included 50 hotel rooms, 96 one-bedroom apartments, 48 two-bedroom apartments, a 24-hour restaurant, and nightclub. In 1961, Booker Terrace was purchased, renovated and renamed the Hampton House Motel.  It was also rebranded as "The Social Center of the South."
Listed in Victor Green's "The Negro Motorist Green Book," the Hampton House Motel was one of Miami's premier facilities for black travelers during segregation.  More than a motel, it also became an oasis for the movers and shakers in Miami's black community.  The Hampton House Motel evolved into a chic resort with a pool, maître d' service, valet parking, and 24-hour restaurant and lounge where some of the best jazz musicians performed before integrated crowds.
Famous Performers
During its heyday, the luxury motel hosted a number of famous artists like:
Aretha Franklin                  Marvin Gaye
Count Basie                         Sarah Vaughn
Dinah Washington           Sammy Davis, Jr.
Dizzy Gillespie                   Duke Ellington
Ella Fitzgerald                    Flip Wilson
Frank Sinatra                     James Brown
Josephine Baker
The Epicenter of Political & Social Change
In addition to being the hottest place to see and be seen, the Hampton House was also the epicenter of political and social change in Miami.  When in Miami, Dr. Martin Luther King, Jr. would meet with local civil rights leaders at the Hampton House Motel.  The Motel also became the hub for the Congress of Racial Equality (C.O.R.E) and on numerous occasions, Dr. King, Muhammad Ali, and Malcolm X all stayed at the Hampton House with their families.
The guide informed us that no conversation about the Civil Rights Movement is complete without a reference to Miami's Hampton House Motel, during our tour. In a documentary, Miami Civil Rights Activist A. D. Moore said that three years before Dr. King gave his famous "I Have a Dream Speech" in Washington, DC, he rehearsed it at the Hampton House Motel in Miami.
In 1964, Cassius Clay (later Muhammed Ali)  beat Sonny Liston in Miami Beach. That feat made Clay, at 22 years old, the youngest boxer to ever take the heavyweight title from a reigning champion. But even as a celebrity athlete, Jim Crow Laws prevented the man who coined the term GOAT—"The Greatest of All Time"—from staying at any hotel in Miami Beach.  The Champ returned to the Hampton House Motel to celebrate his victory by enjoying a large bowl of ice cream with friends.
Our tour guide informed us that it is believed that Malcolm X (Ali's friend and mentor) proselytized him to the Nation of Islam during their stays at the motel.
Decline After Desegregation
During desegregation, black folks started to patronize other establishments which resulted in the resort losing most of its clientele. The Hampton House Motel officially closed its doors in 1976.  It remained closed from 1976 to the early 2000s. A shadow of its former glory, the neglected building became dilapidated. A tree even sprouted up in the same pool where Dr. King had once swum. In 2001, a group of activists raised awareness about the rich history of the once-famed motel, mobilized the community and was successful in getting the Miami-Dade County Historic Preservation Board to designate the Hampton House Motel as a historical landmark.
The Hampton House Today
It took more than a decade for the building to be preserved.  During that time, a group of experts painstakingly worked to incorporate wall paneling, railings, fixtures, and furniture. The Historic Hampton House Motel reopened in 2015 after three guest rooms, the lobby, café, patio, and pool had been restored.
The Historic Hampton House Motel is a historic site and cultural institution. Today, it operates as a museum and cultural center that rents space and offers tours. The tours are $5 for adults and kids are free.  Although this landmark was saved from the wrecking ball, we need to do our part to support it and preserve our history. Call (305) 638-5800 to schedule a tour.
The Historic Hampton House Motel is located at 4240 NW 27th Avenue, Miami, FL, less than 5 miles from Miami International Airport. For more information on tours visit Historic Hampton House.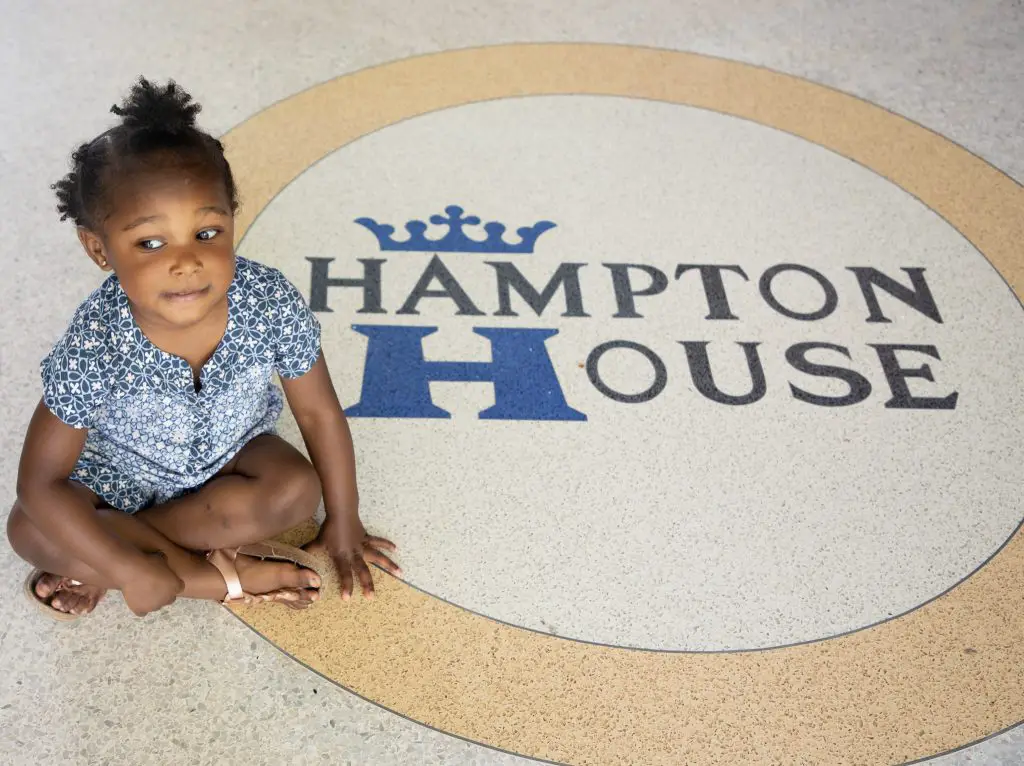 Austen posing in the lobby
Need more travel tips?  Follow my Things to do in: Florida Pinterest Board