(Last Updated On: October 1, 2022)
This post contains affiliate links which means that if you click and make a purchase I may receive a small commission, at no cost to you. All opinions are my own.
Looking for the best hotels in Memphis for families? As one of Tennessee's most popular cities for tourists, Memphis welcomes guests from all over the country each year who come to experience the live music, awesome food, and exciting attractions. If you're planning a family trip to Memphis in 2022, you'll be thrilled to learn that there are tons of kid-friendly lodging options in and around the city.
In this guide to the best Memphis hotels for families, I'm sharing some of my top picks at different price points. Whether you're looking for a charming hotel in the suburbs or a luxurious high-rise in the city, there's something for everyone here. Pack your bags!
Here are my picks for the best hotels in Memphis for families: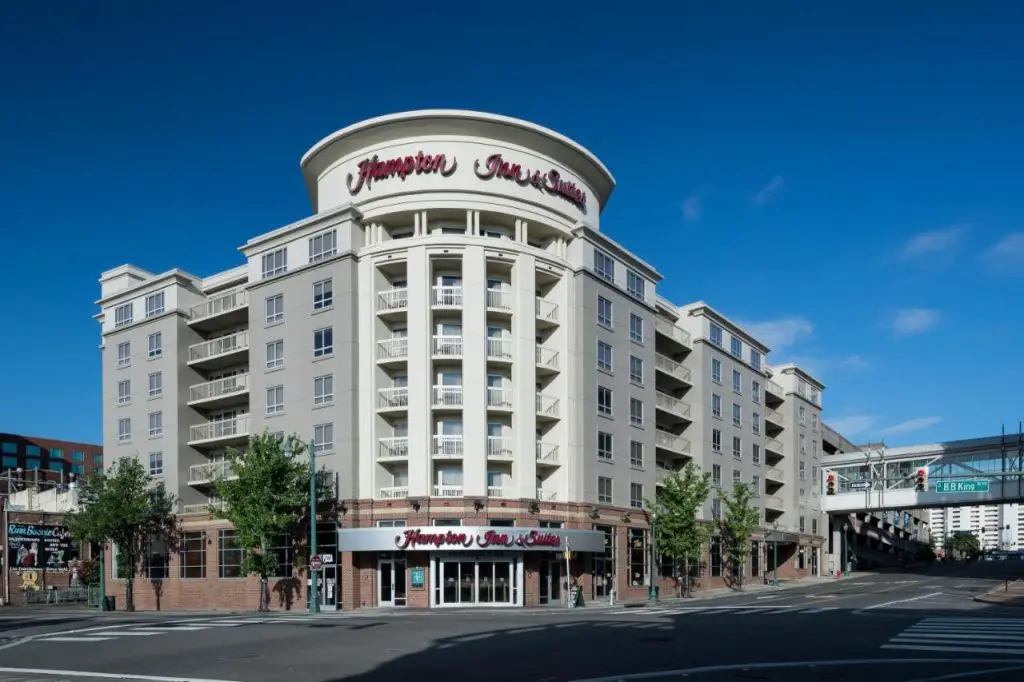 Located in the heart of downtown on Beale Street, this recently renovated Hampton Inn & Suites is the perfect choice for families traveling to Memphis with small children. Cribs and high chairs are available upon request, along with complimentary breakfast and an indoor pool. Top Memphis attractions like the Memphis Rock 'n' Soul Museum are just a few blocks away, so your stay guarantees to be packed with family-friendly activities.
 

 

View this post on Instagram

 
One of Memphis' oldest and most famous hotels, The Peabody Memphis has been serving its guests for over 150 years. While this award-winning hotel is famous for its rich history and stylish elegance, it's best known for its twice-daily duck parade. Every day at 11 a.m. and 5 p.m., the hotel's five resident ducks march through the lobby.
Guests can unwind in one of the opulent guest rooms, enjoy meals at the on-site restaurants and bars, and take a short stroll to the center of the action on Beale Street. The Peabody Memphis is a pet-friendly hotel, so you can bring along your furry friends.
 

 

View this post on Instagram

 
Did you know that Memphis is actually the birthplace of the iconic Holiday Inn name? If you want to enjoy the premier location of a downtown hotel without the lofty price tag, the Holiday Inn Downtown Memphis is a great choice. Amenities include a fitness center, business center, complimentary WiFi, and a full-service restaurant. The hotel is also located right across the street from The Peabody, so you can enjoy the famous duck march during your stay.
 

 

View this post on Instagram

 
Tucked away inside the massive 535,000 square-foot Bass Pro Shops at the Pyramid, the Big Cypress Lodge features a classic combination of rustic charm and modern luxury. This unique hotel boasts spacious suites designed to replicate cabins and treehouses, along with unique amenities like a 28-story glass elevator, watching live alligators, and bowling.
You can enjoy sweeping views of the Mississippi River as you dine at one of the hotel's restaurants. If your family loves the outdoors, then Big Cypress Lodge is easily one of the best hotels in Memphis to check out.
 

 

View this post on Instagram

 
Since it opened in 1930, the Residence Inn Memphis Downtown has welcomed guests of all ages through its doors. This art deco-style hotel is one of the best hotels in Memphis for families and offers a fully equipped kitchen in each of its rooms.
Among its list of amenities are an on-site restaurant, complimentary breakfast, and laundry service. The Main Street Trolley is located right outside the hotel doors, so your family can easily travel to all the best sights Memphis has to offer without worrying about how you're going to get there.

With a location that simply can't be beat, this downtown hotel is located right on the Trolley Bus Line for easy access to the very best that Memphis has to offer. Although, between the outdoor pool, spa, and stylish suites, you may never want to leave the hotel. You can enjoy an impressive complimentary breakfast, drinks at the Lobby Bar, and a 24/7 on-site market for anything you may have left at home.
 

 

View this post on Instagram

 
As Memphis' tallest high-rise hotel, the Hilton Memphis offers stunning city views that you can't find anywhere else. The adults will love the sophisticated lobby bar and the kids will go nuts over the attractive outdoor pool. This hotel offers complimentary airport shuttles, making it a wonderful option for families traveling to Memphis by plane.
You can enjoy easy access to some of the most popular sights in Memphis like Graceland and the Beale Street Entertainment District. The Hilton Memphis also features pet-friendly rooms and a modern on-site fitness center for guests to enjoy.
 

 

View this post on Instagram

 
Set in a building that's been around since 1902, Hotel Napoleon is a longtime favorite of families traveling to Memphis. With Old World elegance on the outside and modern luxury on the inside, this boutique hotel has it all. The contemporary rooms and suites feature sleek tech elements like a Bluetooth radio docking station.
Famous landmarks like FedEx Forum and Beale Street are located within walking distance, making it easy to explore Memphis with kids during your stay. If you're traveling by car, you can park at the hotel for as little as $10 per day.
 

 

View this post on Instagram

 
If you're traveling to Memphis to visit the world-famous Graceland, The Guest House at Graceland is the perfect place to stay. Southern hospitality and luxurious amenities combine to offer guests the royal treatment during their trip to Memphis.
The eclectic and stylish rooms would make Elvis Presley proud and the incredible outdoor pool is an instant hit with children of all ages. The Guest House at Graceland even features a 464-seat theater where they present live music and entertainment shows throughout the year.
With one of the best customer service ratings in the city, you can't go wrong with a stay at the Embassy Suites Memphis. Every room in the hotel is a two-room suite with a separate living area and kitchenette.
You can enjoy a free made-to-order breakfast each morning, with complimentary snacks and drinks in the evenings. Located 15 minutes from Graceland and 25 minutes from Beale Street, this hotel offers just enough space from the city to allow for peaceful quiet time without being too far away.
If you're planning a trip to Tennessee, you can't go wrong with any of my picks for the best hotels in Memphis for families. Looking for great things to do in Memphis with kids? I have you covered there too! If you think I left out a family-friendly Memphis hotel that deserves a spot on the list, let me know in the comments.
If you found this post on the best hotels in Memphis for Families helpful, you might also like:
Pin the best hotels in Memphis for Families for later: