Hundreds of melanated travel enthusiasts converged on the city of Memphis, Tennessee to attend the Second Annual Audacity Fest. The weekend conference was chock-full of panels and workshops centered around my favorite topic…TRAVEL! But the Audacity Fest isn't your run-of-the-mill travel conference, this event was created by and for travelers of color.
The Audacity Fest is an annual travel conference organized by the Nomadness Travel Tribe, a group of more than 20,000 like-minded wanderlusters of color. The organizers and participants–comprised mostly of black women– are the vanguards of the Black Travel Movement. Our existence continues to defy the trope that zealous travelers are rich and white. The Audacity Fest was the perfect opportunity for me to meet and commune with my fellow travel trailblazers.
Audacity Fest Kick-Off (Friday night)
The Audacity Fest officially kicked-off the night before the conference. Event panelists and VIP ticket holders attended a private, self-guided tour of the National Civil Rights Museum at the Lorraine Motel. The motel where Dr. Martin Luther King, Jr., was assassinated. During opening remarks, event organizers explained that the group chose Memphis to pay homage to the city's deep commitment to preserving African American history.
The museum has artifacts from the Civil Rights Movement as well as interactive exhibits.
The most moving aspect of the museum was the preserved hotel room where Dr. King spent his last night. That exhibit was deeply moving and it set the tone for the rest of the conference.
Main Event (Saturday, 10 am-5:15 pm)
On Saturday morning, I was greeted by a sea of 'twist outs', 'locs', and 'curly fros' when I walked into the breezeway at the Beale Street Landing to check-in. The air was buzzing with the ebullient chatter of hundreds of black and brown nomads. The vibrations were high and I knew this event was gonna be amazing.
The Beale Street Landing, located along the Mississippi River, is a picturesque venue. Festival guests enjoyed a bevy of panels featuring travel experts, entrepreneurs, and influencers.
There were 27 offerings, divided into the 6 main verticals of travel – culinary, self-care, immersive, adventure, budget, and luxury. Some of the panels covered:
Budget Travel Hacks
Mental Health & Travel
Traveling with Children
Body Positivity in Travel
Solo Travel
Black Men of the Travel World
Wellness & Fitness in Travel
Volunteering Abroad
Whether you're a couch-surfing backpacker or a posh traveler who prefers to be surrounded by luxury, there seemed to be a panel or workshop for most in attendance.
I loved that we were encouraged to ask panelists questions.  All of the speakers seemed eager to make connections.
Brunch and Awards Ceremony (Sunday)
The festivities did not end after the conference. Nomadness hosted a brunch and awards ceremony for panelists and VIP ticket holders on Sunday morning. Unfortunately, I did not attend this event because I had an early morning return flight.
Audacity Fest Takeaways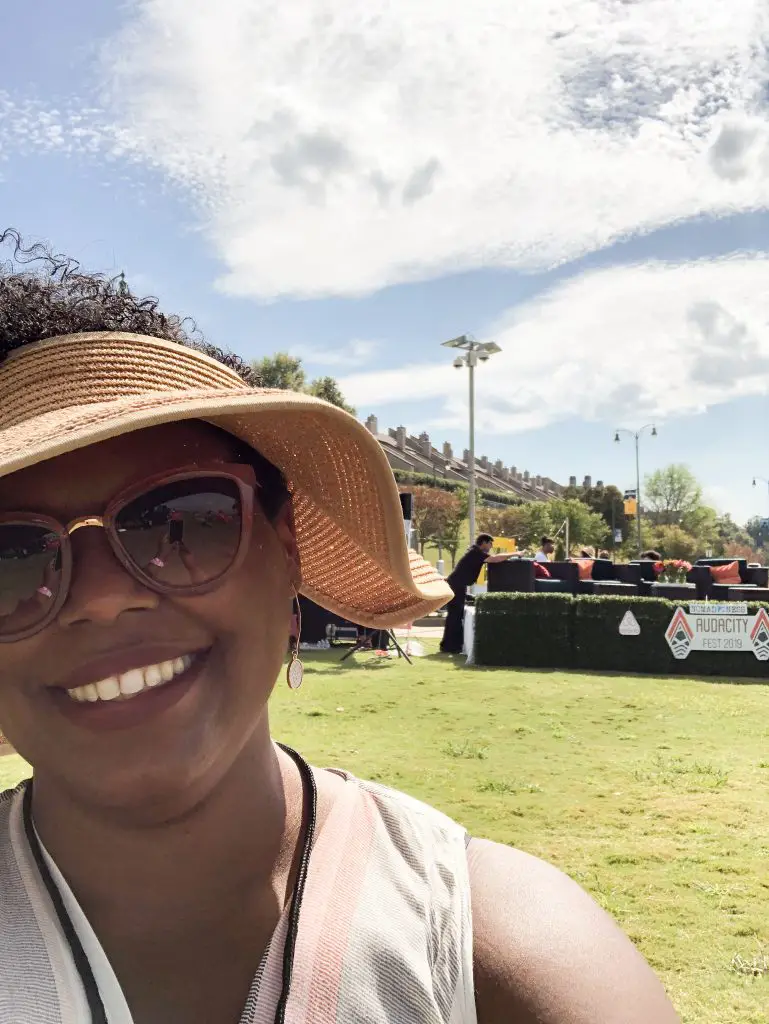 As a seasoned traveler, I'm accustomed to being a globetrotting ambassador for my people. I break down barriers and stereotypes with each newly garnered passport stamp. There is a dearth of diversity and inclusion in the travel sphere and I yearned to connect with other travelers of color.
I craved a safe space that would foster a meeting of the minds. A place where black and brown nomads could share stories, compare notes, expose battle scars, and acknowledge our most ambitious and dopest travel dreams without fear of judgment.
The Audacity Fest provided all of the above and I will be forever grateful. I look forward to experiencing all of that nomadic greatness next year in New York City.
Did you attend the Audacity Fest this year? What was your favorite panel?