(Last Updated On: October 27, 2022)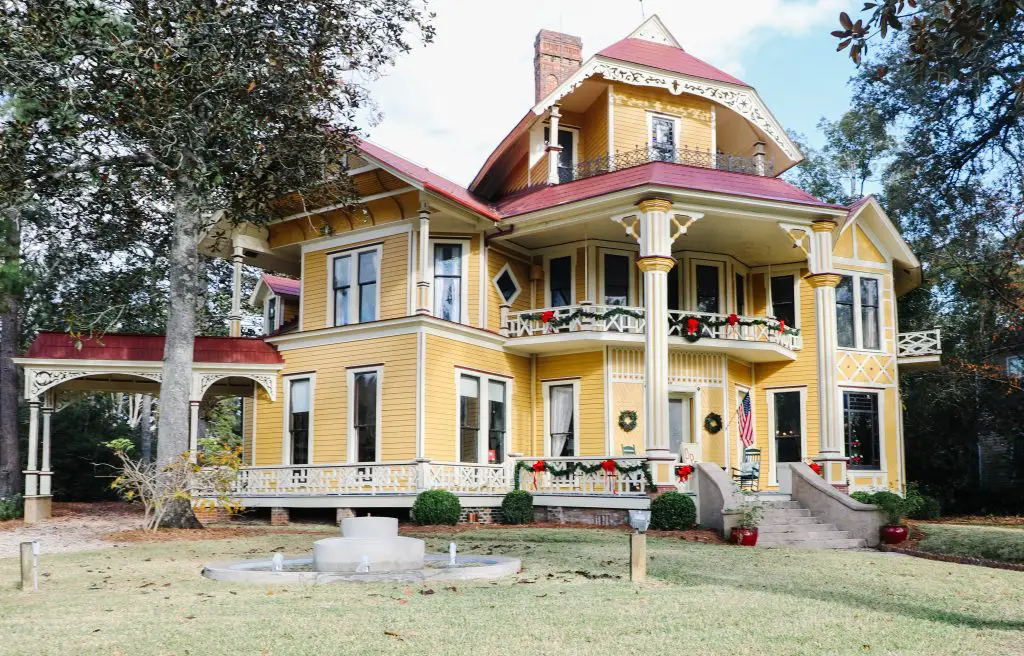 Located in the Red Hills Region, in southwest Georgia, Thomasville is a vacation destination for many travelers. With its historic Victorian homes, small-town charm, and long history as a top travel destination at the turn of the 20th century, its no wonder that Thomasville is a great travel destination.
Whether you're visiting to enjoy the amazing food, learn a bit about Black History in the area, or you want to enjoy the feeling of stepping back in time, it's easy to understand why so many people include Thomasville, Georgia on their annual travel itinerary.
To learn more about Thomasville's appeal and to discover all of the reasons why you too should include this unique destination on your own travel bucket list, read on.
[This Thomasville, Georgia: a Historical Guide was updated October 2022]
Thomasville GA Vacation History and Why You Should Visit
In the late 1800s, Thomasville was the last stop on the Southern Railway train line, which made it easily accessible to Northerners. When a doctor penned a medical article and claimed that breathing in pine-scented air, cured lung illnesses, wealthy Northerners began to flock to Thomasville each winter.
They chose Thomasville, Georgia as a winter vacation destination due to its warm temperatures (being only a few miles for the Florida state line), and pine-scented air. During the winter months, these wealthy Northerners would socialize, hunt, and fish. The town became known as the "Winter Resort of the South."
At first, the wealthy visitors would stay in Thomasville's luxury hotels, but once they discovered that it was cheaper to buy land and build homes of their own, they started to do just that. They built grand Victorian mansions and plantations. Some purchased old Plantations restored them and converted them into hunting resorts. Many of these Victorian homes and plantations are still owned by the families who built them. Many of the "winter cottages" that were built in the 1880s have been restored and are open for tours.
Although the grand hotel era ended when the railroad was extended into southern Florida, Thomasville continued to be a desired destination for many tourists. The local government has gone to great lengths to preserve the historic charm and beauty of Thomasville, which is how it snagged the honor of being named the second-best historic small town in the country in 2016 by USA Today.
Today, this small town is still a top destination for golfing, sport fishing, and Quail hunting. In fact, quail hunting is so popular that Thomasville is known as the "Quail Hunting Capital of the World."
In addition to its architectural wonders, Thomasville is also home to a number of standout food retailers such as Sweet Grass Dairy Cheese Shop which is the creator of artisan cheeses that can be found in Whole Foods Grocery stores across the country; the uber-popular seafood restaurant Jonah's Fish & Grits; and Dillon Candy Company which has been making their popular pralines and pecan rolls since 1918.
There's also a well-known annual event that can make for an enjoyable trip to keep in mind when planning your Thomasville vacation. Every spring, since the 1920s, the city hosts the Thomasville Rose Show and Festival, a three-day affair with two parades filled with flowery floats.
Thomasville also is known as "Rose City" boasts of being home to a world-renowned variety of the flower. The city was once home to a test garden where botanists experimented with growing different types of roses. Some of the hybrid flowers bloom in an array of colors to include black and green. The roses are on display year-round, at the Thomasville Rose Garden.
A Thomasville vacation is the highlight of the spring season for thousands each year. The area is so popular, in fact, that many travelers return every year making it an annual tradition for their families.
Whether you're visiting Thomasville to enjoy the Annual Rose Show, to step back in time and admire the preserved Victorian architecture, or to take advantage of the hunting, one visit to historic Thomasville will have you coming back time and time again.
There's no place else, where you can find a picturesque small town, world-famous foods, and living history!
Ready to start planning your next family adventure? These travel articles are helpful:
Pin for later: