(Last Updated On: September 21, 2022)
This post contains affiliate links which means that if you click and make a purchase I may receive a small commission, at no cost to you. All opinions are my own.
Situated in the heart of Florida's Gold Coast, Pompano Beach is a vibrant beach town bursting with excitement for all types of travelers. Lovingly nicknamed "Florida's Warmest Welcome," this family-friendly gem boasts some of the warmest waters on the East Coast. Recently, Pompano Beach has been experiencing a surge in tourism, and as a Miami native—it's easy to see why!
Pompano Beach is located just 30 minutes from my hometown of North Miami Beach, so I make sure to visit a few times a year whenever I travel to see my family. When you need a break from the crowds and glitz of Miami, the laidback vibes of Pompano Beach offer the perfect respite. From snorkeling and exploring shipwrecks to visiting the world's largest butterfly park, Pompano Beach boasts an endless supply of things to do.
Things to do in Pompano Beach, Florida With Kids

Best time to Travel to Pompano Beach, Florida with Kids
Heading to Pompano Beach or South Florida is always a great idea. But if you're looking to avoid a drove of tourists, and enjoy the best weather the best time to visit would be between the middle of February and into May.
How we Got to Pompano Beach, Florida 
To visit Pompano Beach, we flew into Ft. Lauderdale International Airport (FLL) , which is located less than 20 miles from the airport. We picked up our rental car at the airport and drove to Pompano Beach, which is about 20 minutes north of the airport.
You can also fly into Miami International Airport (MIA) and drive t Pompano Beach. However, the distance is greater (approximately 40 miles) and depending on the time you arrive you might get in traffic which would make an hour drive north to Pompano Beach, easily a two-hour adventure. 
Where to Stay in Pompano Beach, Florida with Kids
If you're looking for where to stay with kids in Pompano Beach, there are plenty of options from Airbnb rentals, to hotels. We opted to stay at the Wyndham Sea Gardens vacation rental. Here are a few more family-friendly hotel options:
Things to do in Pompano Beach with Kids
Map of Pompano Beach, Florida
Here are 10 fun things to do in Pompano Beach With Kids:
Go Snorkeling or Scuba Diving
Pompano Beach is known for its vibrant coral reefs and shipwreck sites. The best way to check out the incredible marine line and history of the area is by getting up close and personal. Choose from plenty of fantastic snorkeling and scuba diving excursions for an afternoon of family-friendly fun.
Get a Dose of History at the Blanche Ely House Museum
The former Pompano Beach home of civil activists Blanche and Joseph Ely was transformed into a museum honoring their work and showcasing the significant contributions of the local black community. Today, the museum also serves as a cultural hub for the area, featuring a wide array of creative workshops and classes.
Hit the Beach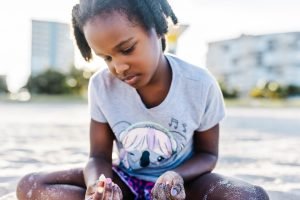 Thanks to a bend in the Gulf Stream, Pompano Beach features some of the warmest and clearest waters on this side of the Atlantic. If you're looking for free things to do in Pompano Beach, it doesn't get much better than soaking up the sun and sand.
Go Fishing on the Pier
Looking to reel in some trout or flounder for dinner? For a small fee, you can spend some time fishing on the Fisher Family Pier in Pompano Beach. You can purchase or rent all the essentials you'll need at the on-site bait shop and enjoy a stroll along the 900-foot pier afterward.
Hop on board the Pompano Beach Water Taxi 
Water taxis are a fun way to take in the sights without dealing with traffic.  Take a water taxi to see the city from a different point of view.  Head over to the Isle Casino Racing Pompano Park where you can choose from one of six on-site dining options and then catch a cabaret show or concert on the property.
Visit Pompano Beach's Butterfly World
No trip to Pompano Beach would be complete without a stop at the famous Butterfly World, which just so happens to be the world's largest butterfly park. Home to over 20,000 exotic butterflies and birds, Butterfly World is a breathtaking display of some of Mother Nature's finest work. Take a break from the beach and step into tranquility as you peruse the lush plant life and colorful creatures found throughout this serene oasis.
Enjoy a Waterfront Picnic
One of my favorite free and fun things to do in Pompano Beach is relaxing with a waterfront picnic with my family. With 52 spacious parks to choose from, you're guaranteed to find the perfect spot to enjoy a peaceful afternoon. Many of the parks offer playgrounds for your little ones to run around and there's even a dog park!
Catch an Outdoor Performance at Pompano Beach Amphitheater
The Pompano Beach Amphitheater hosts a broad range of exciting performances throughout the year, from local artists to major players in the music industry. Check out the event schedule before your visit to see if this open-air arena has something that piques your interest. Shop 'Til You Drop at Pompano Citi Centre
Whether you forgot to pack a few necessities or simply want to enjoy a day of shopping at the beach, the open-air Pompano Citi Centre shopping mall is the ideal spot to check out. Browse the wide range of boutiques and shops, then grab lunch at one of the many on-site restaurants and cafes.
Find a Souvenir at Art Connection
One of my favorite things to do in Pompano Beach has got to be ogling the beautiful art at Art Connection. This popular gallery is a favorite among locals and tourists alike and features tons of art from regional and national artists. If you're hoping to bring a piece of Pompano Beach home with you, there's no better place to find a unique souvenir.
I hope this guide to fun things to do in Pompano Beach, FL has provided some inspiration for your next trip! This up-and-coming beach town is sure to continue gaining popularity among tourists, and for good reason. If you're planning a family vacation to the area, be sure to check out these kid-friendly things to do in Miami next.
If you found this post on Fun Things to do in Pompano Beach helpful, you might also like:
Pin for later: