(Last Updated On: October 27, 2022)
This post contains affiliate links which means that if you click and make a purchase I may receive a small commission, at no cost to you. All opinions are my own.
Looking for fun things to do in Palm Springs with kids? We've compiled a nice list for you. When you think about Palm Springs, you may think of outdoor music festivals, iconic palm trees, and immaculate golf courses. But this desert oasis also has a ton of family-friendly attractions the whole family will enjoy.
This considerably small city has a lot to offer to you and your kids. Not only is this place excellent for adults, but it also holds many fun activities for kids. Exploring Palm Springs with kids will be a great opportunity for a family to make lifelong memories.
[This post on Fun Things to do in Palm Springs with Kids was originally published in November 2021 and updated in October 2022.]
To make sure that you are fully prepared to head out on your trip, here are the top 10 things to do in Palm Springs with kids:
Getting to Palm Springs, California:
Palm Springs includes nine cities – Palm Springs, Desert Hot Springs, Cathedral City, Rancho Mirage, Palm Desert, Indian Wells, La Quinta, Indio, and Coachella. Before I tell you about all the fun things to do in Palm Springs, we have to discuss how to get there. These are your options:
You can fly into the Palm Springs International Airport (PSP). There are a number of daily flights into this airport.
Palm Springs is about a two-and-a-half-hour drive from San Diego. If you're visiting San Diego, you can hop in your car and enjoy a family road adventure to Palm Springs.
You can also take an Amtrak train to Palm Springs station (PSN).
Fun Things to do in Palm Springs with Kids: the Best Attractions
1. The Living Desert Zoo and Gardens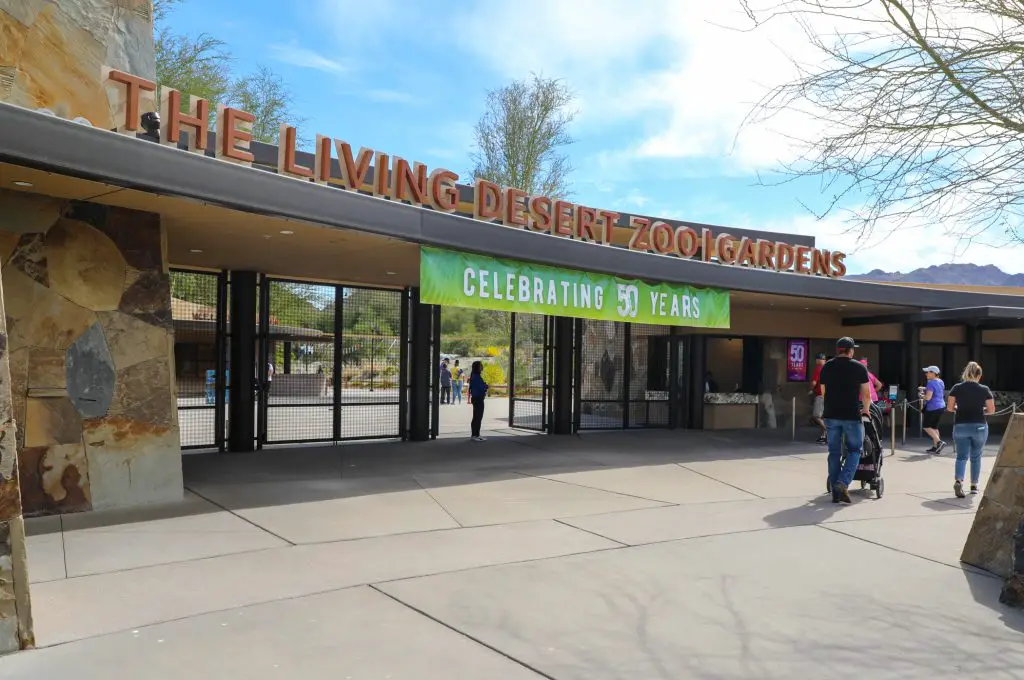 One of the coolest places your kids will get to visit is this zoo. The zoo is home to a number of exotic animals including the desert tortoise, mountain lion, and more. You'll also have the chance to pet and feed the giraffes and take beautiful pictures with them.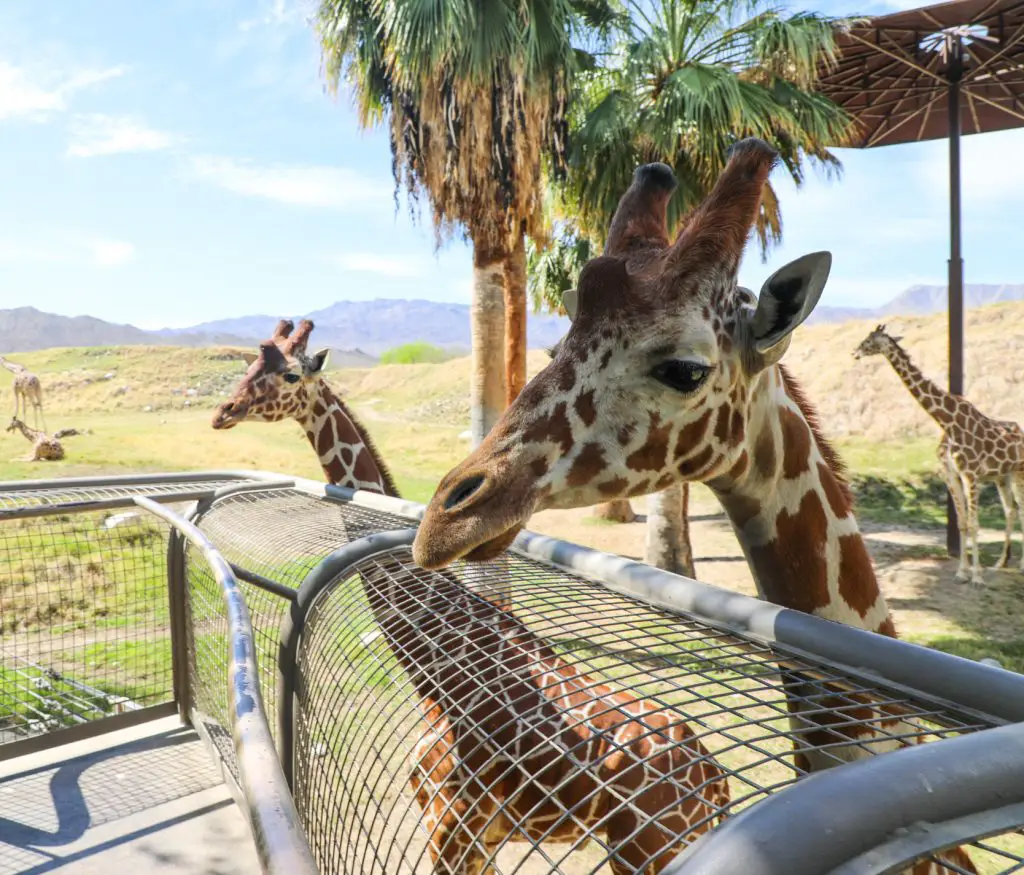 2. Palm Springs Air Museum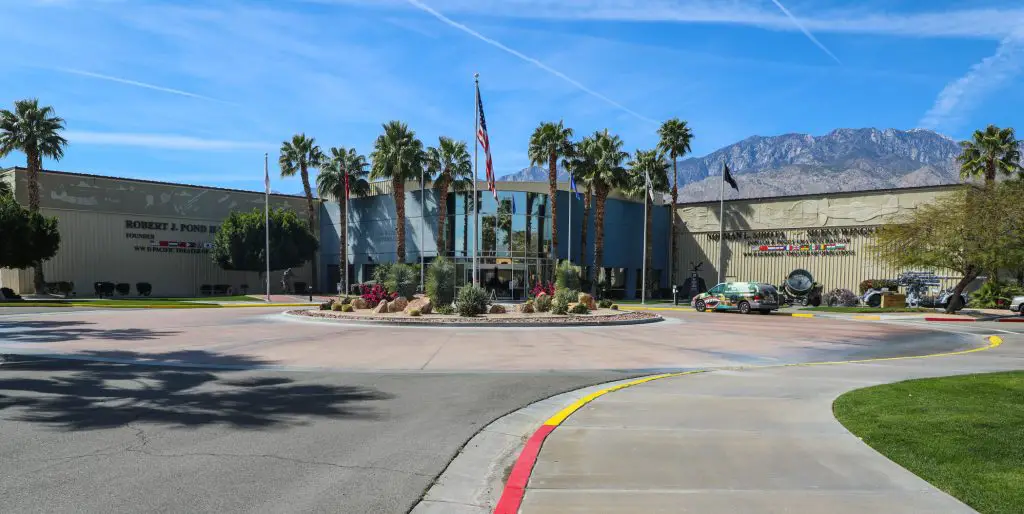 If you have a kid who loves airplanes, this museum is the perfect place to spend an afternoon. The Palm Spring Air Museum features vintage aircraft from World War II, and the Korean and Vietnam Wars. This place was ranked as the #1 Air Museum in California by CNN Travel and the #1 Palm Springs attraction by Tripadvisor.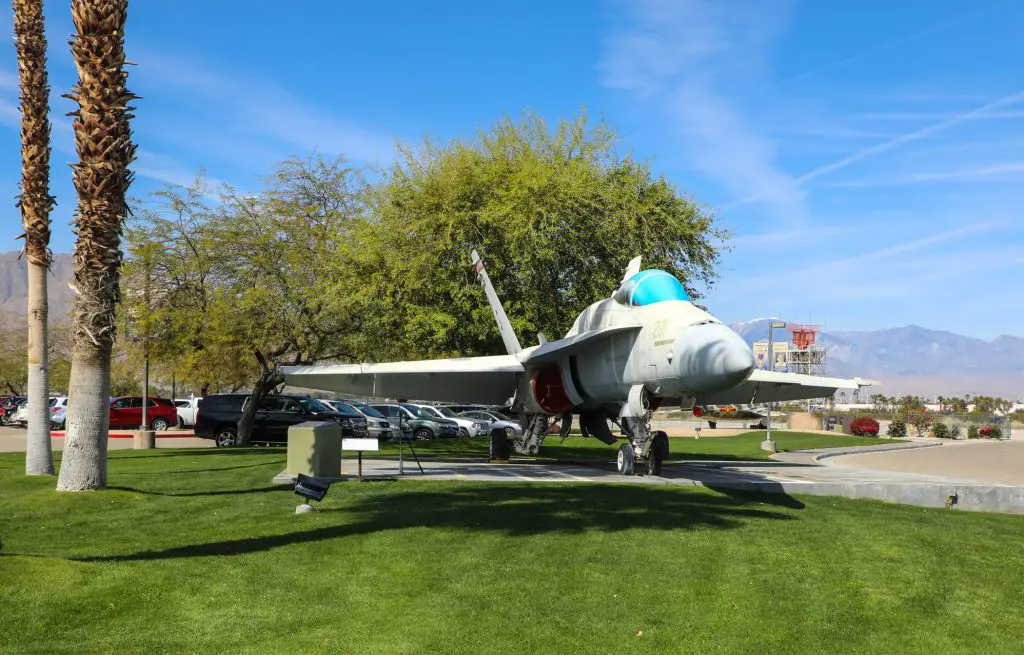 3. Visit the Palm Springs Aerial Tramway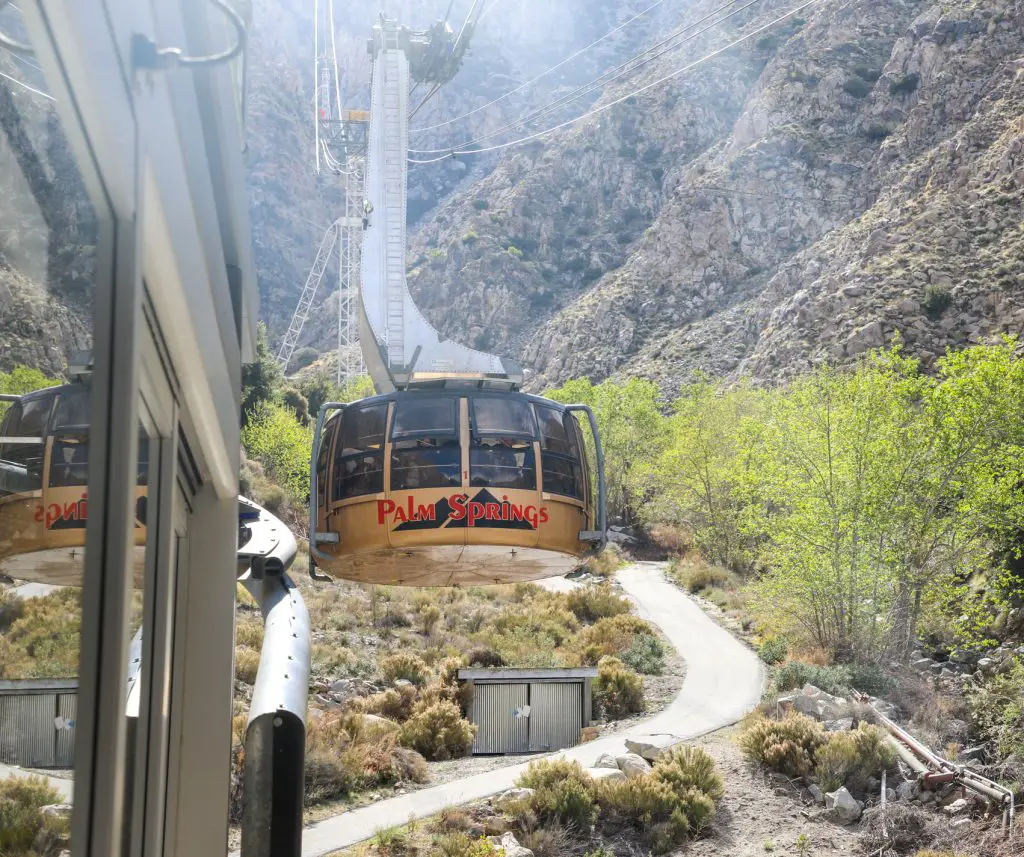 Glide across the desert valley via the Palm Springs Aerial Tramway. This is the world's largest rotating tramcar. The floor of the tram car rotates, allowing all passengers a 360 view of the valley below. The tram climbs 2.5 miles in the air in just 10 minutes. Once you reach the top site, which is 8,000 feet high, you can step out into Peaks Restaurant. Here, you can grab a meal while you and your kids enjoy the spectacular views.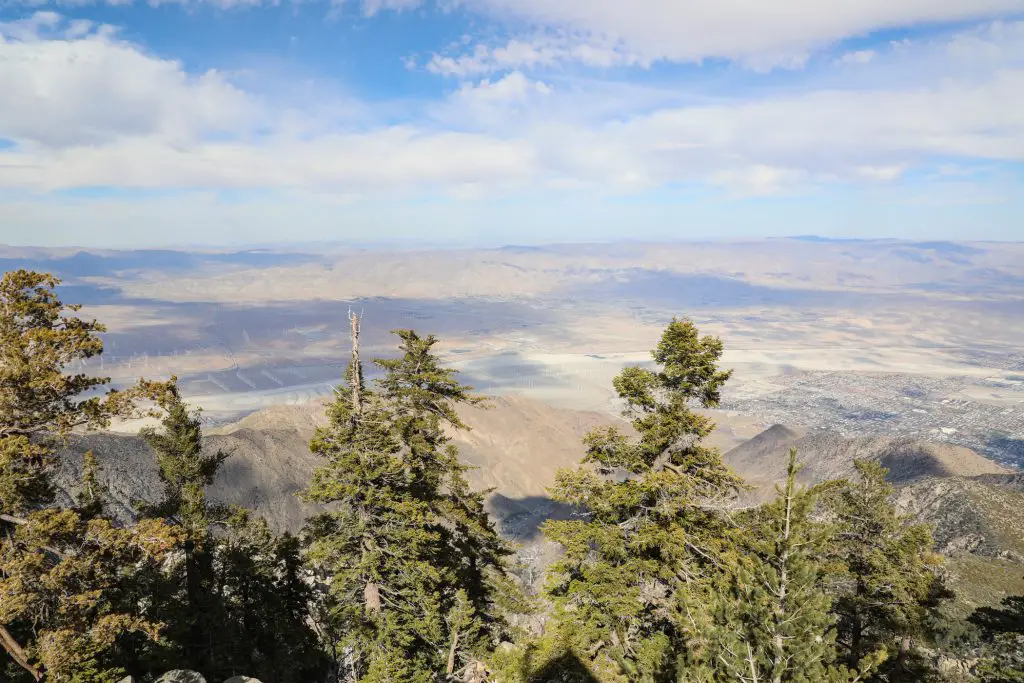 If you feel up to you, you might want to add to your family adventure with a hike. There are 54 miles of trails along the beautiful Santa Rosa and San Jacinto mountains. Be sure to bring a jacket. Temperatures drop significantly (about 30 degrees cooler than the desert) at the higher elevation. You might even see snow.
4. Take photos with Palm Springs Dinosaurs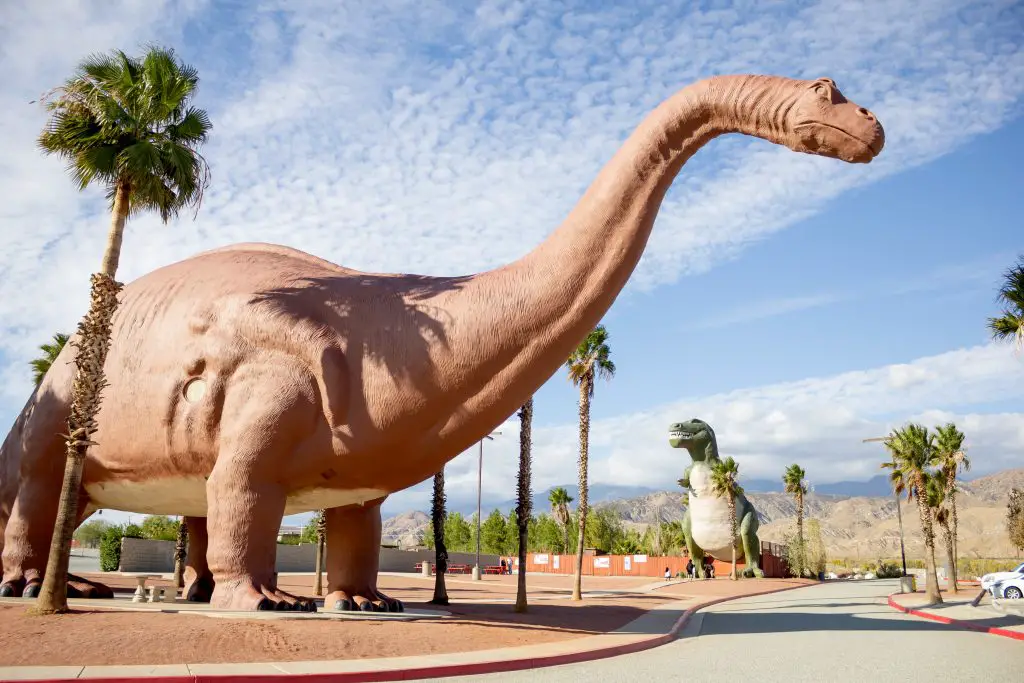 Visit the Carbazon Dinosaurs. This famous roadside attraction is in Cabazon just 20 minutes outside of Palm Springs. Take a selfie with the family with the famous Cabazon Dinosaurs for free or pay to enter the Dinosaur Park which hosts a number of events throughout the year. Once you're finished with the dinosaurs you can head over to the Cabazon Outlets to do a little shopping.
5. Children's Discovery Museum of the Desert
This interactive museum features more than 80 activities that people of all age groups can enjoy. There are also STEM nights after 5 pm for kids, which will allow your kids to get hands-on activities in science, engineering, and math. Some classes include topics such as anatomy and heart health, biodiesel day, and software engineering.
6. Palm Springs Windmills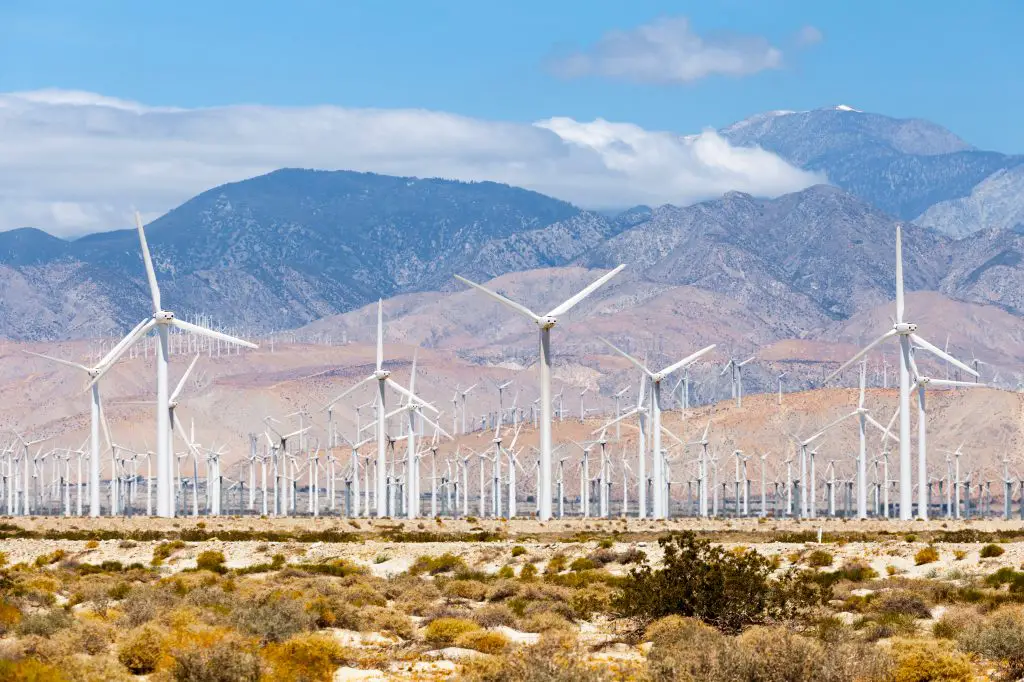 There are miles and miles of wind turbines in Palm Springs. Windmills are a popular alternative source of energy. These wind turbine generators produce electricity by harnessing the wind. Your family can learn all about this source of sustainable energy while enjoying a self-driving windmill tour.
7. Try a Date Shake
Palm Springs is also famous for the date palms that grow in the area. Take the kiddos to the Shields Date Garden in Indio to try a yummy date shake and learn more about date palms.
8. Check out the Palm Springs VillageFest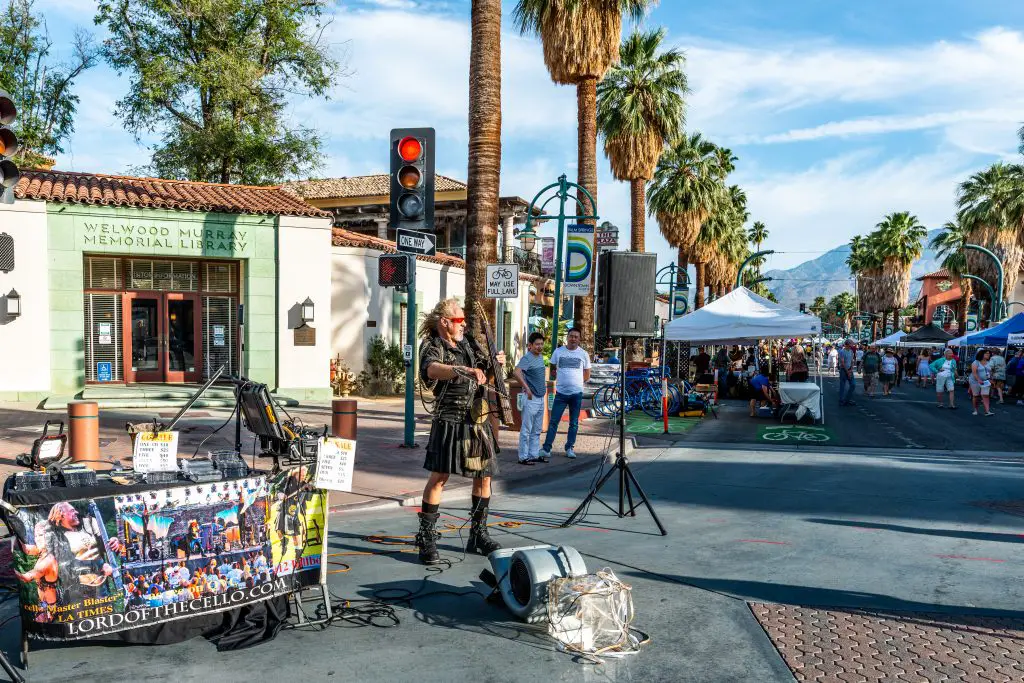 If you're in town on a Thursday evening, head over to downtown for the Palm Springs VillageFest. This pedestrian street fair takes place from 6-10 pm every Thursday, and it's free. The fair features live music, food, and craft vendors.
9. Learn about Local Indigenous History Culture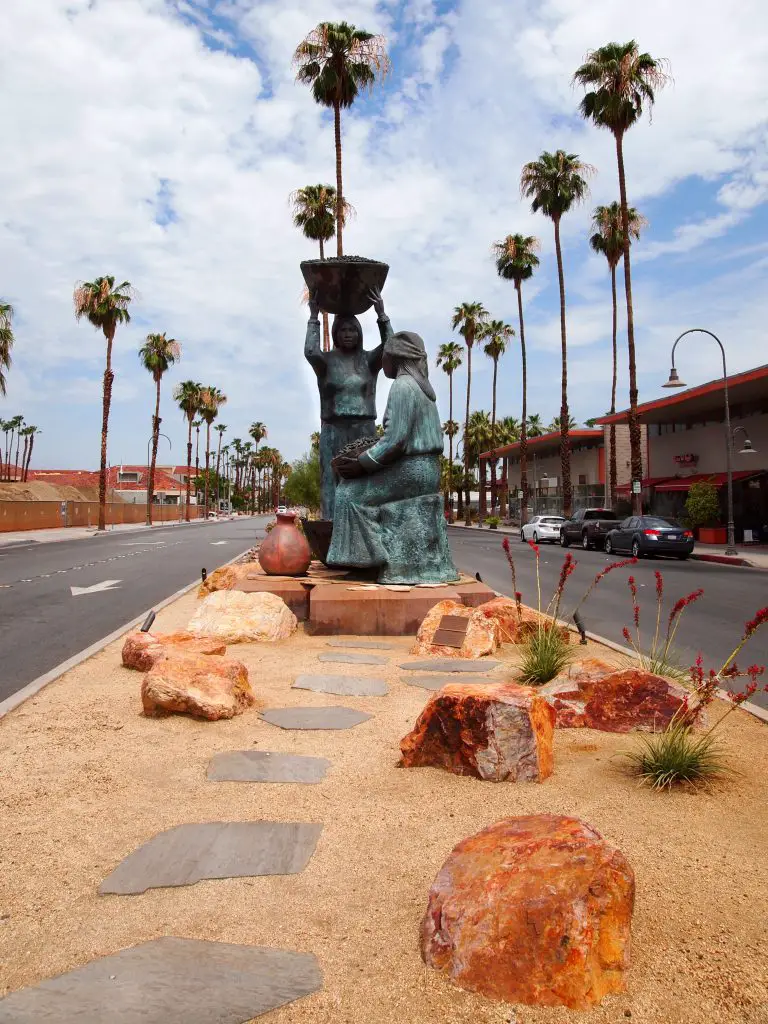 If your family loves history and outdoor activities, check out Indian Canyons. These three separate canyons and trails are located on Agua Caliente tribal land. There is a large Agua Caliente Cultural Museum planned to open soon in the city. There are quite a few statues paying homage to the Agua Caliente people throughout the city. To learn more, visit the Agua Caliente Band of Cahuilla Indians site.
10. Joshua Tree National Park
If you have time for a mini-road trip, visit Joshua Tree National Park. Although this family-friendly national park is not technically located in Palm Springs (it's about an hour away) it's a must-see. The national park straddles the Mohave and Colorado deserts and is home to the unique Joshua Trees which only grow in this region of the United States. Take the family on the kid-friendly hike on the Split Rock or Skull Rock Trails. If you're interested in a guided tour, you can take a Driving Tour of Joshua Tree National Park.
Thank you, Visit Greater Palm Springs Convention & Visitors Bureau for hosting us! All information and opinions are my own.
If you enjoyed this post on the best things to do with kids in Palm Springs helpful, you might also enjoy the following articles:
Pin for later: