I travel to Thomasville, Georgia, frequently to visit my dad who moved to the city a few years ago, after marrying a Thomasville native. In all of my visits, I never took the time to learn and explore the city until recently.
I truly believe that history is the key to unlocking the DNA of a town, city, or region.  So, I did a little research to create a list of things to do and quickly discovered, to my delight, that Thomasville has its very own Black History Museum (the Jack Hadley Black History Museum). We decided that the Jack Hadley Black History Museum would be the first place we visit to get a feel for Thomasville, Georgia and it did not disappoint.
The museum is located on the former campus of Frederick Douglass High School, which was the first public school for African Americans in Thomasville. Douglass was in operation from 1902-1970. Upon entering the museum, we were greeted by Mr. Jack Hadley, the museum's 83-year-old founder, and curator. After watching a 10-minute video detailing how the museum was founded, and some highlights of the museum being featured in the news, we were set to start our self-guided tour.
The Jack Hadley Black History Museum is organized by subject matter, so it's easy to navigate.  But since this museum is filled with more than 5,000 artifacts, here's a list of the exhibits that should not be missed:
Lt. Henry O. Flipper
There is an entire section dedicated to one of Thomasville's own, Lt. Henry O. Flipper. Lt. Flipper was a former slave, Buffalo Soldier, and the First African American graduate of the U.S. Military Academy at West Point. Despite his service leading troops, Lt. Flipper was wrongly accused of stealing money which resulted in him being court-marshaled and dismissed from the U.S. Army. President Bill Clinton posthumously pardoned Lt. Flipper in 1999, 118 years after his conviction.
Black Women Who Made a Difference
This area was broken down into smaller exhibits, one of which was notable women throughout the civil rights movement, another included Black Women's contribution to the world of cosmetics. There were really cool antique hairdryers, and a barber chair in this section.
 Jim Crow Era in America & Caricatures
This gallery of the museum had a lot of interesting artifacts like postcards, dolls, toys, signs, and other symbols of black stereotypes that were commonplace during the Jim Crow era.
The Tools that Built the Community
Since Thomasville was a mostly farming community in the past, I thought it was cool to see some of the tools that were used for agriculture.
Sports and Memorabilia
Jerseys and posters dedicated to local athletes that made it big in the National Football League, National Basketball Association (NBA), and Major League of Baseball (MLB) were on display in this area.  Local Heisman Trophy Winner, Charlie Ward, Jr. had a dedicated gallery.  Posters and newspaper clipping about baseball legend, Jackie Robinson, were also on display. Jackie Robinson is from the neighboring town of Cairo, Georgia.
The Imperial Hotel and the Green Book
In the center of the museum was a model of the Historic Imperial Hotel, Thomasville's only black-owned hotel.  This hotel was listed in the 1954 edition of Victor Green's, "The Negro Motorists Green Book." As an avid student of African American studies and lover of all things travel, this Green Book establishment piqued my interest.  I asked Mr. Hadley about the model and he explained that the Jack Hadley Black History Museum received gifts from two local organizations to purchase this historic hotel and save it from possible destruction.  Mr. Hadley says they're currently working to raise money to restore the historic hotel.
African Americans Working on Southern Plantations
As we were leaving the museum, I noticed an entire exhibit dedicated to the Pebble Hill Plantation. I thought it was interesting that an entire section of this Black History Museum would be dedicated to a local plantation. I asked Mr. Hadley about it and he explained that he'd grown up on the local hunting plantation (Pebble Hill Plantation) because his father was employed by the plantation.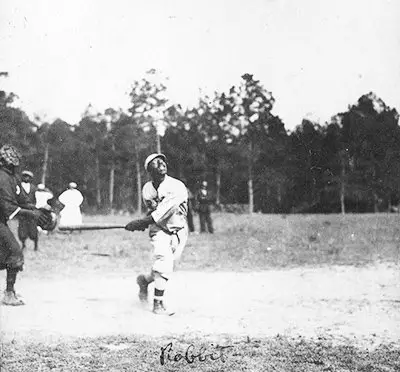 The Pebble Hill Plantation's owner, Elizabeth "Pansy" Ireland was a member of a wealthy family of oil tycoons from Ohio. They purchased the property after the Civil War, renovated it after a fire in the 1930s. It was during that rebuild that Pebble Hill was converted into a hunting plantation for wealthy Northerners. Mr. Hadley informed me that Pebble Hill served as a source of employment for many people in the Thomasville community.
Takeaways from the Jack Hadley Black History Museum
The Jack Hadley Black History Museum's artifacts are a compelling Thomasville attraction. Although the museum opened in 2006, Mr. Hadley and his staff work tirelessly to ensure that its galleries remain relevant and up to date. If you're in Thomasville, the Black History Museum should be at the top of your must-see list.
 Planning Your Visit to the Jack Hadley Black History Museum
Location:  214 Alexander Street, Thomasville, GA 31792
Hours:      Tuesday-Friday from 10 am to 5 pm; Saturday from 11 am to 4 pm and closed Sunday and Monday.
Admission:  Adults ($5), Students ($3)
*Disclaimer: We received free entry to the Jack Hadley Black History Museum to provide a review. All opinions are my own.