Baltimore, Maryland is a city replete with charm and grit. When I think of this seaport city, I can almost smell frying crab cakes in the air, see visitors walking down the picturesque cobblestone streets of Fells Point, and hear the waves crashing along the Inner Harbor.  Baltimore can boast of a very long list of top-rated, must-see attractions…one of my top kid-friendly activities is the Maryland Zoo!  This Zoo is beloved by locals and tourists alike.
The Zoo, which is located in Druid Hill Park, is the third oldest zoo in the United States. It's home to more than 2,000 creatures and the animal habitats are organized by geographic regions. There is the Maryland Wilderness, Polar Bear Watch, and African Journey. The Maryland Zoo gave my family tickets to explore the habitats in the new African Journey Exhibit.
The Maryland Zoo is really big (135 acres).  So, it's best to take a minute to look at the Zoo map and create a plan.  Before we started exploring, we took a minute to figure out our strategy for the day and determined which animals we really wanted to encounter. Fortunately, we spent the bulk of our time checking out the African Journey Exhibit.
Here are a few fun aspects of the Maryland Zoo's African Journey that you will want to see and experience for yourself!
1. Ride the Shuttle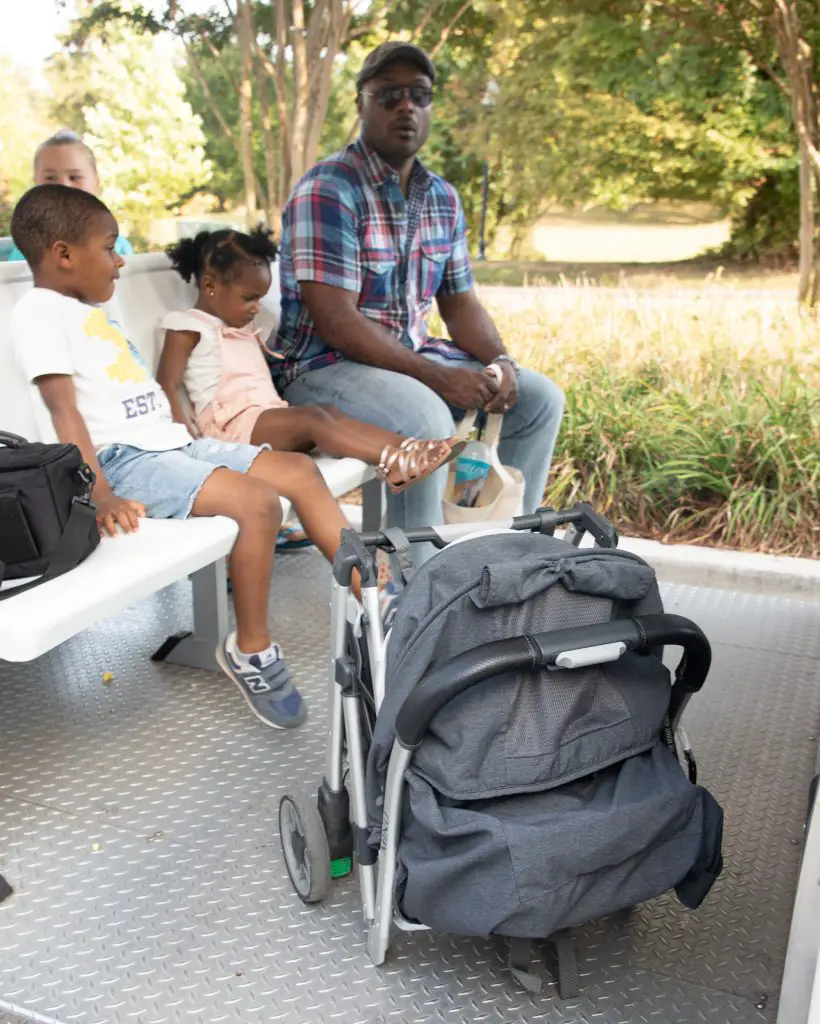 After getting through the entrance, we took a short shuttle ride to the African Journey section of the Zoo.  I'm not sure why, but my kiddos were really excited about riding the shuttle.  They even insisted on picking their seats.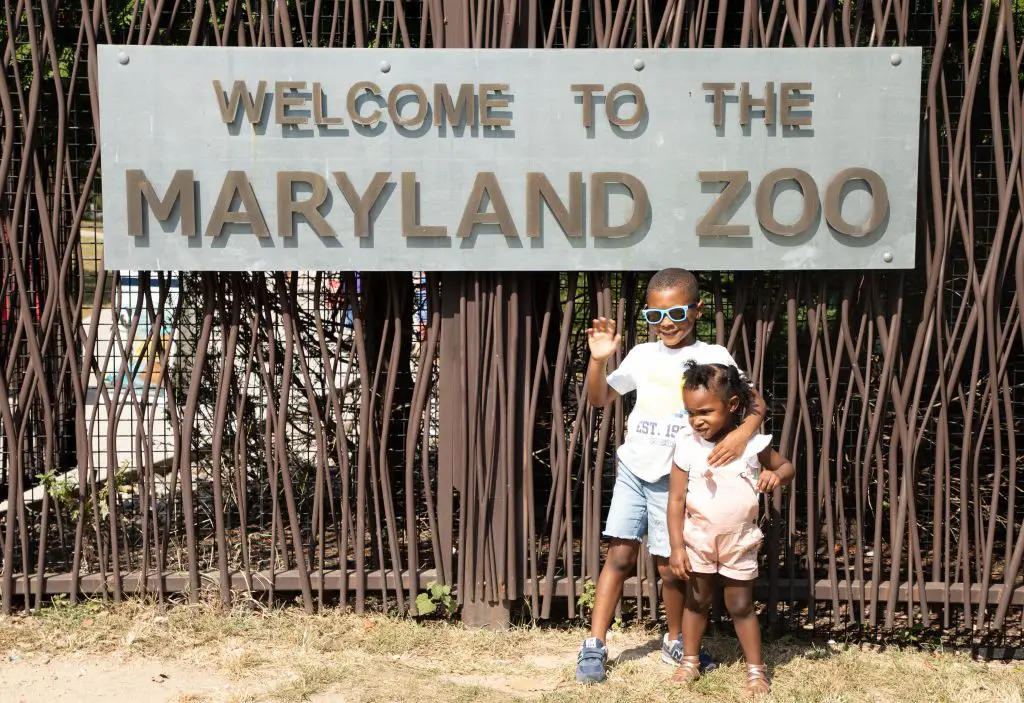 2. Watch African Penguins Swim
Once we got off of the shuttle train, we were greeted with a huge welcome sign. A short walk later and we were face-to-face with African Penguins.  The Penguin Coast Exhibit is a large outdoor exhibit.  There were a couple of keepers on-hand sharing their knowledge about the breeding and behavior patterns of the penguins.
The entrance to the African Journey Exhibit is only a few steps away from the Penguin Coast habitat.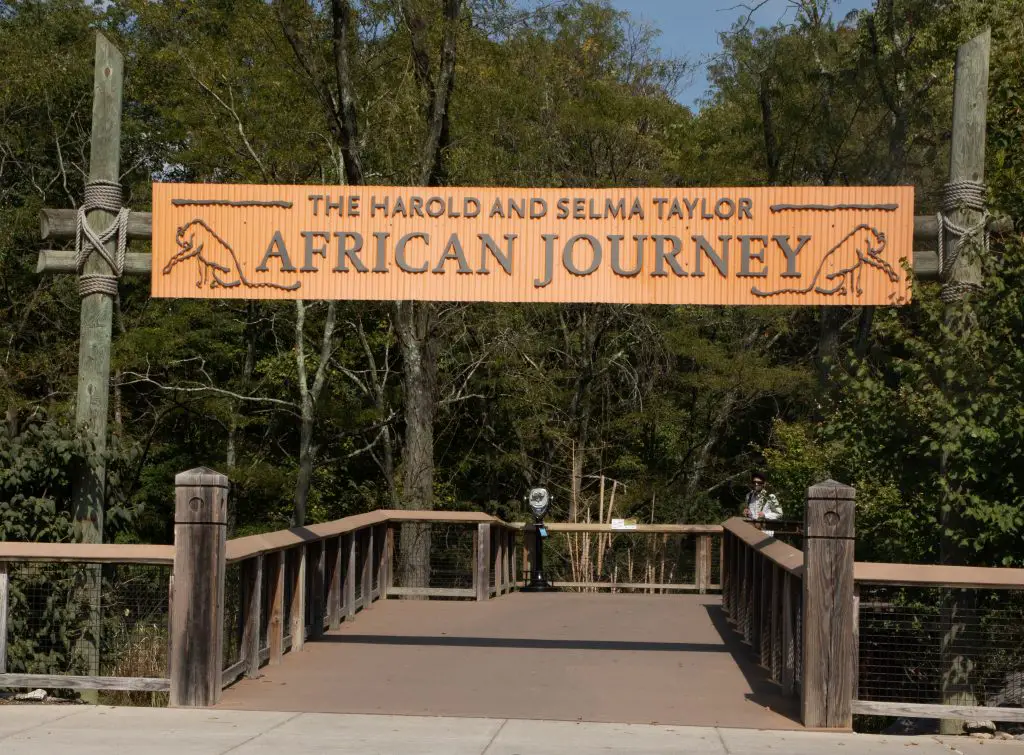 3. See the Flamingo Balancing Act

My kids were interested in the flamingo habitat for two very different reasons.  My 2-year-old daughter loved the birds' beautiful pink plumes (she's partial to anything pink or purple).  While Aubrey, our 5-year-old, loves to watch and imitate the flamingo sleeping stance. Based on our observations, flamingoes balance on one leg and tuck their heads under their wing.
4. Watch Elephants Groom Themselves
The elephant is Aubrey's favorite animal, so we spent extra time enjoying this exhibit. We stopped to watch an elephant take a mudbath. While we were watching, a zookeeper came out to feed the elephants.  She even took the time to answer questions about the pachyderms.
5.  Check Out the Giraffes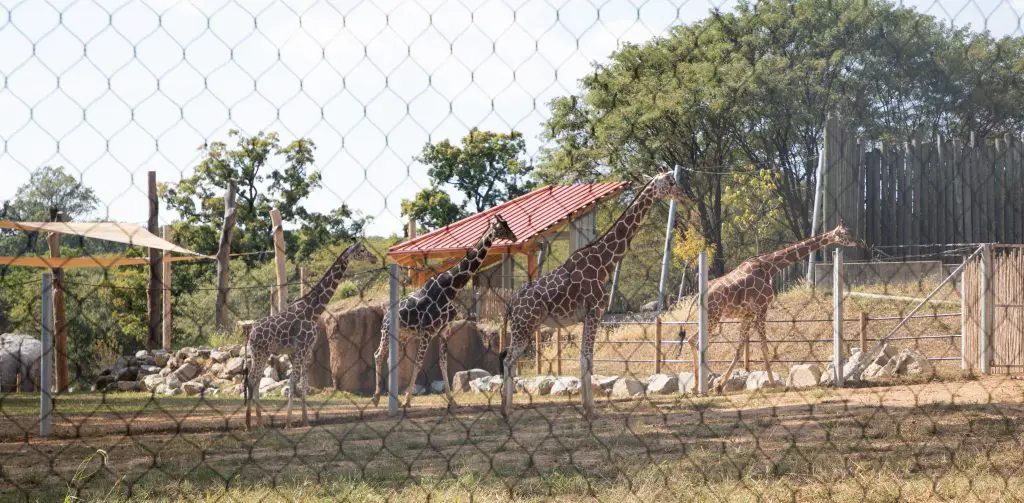 The Giraffe Habitat is located directly across from the elephant enclosure.  The Maryland Zoo has a total of four giraffes (three females – Kesi, Anuli, and Willow and one male – Caesar).
6.  Visit Royalty
Plan to spend some time watching the King and Queen of the Jungle as they lounge.
These regal creatures are nocturnal so we didn't expect much action.  But while we were watching, Hasan got up to take a closer look at his guests.  Both kids were very excited to see a lion this close.
7. Hang out with Monkeys
There were a variety of animals housed in the Chimpanzee Forest.  In addition to chimpanzees, there was a lemur habitat as well as an aquarium with a crocodile lurking in it.
8.  Ride a Train
As we were leaving the Chimpanzee Building, we were surprised when this little train moseyed by us. Unfortunately, we didn't get a chance to ride the train since we discovered it at the end of our day.  I promised my kiddos that we will have a chance to ride the train on our next visit to the Maryland Zoo.
Have you been to the Maryland Zoo in Baltimore?  What was your favorite exhibit? Please leave a comment below.
*Disclaimer: We received complimentary tickets from the Maryland Zoo in Baltimore.  All opinions are my own.