(Last Updated On: March 18, 2023)
This post contains affiliate links which means that if you click and make a purchase I may receive a small commission, at no cost to you. All opinions are my own.
Are you looking for the best Caribbean islands for families? With so many incredible islands to choose from, it can be tough to choose the right one for your getaway. Fortunately for you, I've rounded up the most family-friendly Caribbean islands to help you plan an epic trip.
From zip lining in Barbados to snorkeling in Jamaica, there's something on this list for everyone. Don't have a passport? Don't worry! I've made sure to include some of the best Caribbean islands to visit without a passport. Pack your bags and get ready for the Caribbean adventure of a lifetime.
Here are my picks for the best Caribbean islands for families:
1. The Bahamas
Home to crystal-blue waters, sprawling beaches, luxurious resorts, and many exciting activities, the Bahamas are undoubtedly one of the top family-friendly Caribbean islands. Because of its proximity to the United States and ample amount of kid-friendly things to do, the Bahamas are one of the world's most popular family destinations. Go swimming with dolphins, check out the museums, or take a boat trip to see the swimming pigs on Pig Beach. The kids go crazy for those pigs!
Where to Stay in the Bahamas
The Grand Hyatt Baha Mar in Nassau is a trendy hotel with many kid-friendly amenities like a stunning outdoor swimming pool, spa, gym, and restaurant. You can also take advantage of the hotel's Explorers Club, which offers daily activities for kids aged 3 to 12. If you want to earn endless brownie points with your kids, it doesn't get better than the world-famous Atlantis Resort on Paradise Island. The Las Vegas of the Caribbean, Atlantis is home to the world's largest open-air marine habitat, 11 pools, over 21 restaurants, and the Caribbean's largest casino. You will never get bored here.
2.  Jamaica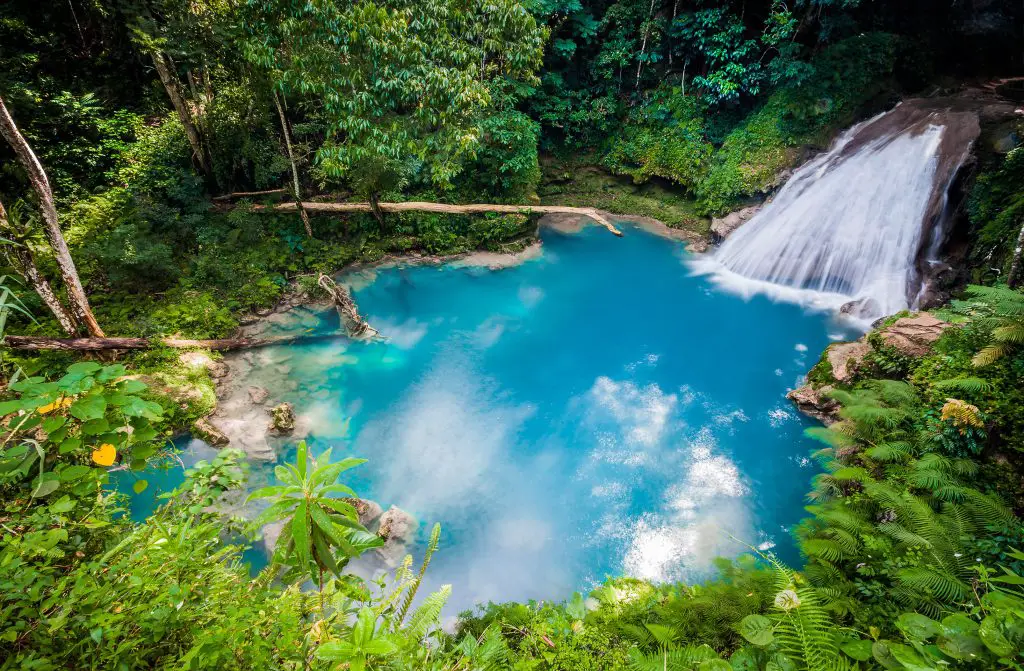 One of the largest Caribbean islands, Jamaica has been a top choice for families for many years. Jamaica is beloved for many reasons, including its lively culture, lush rainforests, gorgeous beaches, and family-friendly activities. You can go snorkeling in the ocean, rafting down a river, or zip-lining through the jungle. If your kids are adventurous, then Jamaica is the perfect choice for your Caribbean family trip.
Where to Stay in Jamaica
How does an oceanfront water park sound? How about a kids' camp and designated teenage hangouts? If these pique your interest, check out Beaches Negril Resort & Spa on Seven Mile Beach. This all-inclusive luxury property was designed for families and has something fun for everyone. Speaking of luxury, no one does it quite like the Half Moon in Montego Bay. Set in a converted colonial building on the beach, this elegant resort has it all—swimming pools, numerous on-site dining options, a kids' club, a spa, and plenty of activity choices for the whole family to enjoy.
3.  Bonaire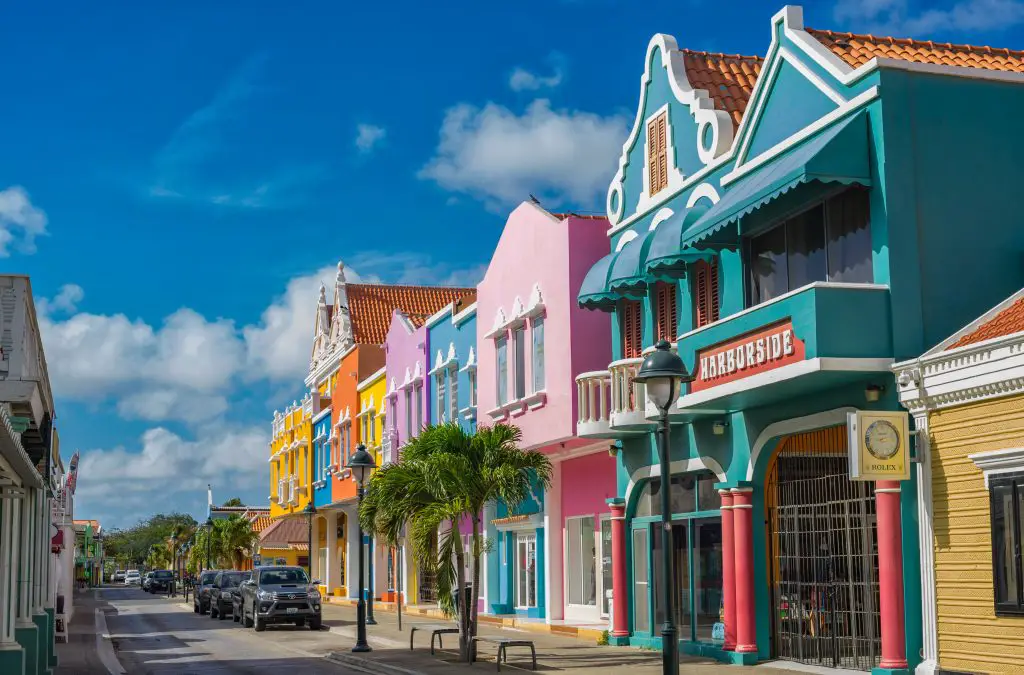 Best known for its world-renowned snorkeling and incredible natural beauty, Bonaire is a southern Caribbean gem that is ultra-popular with families. The water here is calm and shallow, so the beautiful beaches of Bonaire are great for your little ones. From donkey sanctuaries and goat farms to lush national parks and museums, this family-friendly Caribbean island has something for every type of traveler.
Where to Stay in Bonaire
Harbour Village Beach Club, an award-winning boutique hotel in Bonaire, boasts a wide selection of room types for families of different sizes to choose from. This beautiful beachfront hotel also features an outdoor pool, restaurant, bar, airport transfers, and use of water sports equipment. If it's luxury you seek, you can find it at The Bellafonte, a stunning oceanfront hotel guaranteed to make you feel like royalty. In addition to stylish accommodations, you'll get a private pier, 24/7 security, and a hot tub overlooking the Caribbean Sea. Not too shabby, huh?
4.  US Virgin Islands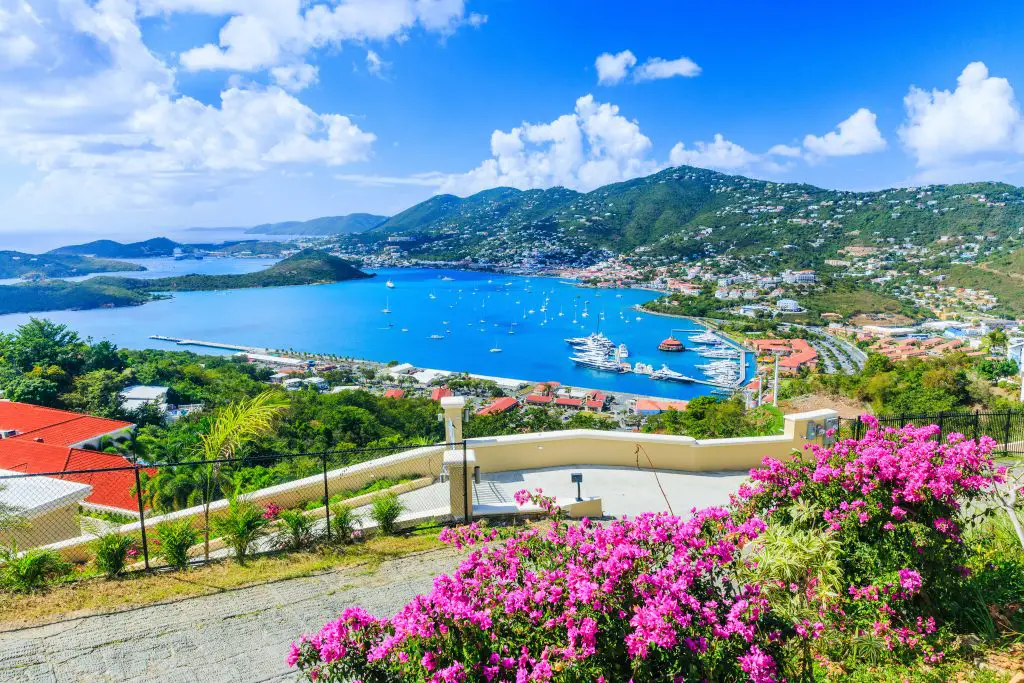 Made up of three jaw-dropping islands with unique vibes, the US Virgin Islands make for a seriously unforgettable family vacation. Choose between St. Thomas, St. Croix, and St. John—or spend your time island hopping between all three. If you're looking for a tropical vacation that doesn't require a passport, you can't go wrong with any of these lush and beautiful islands.
St. Thomas is the most popular and commercialized of the three, meaning there's plenty to do with kids like shopping and checking out the marine life at Coral World Ocean Park. St. John is accessible only by ferry from St. Thomas, so it's a bit quieter and more secluded, making for a wonderful family vacation for those looking to escape the crowds. St. Croix is the least touristy of the three and is rich in history, natural beauty, and outdoor excursions like horseback riding and snorkeling.
Where to Stay in the US Virgin Islands
A favorite among families visiting St. Thomas, Marriott's Frenchman's Cove is located within walking distance of the beach and offers its guests two outdoor pools, a poolside bar with ocean views, and free on-site parking. The Westin St. John Resort and Villas is a fabulous choice and is consistently ranked among the best USVI family resorts for its 1,200-foot private beach and family-friendly villas with fully equipped kitchens. The Buccaneer Beach & Golf Resort in St. Croix is a beachfront gem with 3 private beaches, 2 pools, and an 18-hole golf course.
5.  Turks and Caicos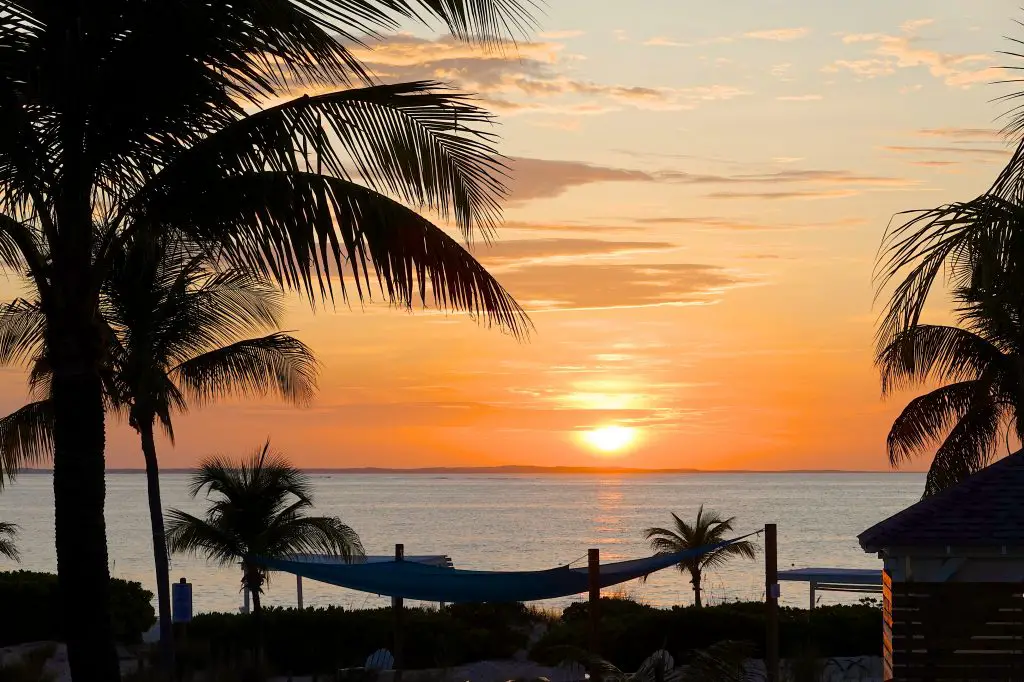 Known as one of the most beautiful destinations in the world, Turks and Caicos is home to a number of all-inclusive resorts and postcard-worthy beaches. With some of the calmest waters in the Caribbean, it's no wonder why Turks and Caicos is known as one of the best Caribbean islands for families. Spend your days snorkeling, horseback riding, and searching for seashells along the incredibly soft beaches.
Where to Stay in Turks and Caicos
Located on the famous Grace Bay Beach, Beaches Turks and Caicos is one of the best family resorts on the island. This all-inclusive Caribbean resort features a massive water park, a playground, and a baby club for infant care. If you're looking for a true luxury experience for the whole family, head to The Palms Turks and Caicos. This Caribbean family resort offers world-class amenities like an outdoor infinity pool, wellness center, and a kids' club with outstanding free activities for children.
6.  Puerto Rico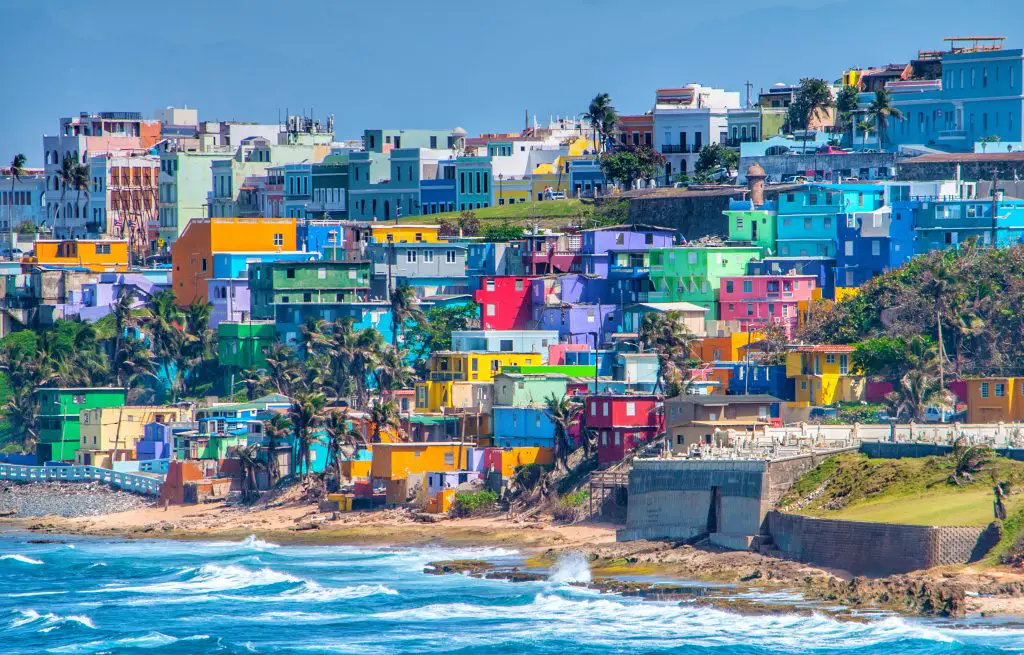 Another fantastic Caribbean island to visit without a passport, Puerto Rico is a lively destination known for its rich culture, history, friendly locals, and mouthwatering food. From the Spanish Colonial architecture of Old San Juan to the tropical rainforests and sparkling white sand beaches, there are many reasons why Puerto Rico is one of the best Caribbean islands for families.
Where to Stay in Puerto Rico
If you're looking for a beachfront resort in Puerto Rico, you'll love the San Juan Marriott Resort. Amenities include two pools (one has a waterslide!), a spa, a gym, and several on-site dining options. There are also upgrade options to include a separate living area, which is excellent for families. For families traveling with younger children, Royal Sonesta San Juan is an excellent choice. This hotspot features a kids' club with an outdoor playground and a lagoon-style swimming pool complete with a waterfall.
7.  Barbados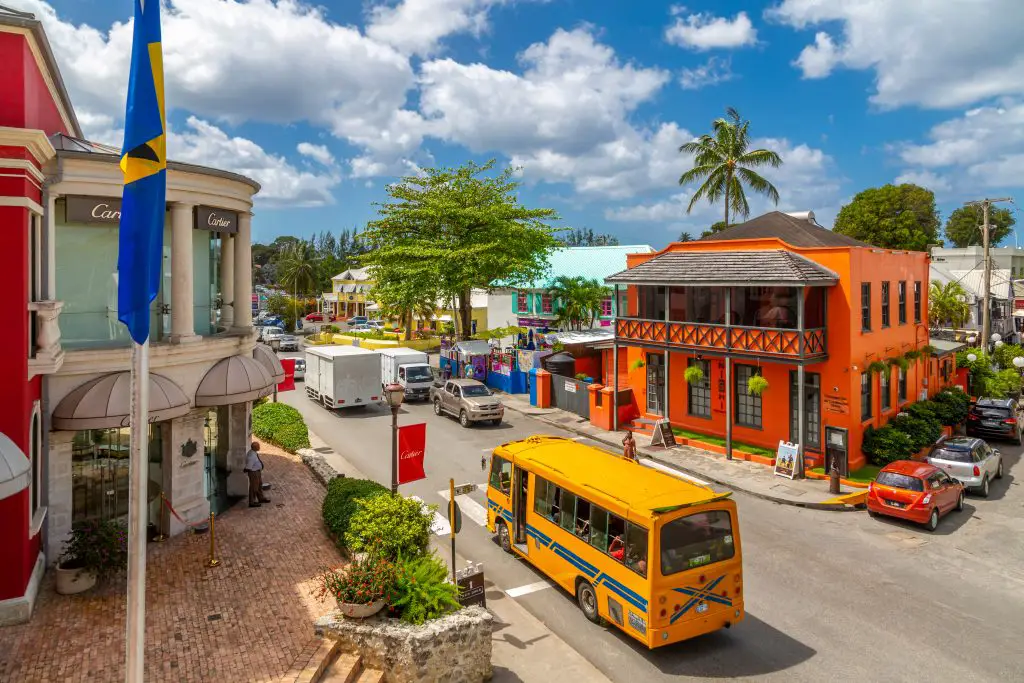 Last but most certainly not least, we have to talk about Barbados. For years, Barbados has been widely considered to be the safest and most family-friendly Caribbean island to visit. The English-speaking locals are incredibly welcoming, the water is relatively wave-free, and there are plenty of kid-friendly activities to enjoy. You can visit a wildlife reserve, explore underground caves, set sail on a pirate ship, and go swimming with sea turtles—all in one day!
Where to Stay in Barbados
One of the reasons why Barbados is one of the best Caribbean islands for families is that it's filled with fantastic kid-friendly resorts. To experience the crème de la crème, book a stay at the world-famous Sandy Lane Hotel. Known for its unparalleled service, stunning accommodations, and awesome kids' club, you'll fall in love the moment you walk in. For a great mid-tier option, Divi Southwinds Beach Resort is your best bet. It's located just 2 minutes from the beach and is packed with family-friendly amenities like outdoor pools, tennis courts, and a mini-golf course.
Those were my top picks for the best Caribbean islands for families. Have you ever stayed on one of these islands? Did I miss your family's favorite? Let me know in the comments, and be sure to check out my other blogs for family travel tips and ideas!
If you found this post on Best Caribbean Islands for Families helpful, you might also like:
Pin for Pinterest: