(Last Updated On: May 20, 2022)
Antarctica is utterly breathtaking, relatively untouched, and filled with opportunities for adventure. While there are many amazing ways of experiencing all this beautiful place has to offer, there is just something about floating through the Southern Ocean and having it (mostly) to yourself that feels otherworldly.
As incredible an experience as it is, this is not a trip you should embark on without preparation. If kayaking in Antarctica is on your radar, keep reading to learn everything you need to know about sea kayaking before you set off on your great adventure.
What Does Kayaking in Antarctica Cost?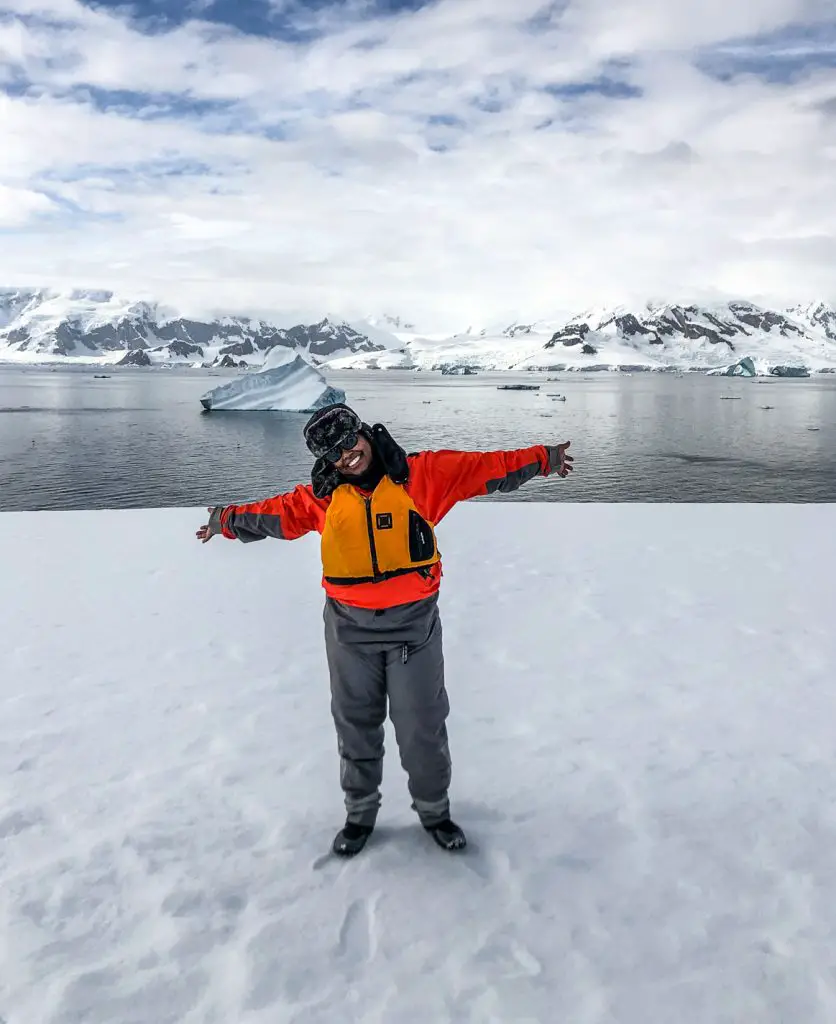 Unlike the Polar Plunge experience, kayaking expeditions are not included in the cost of the Antarctica cruise.  While kayaking on the ocean in Antarctica, is one of the most epic adventures of a lifetime. It can be expensive depending on how often you would like to do it. 
So, how much does kayaking in Antarctica cost? At the time that I booked my Antarctica cruise with Quark Expeditions, passengers had the option to participate in daily stand-up paddle excursions or full-fledged sea kayaking programs for $995 USD for a daily kayaking experience or could sign up for a one-time kayak excursion for $225 USD.  After shelling out a ton of cash to pay for the Antarctica cruise, my funds were low, and I opted for the one-time experience. 
From my research, Antarctic kayaking experiences typically range from around $700 to $1,000 dollars, depending on your cruise company. With a price tag like that, I highly recommend doing plenty of research beforehand to make sure this is something you want to participate in.
I can't say what's right for you, but with two zodiac cruise excursions built into each day, the Antarctica cruise schedule can be grueling.  So, I'm really glad I only signed up for the one-time kayaking excursion.  
What To Expect Kayaking in Antarctica
Want to know what it's like to kayak in Antarctica? Here's what to expect:
It's not as hard as you think it is. The water you will be in is actually incredibly calm, and the kayaks used for excursions are super sturdy and safe. I would describe my experience as being both exhilarating and serene.
Layer up! As you might have guessed, Antarctica is really cold. Therefore, you're going to want to bundle up for this expedition! I recommend thermal underwear, wool socks, leggings, a dry-fit long sleeve, a warm coat, a beanie, and snow pants (and don't forget to bring hand warmers!). I've compiled the ultimate Antarctica packing list that includes all the must-have clothing and gear. On top of that, the crew provides you with a dry suit, booties, gloves, and life vest.
 It is totally safe. Even though the experience feels somewhat out-of-body, I promise that it is totally safe. The expedition teams take great care of you, and they take tons of precautions to make sure your experience is stress-free. Additionally, there's no need to worry about the weather, as expeditions won't take you out if the seas are choppy.
You don't need to be a pro. When I went kayaking in Antarctica, it was my first time ever sea kayaking! The Quark pamphlet emphasized that you should have some basic paddling skills before attempting to kayak in Antarctica. Even though I'm surrounded by water near my home in Maryland, the sport of kayaking is a seasonal sport here.  So, I took a two-day trip to my hometown of Miami, FL to take a one-day crash course on kayaking at local Parks and Recreation. (Shout out to Miami-Dade Parks and Rec!)  I found that class to be super helpful, but you don't need to be a pro at kayaking by any means to enjoy the experience in Antarctica.
You might not see any wildlife. Kayaking in Antarctica is definitely less about what you see and more about the incredible experience itself. That being said, don't expect to see tons of wildlife around you.
And I don't know about you, but when I was in a kayak up close and personal with the ocean, the last thing I wanted was for a whale to surface right under me.  It would've resulted in the dopest photos of my life, but I probably would have passed out from fear. I did, however, see a whale breach at a distance while out and that was uber exciting.
It's a commitment. Sea kayaking is certainly not as casual as kayaking in a lake or river. Know that if you commit to kayaking in Antarctica, you're committing to the long haul and should be prepared for the physical aspect of a sea kayaking expedition.
Bring a dry bag. Although snapping photos from a kayak is challenging, you're definitely going to want to document your experience. I recommend bringing a waterproof dry bag to store your phone, camera (if you feel comfortable), and a spare pair of gloves. Just be extra careful when you're snapping those pics!
If you're looking for an awe-inspiring way to explore one of Earth's best-kept secrets, then kayaking in Antarctica is the journey for you. Do your research, dress in layers, and get ready for the experience of a lifetime. I can't wait to hear all about it!
If you found this post on Kayaking in Antarctica helpful, you might also like:
Pin for Later: