(Last Updated On: January 20, 2023)
This post contains affiliate links which means that if you click and make a purchase I may receive a small commission, at no cost to you. All opinions are my own.
Looking for the best hotels in Nashville for families? If you're planning a trip to the world-famous Music City, choosing a family-friendly hotel that suits your taste preferences and budget is important. Fortunately for you, today, I'm sharing my top picks for the best hotels in Nashville for families.
You'll find the best hotels around the city at various price points on this list. Whether you want to stay in the heart of the city or escape the hustle and bustle in one of the neighboring areas, I have you covered. Let's get into it!
Here are my picks for the best hotels in Nashville for families:
View this post on Instagram
Connected to the Country Music Hall of Fame and Museum, the Omni Nashville Hotel is about as centralized as it gets. This sleek hotel features a plethora of restaurants, retail shops, and even in-room fitness kits from those who want to work out from their room.
You can relax at the resort-style spa or unwind at the rooftop pool while taking in the stunning downtown views. The Omni is widely revered by families for its award-winning Sensational Kids program, which provides kids with a backpack filled with activities at check-in and a milk and cookies delivery on their first night. Now that's service!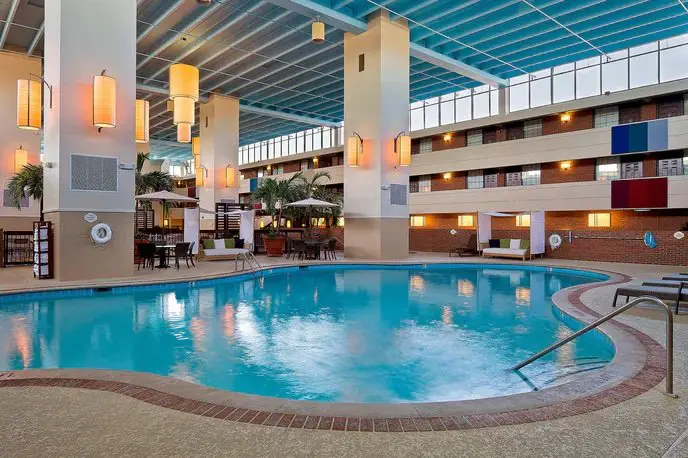 If you're looking for a combination of family-friendly fun and Southern hospitality, you can't go wrong with The Inn at Opryland. You can expect modern amenities like complimentary WiFi, on-site dining, and a 24-hour fitness center, as well as more unique amenities like the massive indoor pool right in the middle of the atrium.
You can choose between a cozy guest room and a spacious suite with separate living and sleeping areas. If you're traveling with babies or toddlers, you can request to have a complimentary crib brought to your room. As an added bonus, the hotel is located under a half-mile away from the Grand Ole Opry and other family-friendly Nashville attractions.
View this post on Instagram
This stylish hotel features over 300 spacious guest rooms and a wide array of amenities like the on-site fitness center, complimentary WiFi, and on-site dining options. Located slightly off the beaten path, the Loews Vanderbilt Hotel allows you to escape from the noise of the city while remaining just a few minutes away.
One of the main reasons this hotel deserves a spot on any list of the best hotels in Nashville for families is the Loews Loves Family program. This program offers kid-friendly amenities like baby bathtubs, child-proofing kits, board games, and coloring books. The hotel can even coordinate in-room childcare for you if you want a date night.
View this post on Instagram
If you're traveling to Nashville by plane, the DoubleTree Suites by Hilton is a fantastic option. This family-friendly hotel offers complimentary shuttle service to and from the airport, along with free parking and a chocolate chip cookie welcome at check-in.
The spacious two-room suites feature separate living areas, kitchenettes, and multiple flat screen TVs. The indoor and outdoor pools allow you to enjoy a dip no matter what time of year you visit. Located just 20 minutes from Music Row, this hotel combines convenience with affordability and comfort for the ultimate family trip to Nashville.
View this post on Instagram
I know you're traveling to experience the best of Nashville, but a trip to the Gaylord Opryland Resort is an experience all on its own. This 2700-room resort is so massive that it's practically its own town. You can enjoy 9 acres of indoor garden atriums, award-winning restaurants, arcades, and SoundWaves, the resort's upscale water park.
Your kids will be giddy from the moment they walk in, when they will be met with impressive tropical scenery and waterfalls throughout the atrium. When it comes to the best hotels in Nashville for families, it doesn't get much better than this.
View this post on Instagram
Looking for a boutique hotel in the heart of all the action? Located just steps from Music Row in Nashville, The Hutton Hotel is a stylish and elegant option for families. You can take in the skyline views from the comfort of your suite, thanks to the floor-to-ceiling windows. There are music-inspired activities for guests of all ages, and in true Nashville fashion—there's even an on-site entertainment venue for live music.
View this post on Instagram
This boutique hotel looks like something straight out of a fairytale. Since it opened over a hundred years ago, The Hermitage Hotel has been a staple in Nashville. Southern hospitality meets upscale charm at this Music City gem, with plenty to be loved by guests of all ages.
Just outside the hotel, you can find all sorts of music venues, restaurants, museums, parks, and other attractions. For parents looking to enjoy an adults-only evening, the hotel even offers nanny and babysitting services.
View this post on Instagram
Nestled in the heart of Nashville's downtown district, The Westin Nashville is a family-friendly boutique hotel located just a short distance from some of the city's most iconic destinations. After a long day of exploring with the kids, you'll love taking in the breathtaking city views over dinner from the rooftop lounge and kicking back by the pool. You can also enjoy the hotel's on-site fitness center and expansive spa.
View this post on Instagram
This is another wonderful option for families traveling to Nashville by plane. Embassy Suites is located just 10 minutes from the airport and 15 minutes from Music Row.
This hotel is just far enough outside the city to allow for a peaceful respite without being so far that it's an inconvenience.
Embassy Suites offers free airport shuttles both ways and complimentary breakfast each morning. You can dine at the on-site restaurant, swim in the indoor pool, and socialize at the complimentary evening reception.
View this post on Instagram
The JW Marriott Nashville is a posh high-rise hotel with a bevy of attractive luxury amenities like a rooftop pool deck, full-service spa, and upscale on-site dining options. You can take in sparkling skyline views from every angle as you unwind after a long and exciting day in Nashville with the kids. Located just two blocks from Broadway, the JW Marriott is one of the best hotels in Nashville for families looking for a dose of luxury.
Well, that wraps up my picks for the best hotels in Nashville for families. I hope you found this list to be helpful in the planning process of your next grand vacation. Be sure to check out my other Nashville blog posts to help you plan your trip. Did I leave out your favorite kid-friendly hotel in Nashville? Let me know in the comments!
If you enjoyed this post on the Best Hotels in Nashville for Families, you might also find the following family travel articles helpful:
Pin the best hotels in Nashville for Families Later: