(Last Updated On: March 18, 2023)
In this guide to the Nubian villages, I'm sharing everything you need to know about this breathtaking hidden gem in southern Egypt. Tucked away on the West Bank of the world-famous Nile River rests a show-stopping collection of some of the most colorful and lively villages you could ever visit. The Nubian villages of Aswan, Egypt, are home to friendly locals, rich culture, spices, and homes painted in all the colors of the rainbow.
During our recent 10-day family trip through Egypt, my family ventured from Cairo to Aswan, where we explored a Nubian village. While the desert climate made it feel around 5,000 degrees, the magical sights we saw were well worth the heat.
From the area's history to some of the best things to do in a Nubian village, we're covering it all today. Let's get into it!
The History of Nubian Villages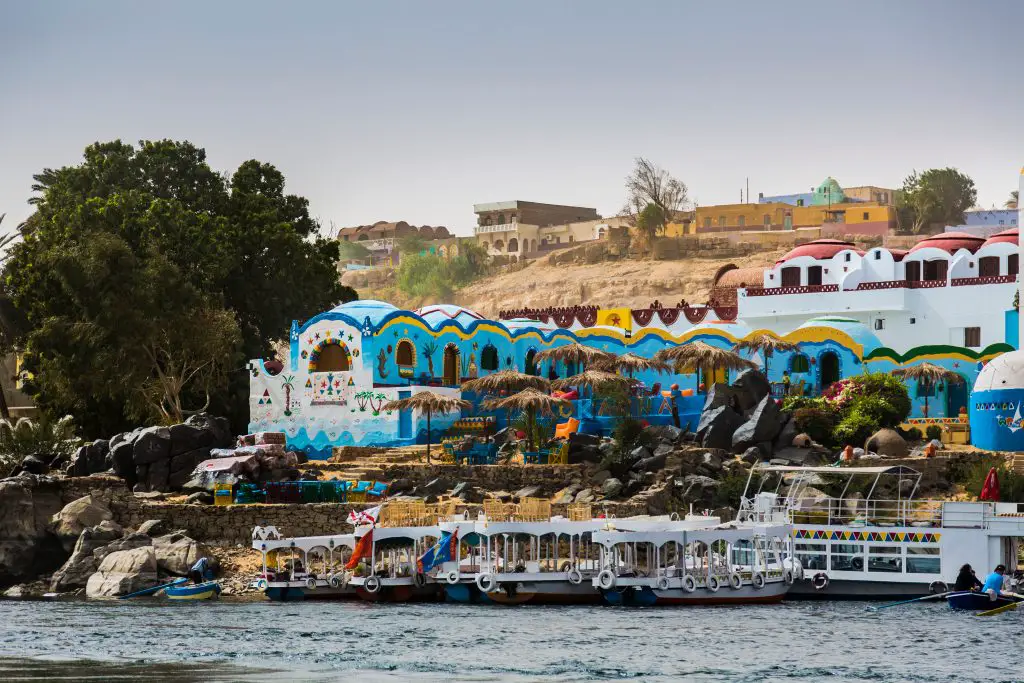 One of the world's oldest civilizations, the ancient Nubian people first migrated to Egypt from Sudan around 6,000 BCE—predating the dynastic Egyptians. Because they were originally from Sudan, the Nubian people today have darker skin color than many other Egyptians you'll meet throughout the country.
The Nubian people first came to Egypt in search of better farming and took up residence near the Nile River in the southern part of the country. The Nubian people built their homes out of mud and painted them in bright hues with lots of color and striking patterns, a tradition that is still kept alive today.
The Crocodile in Nubian Culture
During your visit to a Nubian village, it's impossible not to notice the crocodiles (both fake and real!) all around the area. As a totem of blessings, crocodiles play a critical role in Nubian culture and were once used to guard the homes of Nubian natives. Many of the locals have domesticated crocodiles they keep as pets today, allowing tourists to come and see for themselves. If you see a mummified crocodile hanging over a home's door, this means that the owner has pet crocodiles you can view. Don't worry, it's totally safe!
Nubia Today
Today, Nubia is spread across four regions between Egypt and Sudan. The first and most famous Nubian region is the one that sits on the Nile, which is the one my family explored during our trip to Egypt. Over the generations, the Nubian people have kept their culture alive by passing down traditional customs and their sacred language, Nuba, which is still spoken today among the Nubian communities.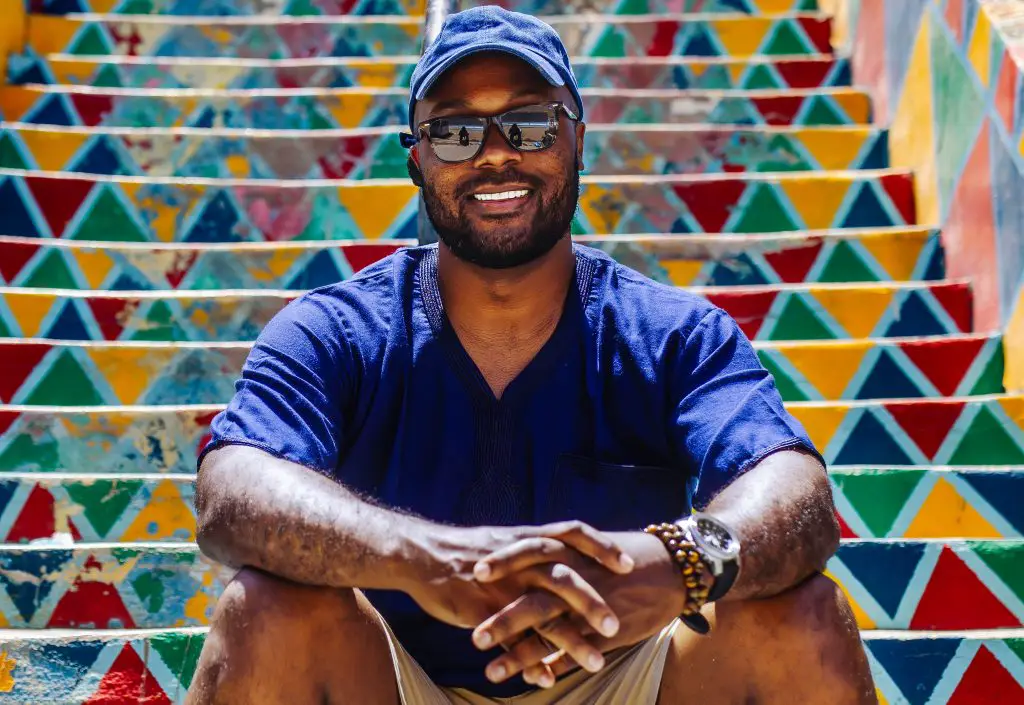 In modern-day, Egypt's Nubia region is ruled by the Egyptian government. The Nubian people are predominantly Muslim like the rest of the country. While the Nubian people have adapted to their surroundings in some ways, their unique culture is so well-preserved that stepping into a Nubian village feels like stepping back into a precious moment in time.
Names of Some Nubian Villages 
Aswan is home to several Nubian villages.  Some of the Nubian villages in Aswan include:
Gharb Soheil: This is one of the largest Nubian villages in Aswan, located on the west bank of the Nile. It is known for its vibrant culture, colorful houses, and traditional handicrafts.
Koti: This Nubian village is located on Elephantine Island in the Nile River. It is known for its ancient ruins, including the Temple of Khnum, which dates back to the New Kingdom period.
Siou and Koti: These twin Nubian villages are located on the west bank of the Nile, just south of Aswan. They are known for their traditional Nubian architecture, colorful houses, and hospitality.
Abu Simbel: This Nubian village is located about 280 kilometers south of Aswan, near the border with Sudan. It is famous for its ancient temples, including the Great Temple of Ramses II.
How to Get to the Nubian Villages
The best way to get to the Nubian villages is to fly into the Aswan International Airport (Daraw Airport) and then travel by boat or car. Traveling to the Nubian villages by boat consists of a scenic 45-minute cruise down the Nile, but will likely require some negotiation skills to ensure that you get a fair rate.
However you choose to get to the villages, I highly recommend traveling with a local guide who can give you the true Nubian experience. Our tour guide arranged a driver for our family, who then took us through a beautiful Nubian family's home during our adventure. We even got to meet their family's pet crocodile—an experience my kids will definitely remember for a lifetime.
Things To Do in a Nubian Village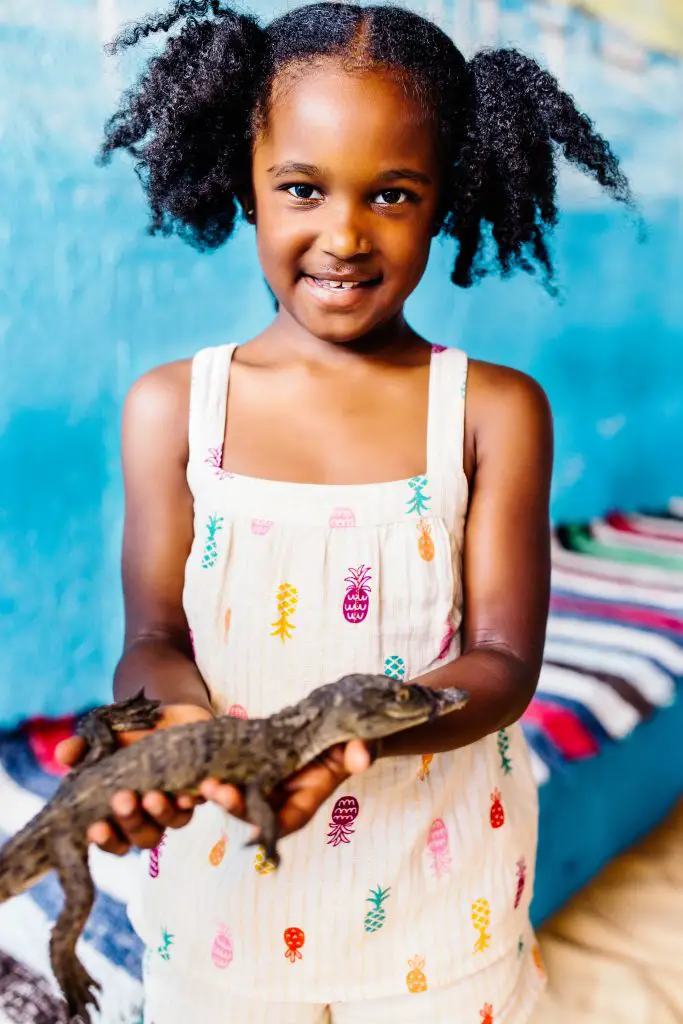 Many of the Nubian people today are farmers and herders, tourism is also an integral part of the local economy. When you visit a Nubian village, you're helping to put money back into the local community. Here are some of the best things to do in a Nubian village during your visit.
1.  Admire the Colorful Nubian Architecture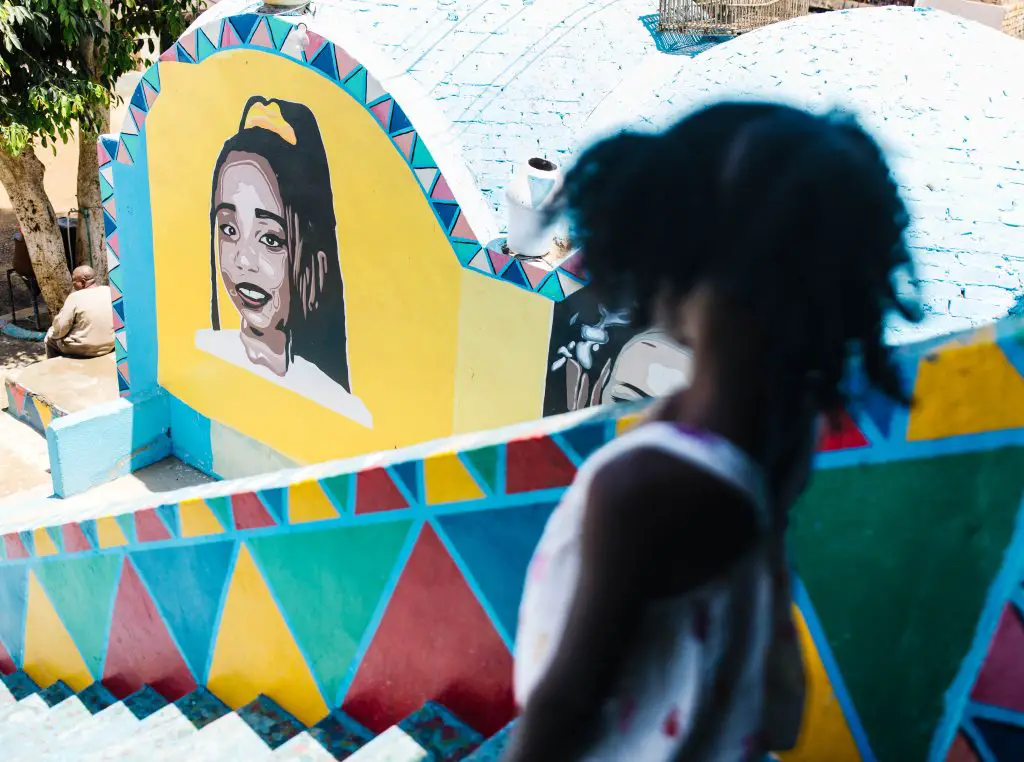 The most popular reason why so many tourists choose to visit the Nubian villages is to feast their eyes on the mesmerizing architecture. Painted in a broad spectrum of bright yellows, oranges, pinks, greens, and blues, the Nubian homes scattered throughout the villages are absolutely exquisite. During your visit, be sure to snap a few photos with the vibrant architecture as you peruse the area.
2.  Visit Elephantine Island
We took at short boat ride over to Elephantine Island.  The kids thoroughly enjoyed riding on a boat . Once we arrived on island we took a walking tour of the Temple of Isis which was amazing.  
This stunning tourist attraction is also home to the Nubian Museum, which displays an incredible collection of over 3,000 artifacts that provide tourists with a deeper insight into the ancient Nubian culture and history. The museum was built with traditional Nubian architecture in mind and even won an award for it!
3.  Shop at a Local Nubian Market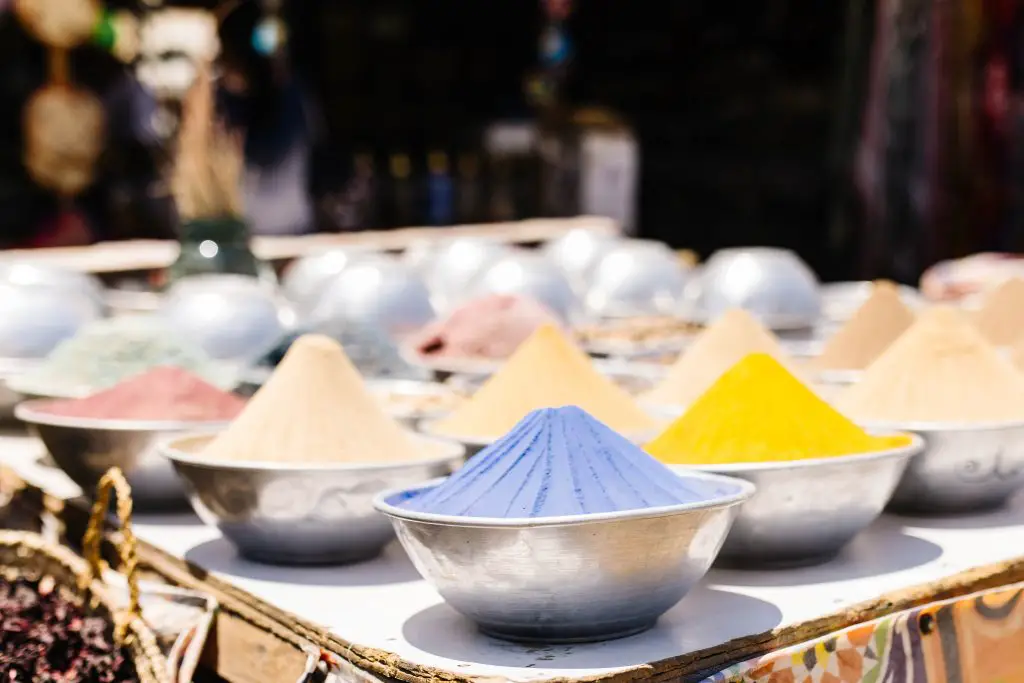 A stroll through a local market in the Nubian village guarantees to be filled with color, and excitement. Indulge in the delicious local eats or shop for trinkets and clothing to bring home as a treasured reminder of your time in Nubia. 
4.  Try the Traditional Nubian Cuisine
The Nubian people aren't just known for their incredible culture and rich history, they're also famous for their delicious food. Throughout the village, you can find plenty of charming spots to grab a quick bite to eat. One of the best ways to get to know a culture is by eating your way through it, in my opinion. Ask the locals where you should grab a bite!
5.  Meet Nubian Locals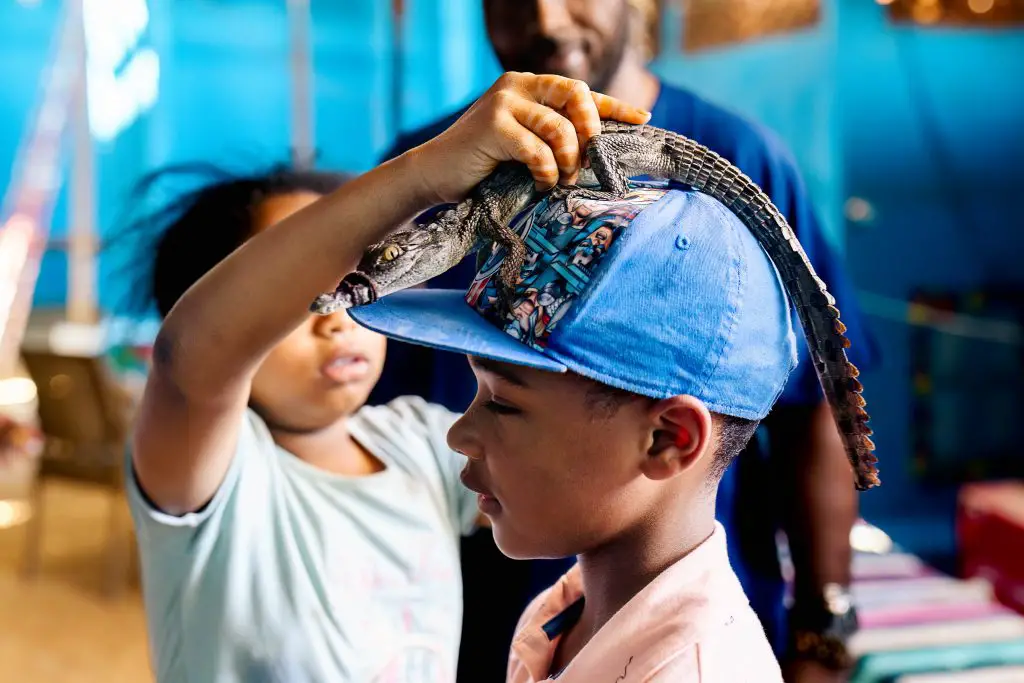 It would be nearly impossible to visit a Nubian village without making a few friends along the way. The local people are incredibly friendly and hospitable to the tourists, so don't be afraid to say hello and take them up on a house tour if they offer (which they probably will). If you're fortunate enough to be invited to a community dinner, you're in for a truly special evening of singing, dancing, and some of the best food you'll ever enjoy.
Our trip to the Nubian villages was something my family will treasure forever. We learned so much about this beautiful culture and the amazing people that have kept it alive for thousands of years. If you're planning a trip to Egypt, trust me when I say that you won't want to miss out on a visit to a Nubian village.
I hope that this guide to the Nubian villages of Aswan has given you some travel inspiration for your next great adventure. Be sure to check out my other posts for more and drop your thoughts in the comments—I'd love to hear from you!
If you enjoyed this post on the Nubian Villages and are ready to start planning your next adventure, the following articles will help.
Pin for later: