(Last Updated On: March 14, 2023)
There are more spies, per capita, in Washington, DC, than any other city in the world. – Them/What They Said
I've heard this unverifiable statement countless times since I moved to the Washington, DC area that I'm convinced, it must be true. And as the spy capital of the world, no trip to Washington, DC would be complete without a trip to the International Spy Museum, which houses the largest collection of spy artifacts on public display.
[This post on the International Spy Museum was originally posted in February 2020, and updated in July 2022.]
The International Spy Museum is dedicated to uncovering the mysteries behind the secret world of espionage and spy tech. Although the museum's subject is cloaked in secrecy, the building it's housed in is far from inconspicuous. Located in a new pewter-colored, trapezoid-shaped building with red accents, this museum remains at the top of my list of must-see DC attractions year after year.
Each floor of the museum has galleries filled with videos, interactive kiosks, and exhibits dedicated to uncovering the strategies and tools that were used in some of the most secretive missions throughout history.
Lobby & Cloak Room
James Bond's famous Aston Martin greets all visitors when they enter the lobby. This feature sets the mood for an entertaining and intriguing museum-going experience.
Once you've gotten your tickets, visitors can stash their belongings in free lockers located in the Cloak Room. If you're visiting with a baby or small child, a baby carrier might come in handy since strollers are not allowed in the museum. There is a stroller parking area inside of the Cloak Room.
After entering the main lobby and getting your ticket, you will be asked to get in the queue for the next tour. All tickets are timed-entry tickets to help manage the crowds and flow of traffic inside the museum.
Your spy adventure will begin, after an attendant ushers onto a set of elevators that will deliver you to the 5th floor Briefing Center.
Briefing Center
The Briefing Center is where you will be assigned a cover identity and given some basic facts about your undercover life as you kick off your undercover mission. Each guest is given a lanyard with a tracking-enabled card attached. This card contains the details of the make-believe covert mission you'll be on throughout your visit to the museum. There are a few key facts that you're responsible to memorize that may help you with your assignment.
The card tracks your performance in interactive activities. Before you leave the museum, you will be given a debriefing on how you performed. Once your secret identity is intact, you will be invited into the Briefing Theater to watch a short film about spying.
Stealing Secrets at the International Spy Museum
The Stealing Secrets gallery includes tales of six spymasters throughout history, gadget makers, scientists, and engineers from the past and present. There are hundreds of inventions that were used to steal secrets on display.
Making Sense of Secrets
The next section, "Making Sense of Secrets," is dedicated to explaining codes, analyses, and decision-making through interactive kiosks.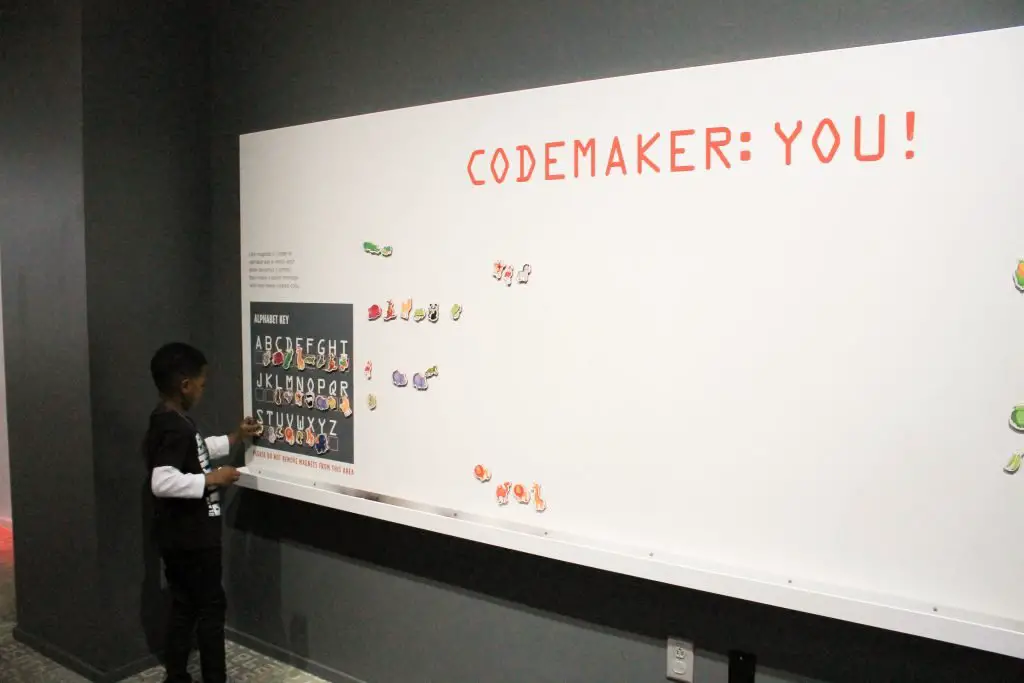 There were a number of code-cracking, think like an analyst, and figure out how to decipher secret information kiosks throughout this area to help you complete the mission you received in the Briefing Center. Our 5-year-old loved this section the most, since he loves to use symbols to create secret messages.
Covert Action
The Covert Action gallery has a large number of spying techniques that were used by leaders to secretly influence events abroad. It explores how some governments used propaganda, sabotage, and lethal action to influence historical events abroad.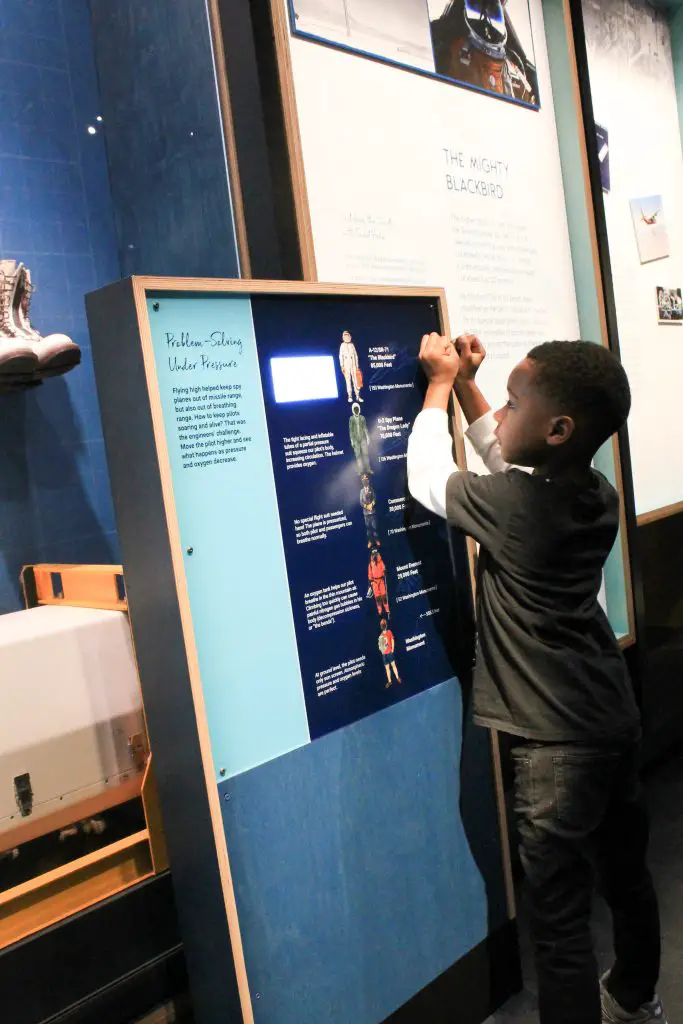 As you exit this section of the International Spy Museum, there's an interactive game where visitors are encouraged to get their spy on and see how long they can hang from a slow-moving bar that lifts you a few feet off of the ground. My husband got a kick out of this game. I'm not sure if he was pretending to be James Bond, Jason Bourne, or Ethan Hunt but he had a ball trying this game out.
Spying That Shaped History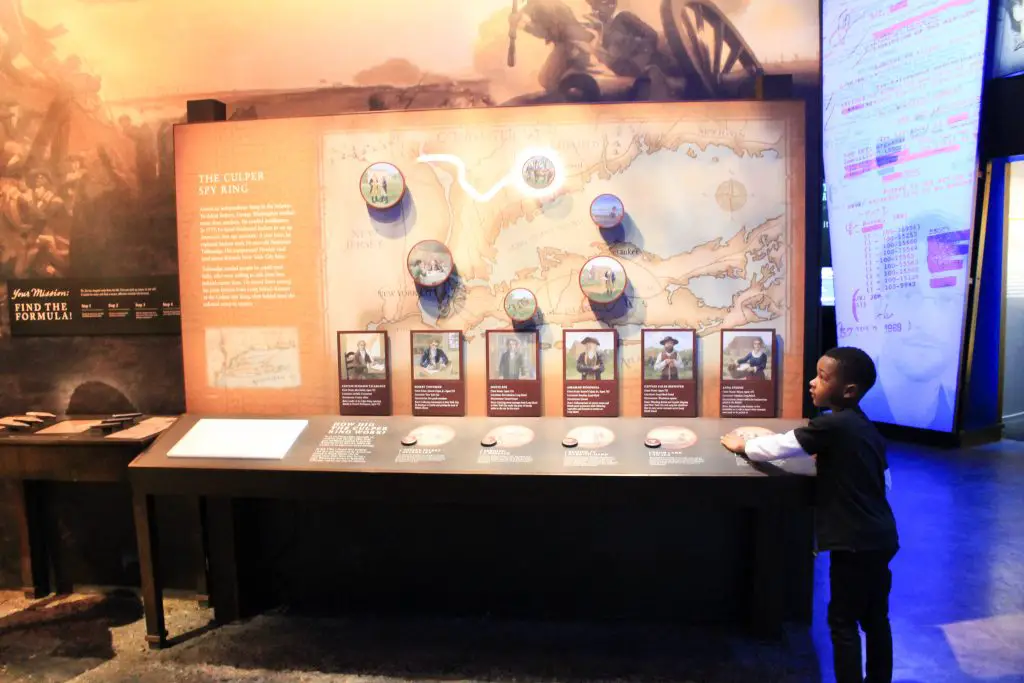 Next, you'll explore stories of spies throughout history, from the American Revolution to 21st-century cyber warfare. There's a large screen playing in the background with experts telling stories about their real-life spy adventures.
An Uncertain World
Afterward, you can head into the "An Uncertain World" exhibit, where you will find areas dedicated to the methods sleuths used to discover domestic threats. This area included little sub-areas that delve into spy tales about Interrogation, Turncoats & Traitors, Cold War Berlin, and more.
WARNING for Parents – The Interrogation Section has a yellow caution sign on the outside to warn visitors of the serious, and sensitive nature of the exhibit. This section explores the controversial subjects of waterboarding, includes a stress box, and explores the definition of torture. We chose to skip this section, so as not to upset our little ones.
Debriefing Center
The Debriefing Center is the final room of the museum and where you'll get a rundown of your undercover mission and a summary of your top spy performance and skills from your work while visiting.
International Spy Museum Store
Before you leave, be sure to check out the Spy Museum Store, which is located next to the Cloak Room. This store has a variety of "Get Shorty-like" gadgets, games, books, and gifts that are worth checking out.
Conclusion
While we truly enjoyed our time at the International Spy Museum, my husband and I had the most fun. This museum is not really for small children, as it's geared for children 8 or above. There were a lot of concepts that were too complicated for our 5-year-old, but he has an affinity for creating codes, so he loved the coding display and most of the interactive exhibits. Our 2-year-old, on the other hand, enjoyed running around in circles.
Intel on the International Spy Museum:
Location: The International Spy Museum is located at 700 L'Enfant Plaza, (above 10th Street and halfway between the National Mall and Wharf) in S.W., Washington, DC.
Open daily, except on major holidays.
Closest Metro: If you choose to use the DC Metro to get there, the closest Metro Station is L'Enfant Plaza, which is located on the Yellow, Green, Orange, and Blue DC Metro lines. Use the exits marked L'Enfant Plaza or Ninth and D Streets and follow the signs through the food court.
Admission Prices:

Adult (13-64) – $24.95
Youth (7-12) – $14.95
Children (6 and under) – Free
Seniors, Military, Law Enforcement, Intelligence Community, and College Students – $19.95 (with valid ID).

Discounts are available when tickets are purchased online at spymuseum.org
This museum does not have a restaurant, but there's a food court located nearby.
Strollers are not allowed.
If you found this post on the International Spy Museum helpful, you might also like:
Disclosure: We received complimentary admission to The International Spy Museum for the purpose of review. All opinions are my own.
Pin for later: