(Last Updated On: October 1, 2022)

Australia has been on our family travel bucket list for some years now. When a flight deal surfaced, my family and I jumped at the chance to take our first international family voyage to Australia.  We chose to start our Outback adventure in Sydney, also known as Australia's Emerald City.
[This post on Things to do with Kids to do in Sydney was originally published in December 2019, and updated in July 2022.]
We were eager to rub elbows with Sydneysiders, visit the bush, and see kangaroos and koalas.  Sydney has a number of kid-friendly attractions so there's no shortage of places to see and things to do.
Getting To Sydney with Kids
Located in the Australian state of New South Wales, getting to Sydney from Washington, DC was no small feat. Our fight route was DCA to JFK, JFK to LAX, LAX to SYD which resulted in a very long travel day (20+ hours). Thankfully, I had invited my mother to join us on this trip to help us with the kiddos.
Getting Around Sydney with Kids
Despite being exhausted from our travels, we were keen to start our adventure once we arrived in Australia's Emerald City.  We ran into a bit of a hiccup at the airport, you canNOT hire a taxi, or use a rideshare company with small children unless you bring your own child safety seat.  For transportation options to include renting a car, hiring a private taxi service, or using public transportation check out How to Travel in Australia with Kids.
We decided to use Sydney's Public Transportation system which includes ferries, trains, buses, and light rails. The kids enjoyed taking the scenic route.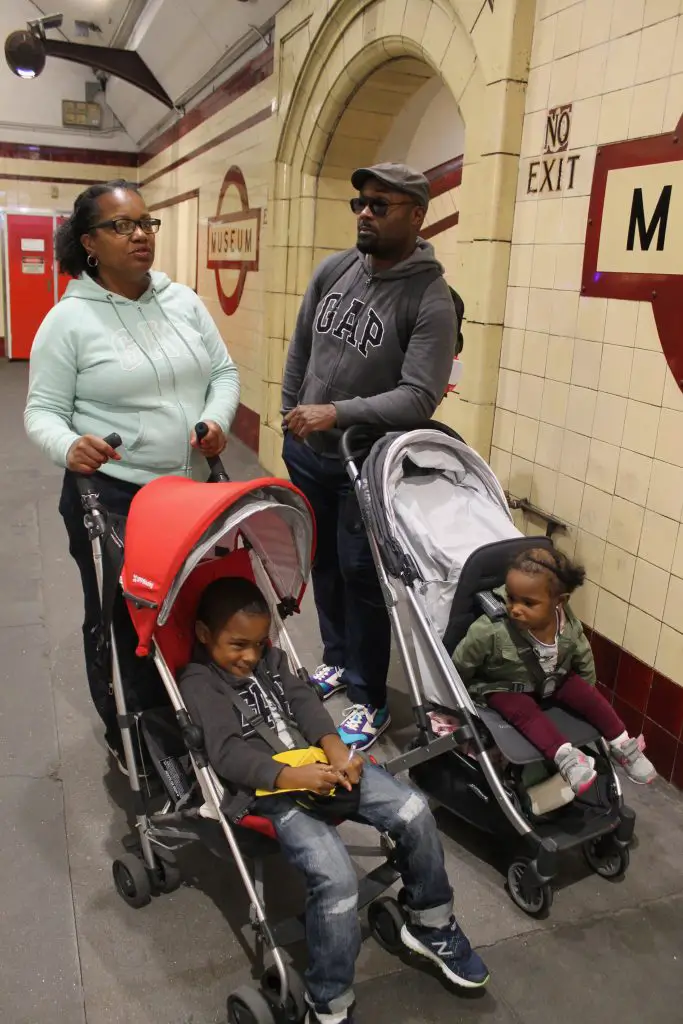 On to things to do in Sydney with Kids!
There's an endless list of fun things to do with kids in Sydney. Below are a few tips and my top suggested activities and things to see and do for families plus more!
Sydney Harbour
The glittering Sydney Harbour is complemented by world-famous landmarks like the Sydney Opera House and the Sydney Harbor Bridge. Whether your first glance is by land or sea, the Sydney Harbour is spectacular!  I got my first glimpse from my airplane window, as we were landing.
Explore Circular Quay & Darling Harbour
Circular Quay (pronounced Kay) is the main hub for Sydney's busy network of ferries. Lined with shops, restaurants, bars, and cafes that overlook Sydney Harbour, Circular Quay offers amazing views of Sydney's most iconic landmarks like the Sydney Opera House and Sydney Harbour Bridge.
This area is a wonderful place to wander both day and night. During the day, there are views of the Harbour and you can sit and watch ferries going in and out of the wharves but at night it offers spectacular views of the Harbour Bridge which lights up the Sydney skyline.
Take a Whale-Watching Cruise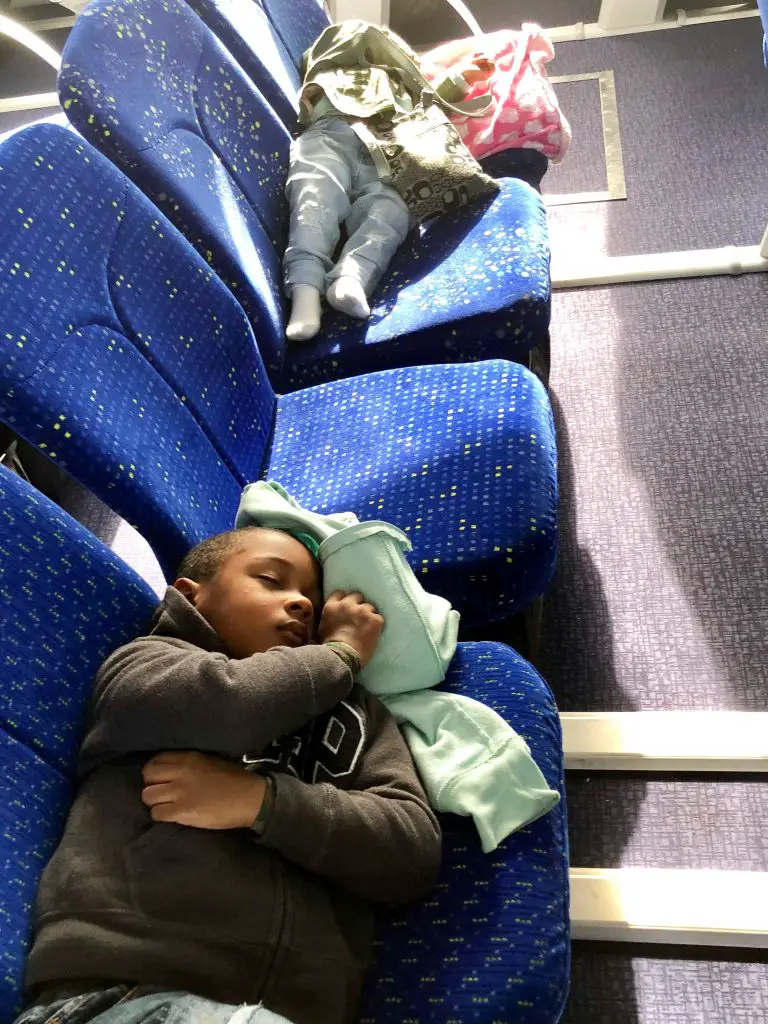 Depending on the season, you might be able to go whale-watching. Since we visited during winter, there were a number of whale-watching tours that departed from Circular Quay every couple of hours. We took the Whale-Watching Boat Tour with Captain Cook Cruises which was located on Wharf 6. Unfortunately, we took our tour during naptime, so I nor the kiddos saw any of the whale action.
We didn't see any whales during our cruise, but we did get to see a pod of seals sunning themselves.  The whale-watching cruise with Captain Cook costs about $30 USD per person including the kids. Kids don't ride for free.
Walk Across the Sydney Harbour Bridge with Kids
The Sydney Harbour Bridge, affectionately called the "coathanger" by Aussies, is one of the world's largest steel arch bridges and boy is it a beaut!  There's a walkway for pedestrians, which offers breathtaking views of the Sydney Harbour and Opera House.
For the best views, take the train to the Milson's Point stop and walk across the bridge from that direction. Another way to take in the sights from the Harbour Bridge is to pay a fee and climb the stairs on the south end of the bridge.
BridgeClimb Sydney (the Sydney Harbour Bridge sans bebes)
My husband and I left the kids with my mom and ventured out to see Sydney from the top of the Sydney Tower Bridge.  The iconic Harbour Bridge offers spectacular, panoramic views of the city. Although this experience comes with a hefty price tag, seeing Sydney's most iconic landmarks from on top of one was quite the experience.
Climbers must be at least 8 years of age. And all children ages 8-15 have to be accompanied by an adult.  The BridgeClimb Sydney is located at 3 Cumberland Street, The Rocks.  The BridgeClimb costs roughly $220 USD per person.
Check out The Rocks
Located in the shadow of the Sydney Harbour Bridge, is The Rocks. The Rocks neighborhood is quite the happening place. This historic and quaint area is full of open-air markets, pubs, restaurants, and art galleries. The Rocks area is named after the sandstone rocks that were used to build up the neighborhood.  Due to its proximity to the Sydney Harbour Bridge, it's a great area to explore before or after climbing the bridge.
Sydney Beaches with Kids
As a coastal town, you're never far from a beach. The famous beaches in Sydney are one of its most popular attractions.  The most popular beaches are Bondi (pronounced Bond-eye), Coogee, and Manly.  We visited Sydney during their winter (August). The temperatures were pretty chilly during our visit so we didn't venture out to the beaches.
If you happen to visit Sydney during warmer months, we've heard great things about Bondi, Coogee, and Manly beaches for kiddos.
Luna Park with Kids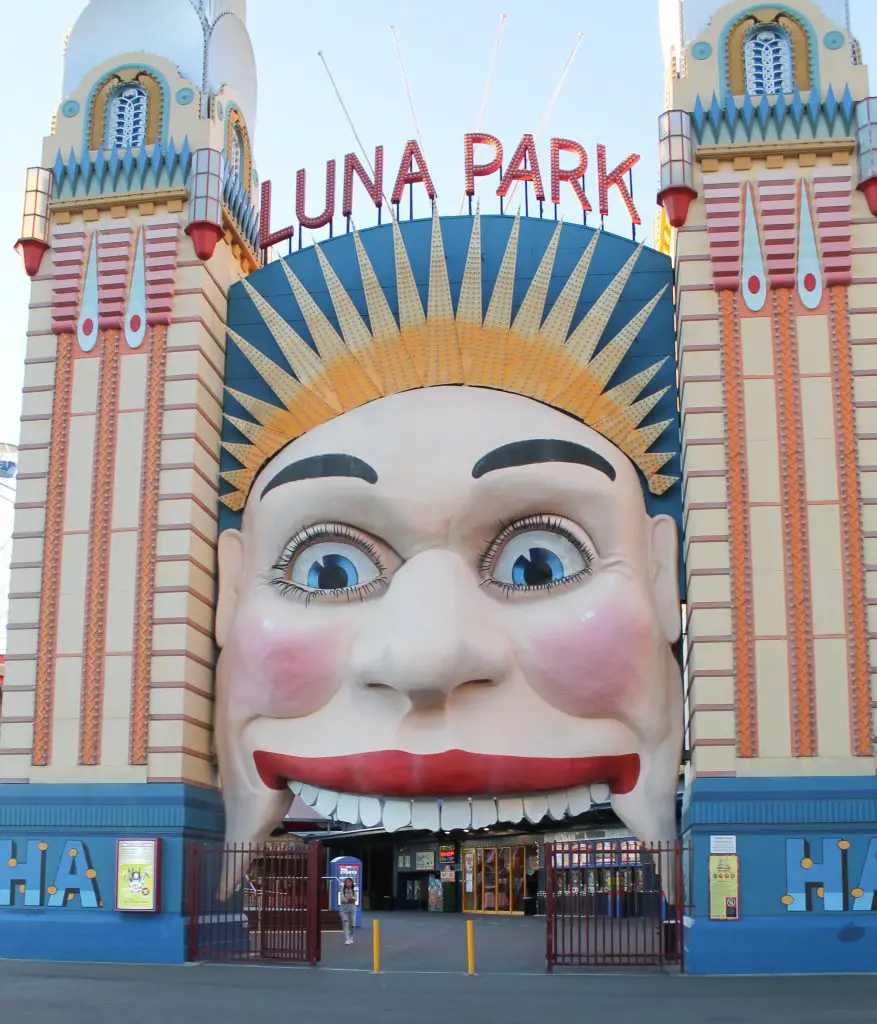 The famous, ginormous and a bit spooky smiling face is sure to let you know you've arrived at Luna Park – the amusement park. The theme park is located on the north side of the harbor at Milsons Point. You can jump on a ferry from Circular Quay or walk across the Harbour Bridge to get a closer look at this iconic spot.
Prices for entry range between $14-25 USD per person.
Meet the Queen's Talking Dog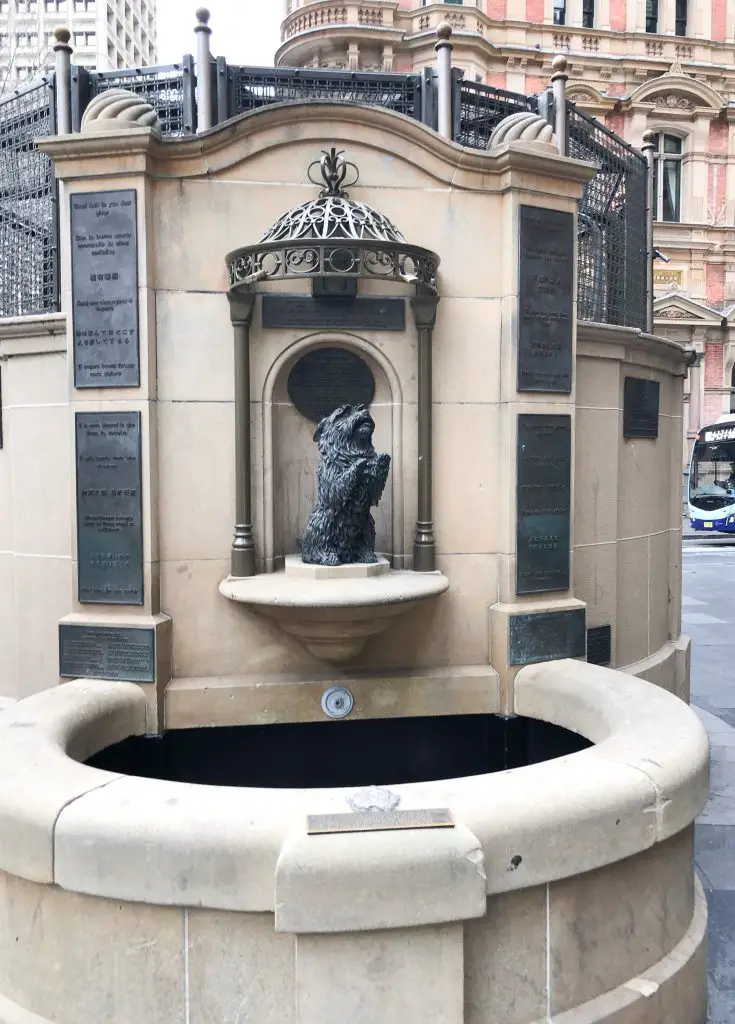 My kids met Islay, Sydney's famed talking dog which is a statue of Queen Victoria's Dog. The dog apparently barks when you wave your hand a certain way but we couldn't figure out how to make it work.
The kiddos didn't particularly care that this royal canine didn't bark. They were fascinated nonetheless. We stumbled upon this landmark as we waited for our bus to Penrith in West Sydney to spend the day at Muru Mittigar. This statue is located directly in front of the Queen Victoria Building on George Street.
Take a Day Trip with Kids
There are a number of popular day trip options from Sydney. Leaving the city was a great way to connect with the land and locals. Although we were only in the Outback for 10 days (minus travel), we found a way to take two, day trips.
Day Trip #1:  Muru Mittigar
We took our first day trip to the Muru Mitigar Cultural Center in Penrith, West Sydney. During the day we spent there, we took a boomerang tossing lesson and learned about Aboriginal symbols in art, and the uses of the didgeridoo. Muru Mittigar was the highlight of our time in Australia.
It takes about 45 minutes to get to Penrith by cab, and two hours using public transportation. Muru Mittigar costs approximately $15 USD per person.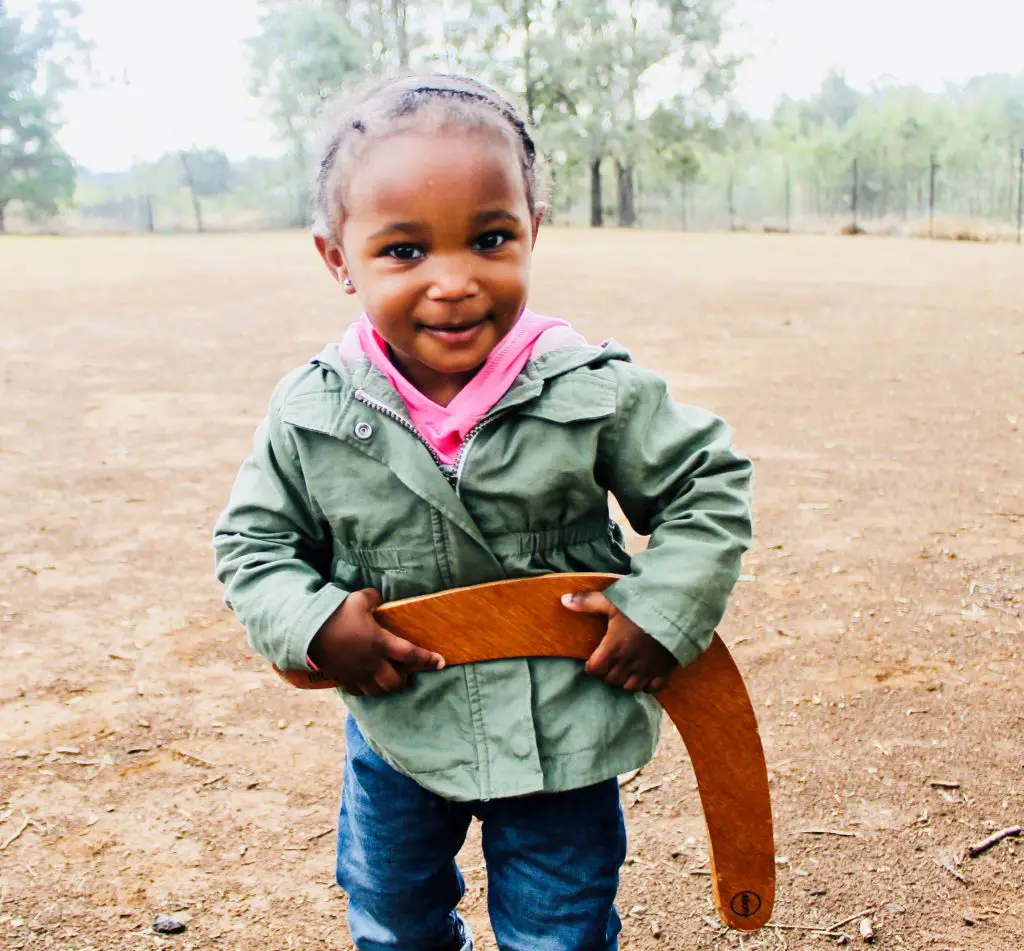 Day Trip #2:  Blue Mountains National Park
We took a private tour of the Blue Mountains National Park with Sightseeing Tours Australia which is a bus tour company that picked us up in front of a hotel and drove us two hours out to the national park area. We made a stop at the Featherdale Wildlife Reserve on our way to the Park.
The area is called the Blue Mountains because the vapor from the eucalyptus trees, that canopy the mountains, is blue in hue. We started exploring at the Echo Point viewing platform in Katoomba and then took the train down to see the Three Sisters rock formation (as seen below).
The Blue Mountain Sightseeing day trip costs approximately $60 USD per person.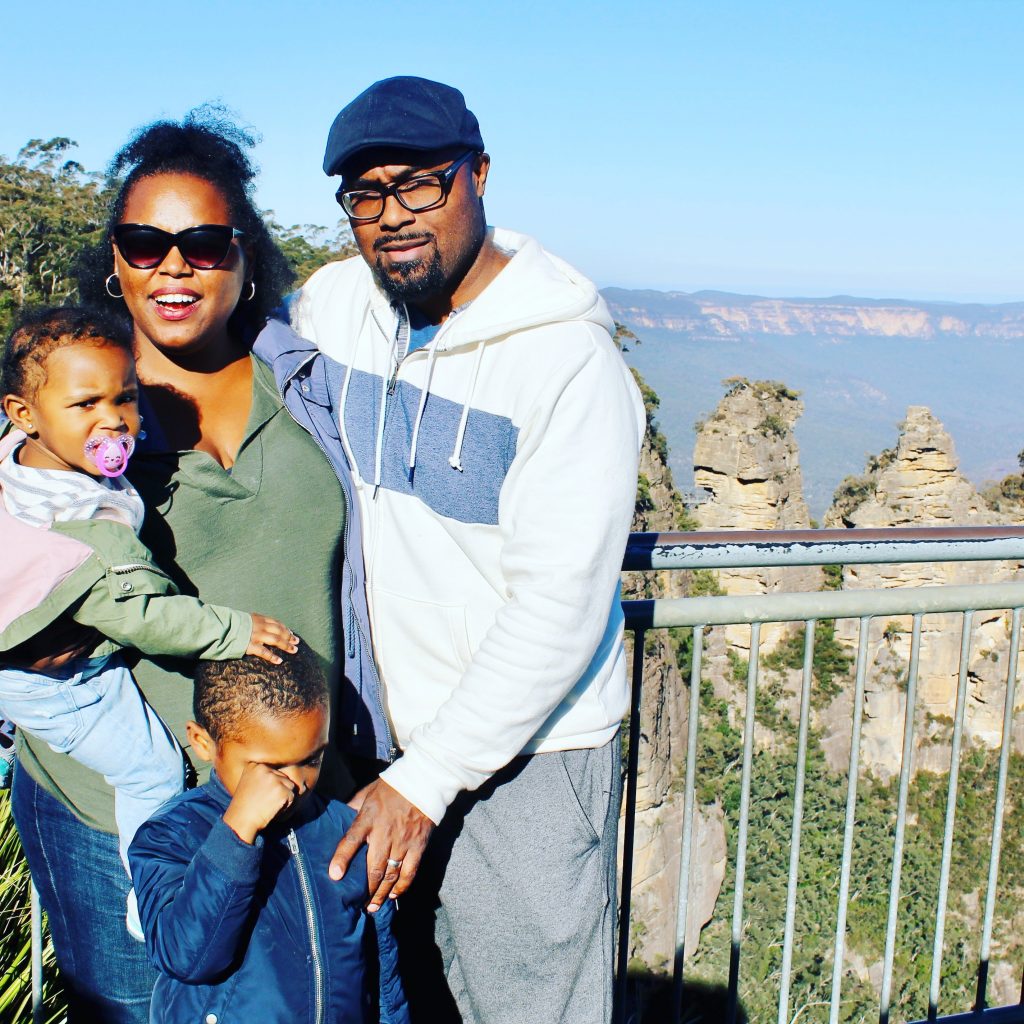 If you have more time check out:
If you have more time to explore Sydney, check out:
Tarango Zoo
The Royal Botanic Gardens
Sydney Tower – located along Market Street. There's an observatory at the top of the tower that offers views of the city and the harbor.
Chinese Gardens of Friendship
Top 3 Must-Try Aussie Eats with Kids
When visiting a new destination, it's always important for me to find out what the locals eat.  Here are three eats that we tried while Down Under:
1.  Tim Tams
These chocolate cookies were my JAM!!  Tim Tams come in many flavors but I believe the original is a chocolate cookie wafer covered in a coat of milk chocolate.  Bomb.com!!!  I don't even like chocolate and I LOVED these cookies!!
2.  Chicken Schnitzel
This dish is made of a thin slice of breaded chicken that's been fried. This was my kids' version of chicken fingers and fries our entire trip. Chicken schnitzel with chips quickly became my kids' favorite Australian meal, even though I'm pretty sure that schnitzel is German.   This was the go-to meal for the kids at every restaurant in Australia.
3.  Aussie Meat Pie
The meat pie is a pastry filled with meat, gravy, and vegetables. This local treat is often topped with a dollop of ketchup or tomato sauce as they call it.  I tried the traditional beef meat pie. Although it was tasty, I found the gravy inside to be a bit too rich and thick.
Tips for Visiting Sydney with Kids
A visa is required to visit Australia. The visa is called the Australia Electronic Travel Authority (ETA) for visitors from other countries. Once you apply, pay the fee, and are approved the visa information is electronically attached to your passport number so you won't have to add a physical visa to take up one of your precious pages in your passport. It cost us a little more than $25 per person. So be sure to add this expense to your travel budget.
SYD is the airport code for Sydney and it's located less than 5 miles from downtown. Although with traffic it can take about 20 minutes It's about a
If you want to use a rideshare company with small children read this first.
Credit cards are widely accepted, as is cash.
If you found this post on the best things to do in Sydney with Kids helpful, you might also like:
Pin for later: