(Last Updated On: September 20, 2022)
Looking for the Best New England Fall Road Trips? Well, look no further.  Each year when the leaves change from green to shades of golden, orange, and red, people travel to New England from around the country to experience some of the best fall foliage in the US. If you're planning on venturing to New England for the first time, there are some can't-miss destinations to make sure you check out.
New England is massive, comprising six states in the US Northeast, so it's essential to know where to go. In this easy-to-read guide to the best fall road trip destinations in New England, I'm sharing some of my favorite places for leaf peepers and lovers of the outdoors to check out during the fall season. Get ready for some of nature's finest work!
Here are the best New England fall road trips for 2022:
Manchester, Vermont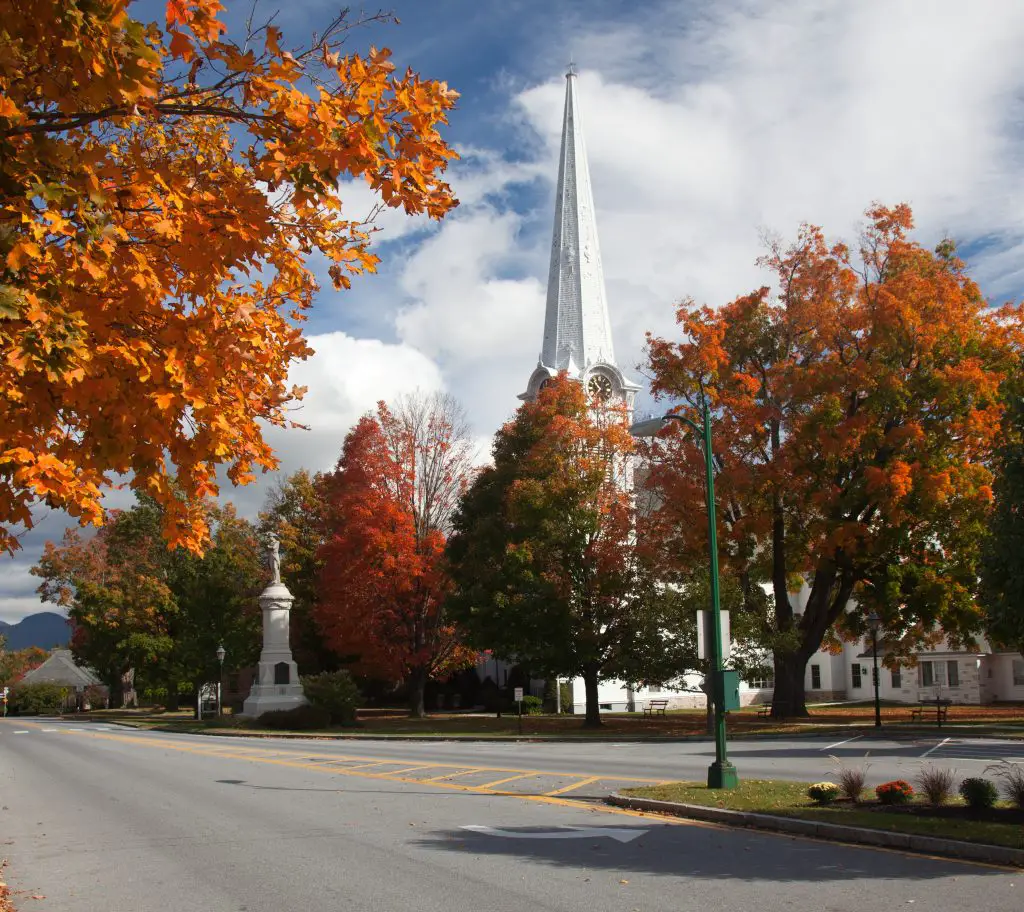 Manchester is widely known as one of the best New England towns for fall foliage. As you drive into town, you'll be met with a spellbinding palette of crimson and gold all around you. In addition to sprawling views of incredible foliage everywhere you turn, Manchester is filled with historic sites and museums to explore. There are also several equally charming towns in the area, giving you an endless supply of things to do.
Franconia Notch State Park, New Hampshire

Located in the White Mountain National Forest, Franconia Notch encapsulates eight miles of lush rolling greenery with plenty of room for activities. During the fall season, the park is one of New Hampshire's premier destinations for leaf-peeping at all sorts of colorful foliage. There are plenty of scenic hiking trails where you can find glittering waterfalls and panoramic mountain views.
Lake Placid, New York
Nestled in the heart of the Adirondack Mountains, Lake Placid is a charming town with plenty of enchantment to offer its visitors. You don't have to search far to stumble across some of the best fall foliage in New England, just take a brisk stroll around Mirror Lake or go hiking to the Mount Marcy summit for sweeping views of the region.
Acadia National Park, Maine
Millions of visitors from around the country travel to Acadia National Park each year for the stunning natural beauty and diverse array of wildlife. During the fall season, the park is transformed into a vibrant wonderland of golden and red hues.
For adventurers and nature lovers, Acadia National Park is undoubtedly one of the best New England fall road trips you can take. Popular activities include hiking, biking, and even whale-watching.
Currier & Ives Scenic Byway, New Hampshire
You can revel in some of the best foliage the fall season has to offer without ever leaving the car by traveling along the Currier & Ives Scenic Byway. New Hampshire is bursting with stunning foliage and this drive offers one of the best ways to experience it. As you drive along the 30-mile scenic byway, you'll pass through historic villages and rolling countrysides while reveling in stunning natural beauty throughout the journey.
Stowe, Vermont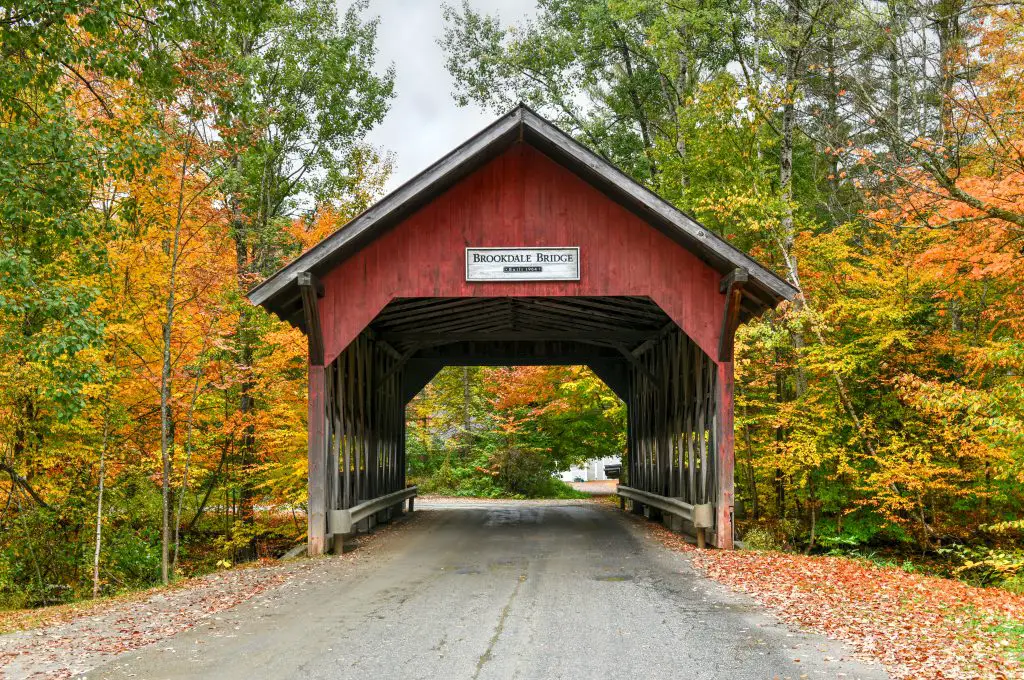 If you're looking for one of those picture-perfect winding drives with stunning fall foliage waiting around every turn, don't miss out on a stop in Stowe, Vermont. This quaint town is a haven for outdoor enthusiasts, with a wide array of hiking trails and waterfalls to be found throughout.
Essex Coastal Scenic Byway
This 90-mile road linking 14 coastal communities from Lynn to Salisbury boasts fantastic views the whole way through. As you cruise down the Essex Coastal Scenic Byway, you can enjoy a combination of stunning fall foliage and incredible views of the sea. You'll drive past endless historic towns, breweries, farmer's market, and opportunities for recreational activities. If you're looking for beauty, you can be sure to find it here.
Woodstock, Vermont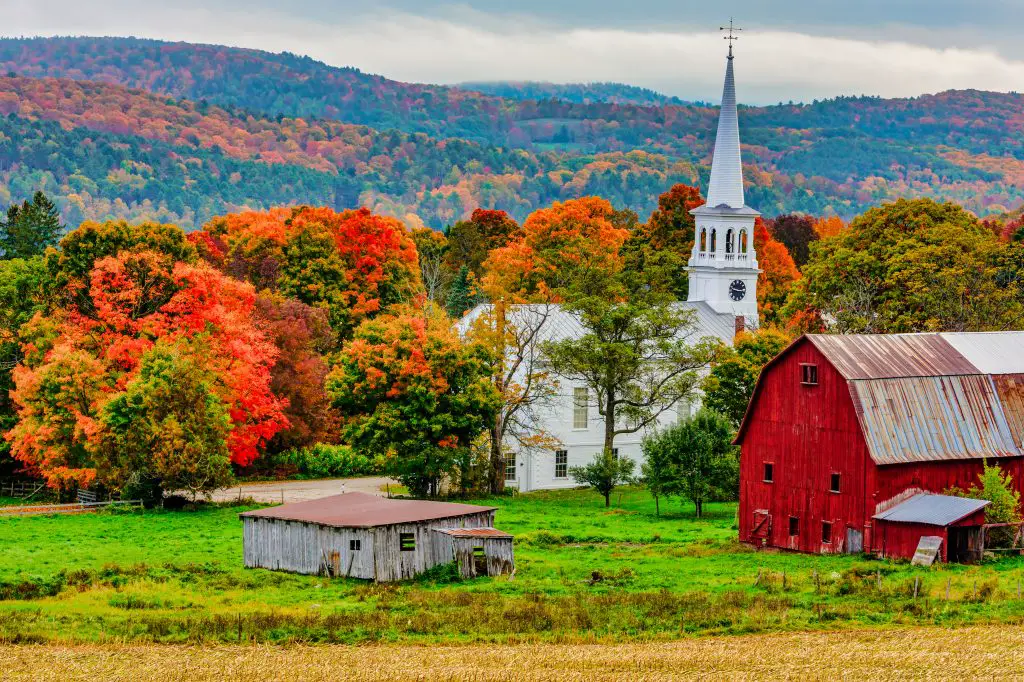 Not only is Woodstock one of the most beloved small towns in America, it's also one of the best New England fall road trip destinations you could visit. Throughout October, you can expect to find awe-inspiring fall foliage draped over the town. Experience true autumnal bliss as you enjoy ox cart rides, hot apple cider, and apple picking with your loved ones. Woodstock is absolutely one of the best places to see fall foliage with kids.
Bristol, Rhode Island
Home to some of the best fall foliage in Rhode Island and the best fall foliage in New England as a whole, Bristol is a charming town that is practically dripping in colorful foliage each year during the fall season.
Head over to Colt State Park for up-close views of the area's finest foliage or peruse around Blithewold Mansion and Gardens for a dose of history and culture to go with your scenery. The town of Bristol is also home to miles of pristine coastline and ample hiking trails to explore with your family.
Kancamagus Highway, New Hampshire
What better way to end this list than with one of the most beloved New England fall road trip destinations of all time? Kancagamus Highway in New Hampshire boasts 35 miles of mind-blowingly beautiful fall foliage. This epic road is the stuff out of fairytales, truly. While you don't need to leave your car to enjoy the beauty, there are plenty of scenic overlooks, lakes, waterfalls, and recreational activities along the way to check out.
If you're planning a New England fall road trip to experience the foliage, I recommend making the trek during the first two weeks of October when it's at its peak. This enchanting region is world-renowned for its stunning fall foliage, so you're guaranteed to have a magical time no matter where you choose to go. Have you been to any of these destinations? Did I leave out your favorite? Let me know in the comments!
If you enjoyed this post on the best fall New England road trips helpful, you find the follwoing articles helpful:
Pin for later: