(Last Updated On: October 1, 2022)
10 Fun Things to Do with Kids in Zion National Park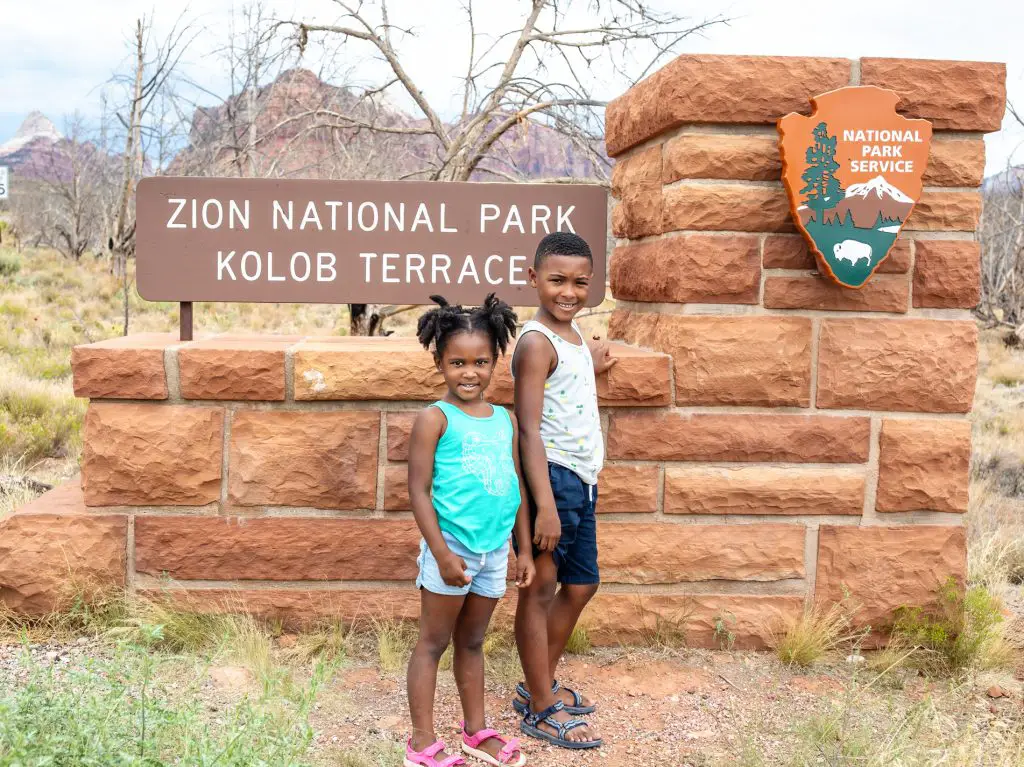 From majestic cliffs and glistening rivers to a vast array of plants and wildlife, Zion National Park in Utah is home to some of the most breathtaking landscapes this country has to offer. If you've never had the pleasure of visiting the park, get ready to fall head over heels.
When planning a family vacation, national parks are often close to the top of the list. With so many things to do with kids in Zion National Park, your trip guarantees to be packed with fun and adventure. Not to mention, some of the most jaw-dropping views you will ever see in your life. Get ready for a trip you'll never forget!
Here are the top 10 fun things to do with kids in Zion National Park:
1. Take a Hike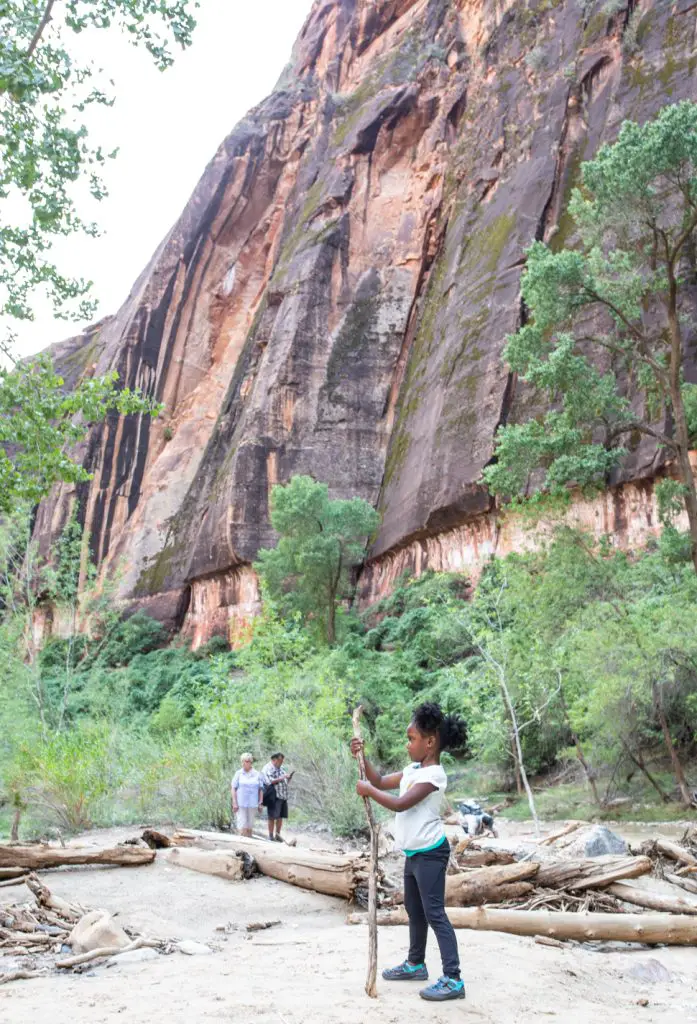 Now, this might seem fairly obvious, but one of the best things to do in Zion National Park with kids is going for a hike. There are tons of easy, short, and family-friendly hiking trails scattered throughout the park. Some of my favorites include the Canyon Overlook Trail, Taylor Creek, Emerald Pools, and the Grotto Trail.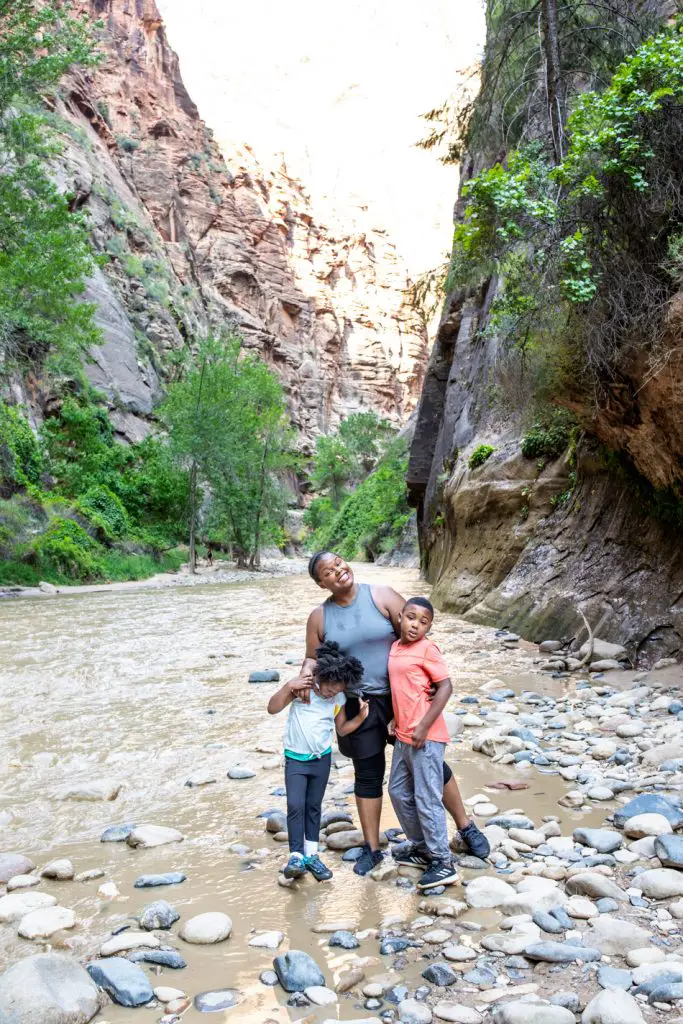 To get to The Narrows take the Zion shuttle bus to the Temple of Sinawava, which is the last stop on the bus route. From there, the trail is a paved walkway that follows along the Virgin River and leads to The Narrows. The trail ends where The Narrows begins. According to the Zion National Park website, from this point, you can hike The Narrows upstream as far as the Big Spring.  The hike is 10 miles round trip and no permits are required. We were really eager to hike The Narrows, but unfortunately, flash flood warnings prevented us from doing it.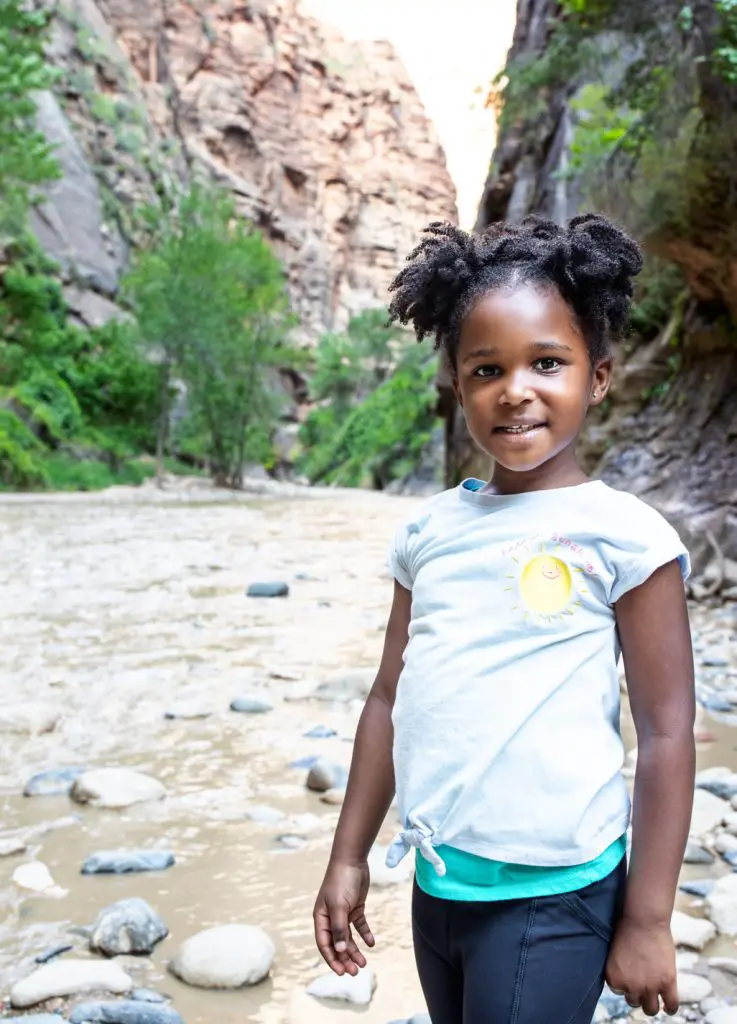 We decided to explore Zion by going on a half-day family-friendly hike and canyoneering with Zion Adventure Company.  Our half-day excursion started early in the morning and included, a crash course in rappelling, hiking, and slot canyons.  Our guide, Tyler, was amazingly knowledgeable and patient with us.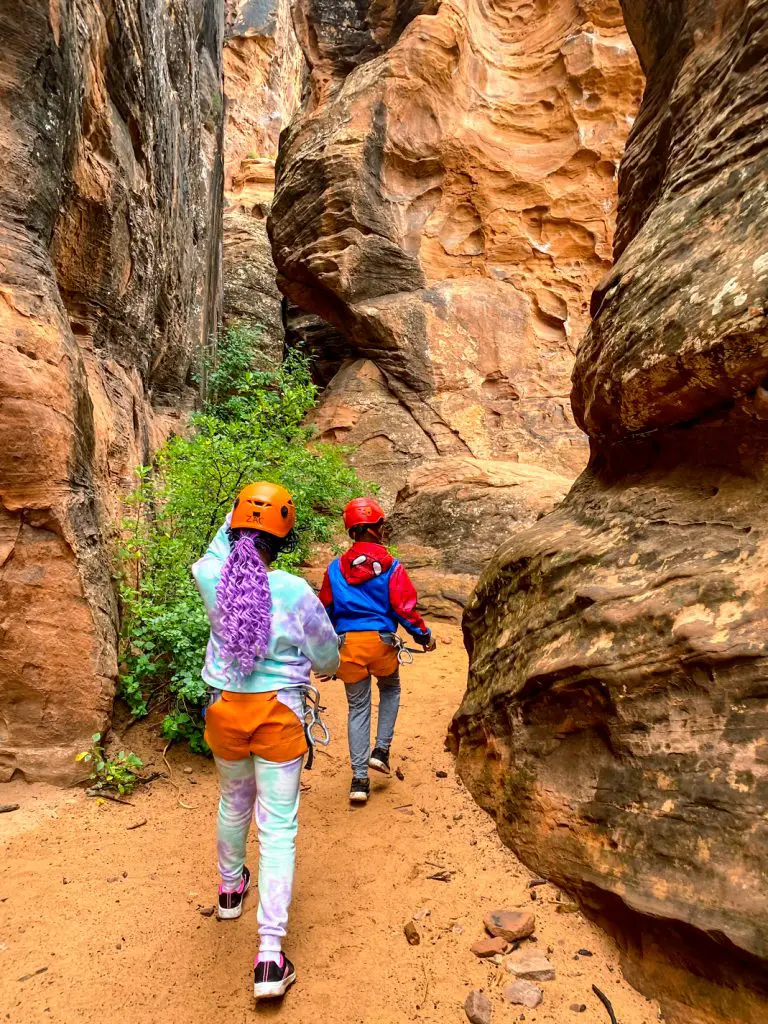 2. Bike the Pa'rus Trail
If your youngsters are old enough to bike, then biking the Pa'rus Trail is a great option for the whole family. This mesmerizing trail is riddled with river access points that are always a blast to explore, along with vibrant wildflowers and frequent wildlife sightings. If your kids aren't quite old enough to bike, this well-paved trail also makes for a great hike for first-time hikers.
The Zion Nature Center was designed with children in mind, making it a great place to take your kids to learn more about nature. There are tons of youth programs, games, and displays available that will entertain your kids while teaching them a thing or two. Bonus tip: this is a great way to escape the heat for a while if you're visiting during the summertime.
4.  Drive Mt. Carmel Highway
Another great way to escape the heat — and still take in the glorious views — is to hop in the car and cruise down Mt. Carmel highway. This 12-mile drive is littered with overlooks and viewpoints that you can pull off on to take in the scenery.
So, whether your kids are tired of hiking or you're traveling with older relatives, this is a great way to explore the sights of Zion National Park by car. You also pass through a historic tunnel on the drive, which is always a fan favorite.
The highly-rated Zion Human History Museum is easily one of the best things to do in Zion National Park with kids. The museum explores the history of American Indians, pioneers, and the park itself. Along with tons of kid-friendly exhibits, there's also a 22-minute film about Zion that makes for a great way to begin your family trip.
6.  Become a Junior Ranger
Zion National Park offers an incredible program that gives your kids the opportunity to become a Junior Ranger. Not only is this a fantastic opportunity for kids ages 4 and up to learn more about how to stay safe and protect the park, but it's also a lot of fun.
You can expect the ranger-led program to take a few hours, ending with your kids earning their Junior Ranger Badge. It's a great way for kids to build their confidence and feel more connected to the beautiful park they're visiting!
7.  Go Tubing or Swimming
Traveling during the summer months? Zion National Park is filled with fun (and beautiful!) places to swim with kids. From river tubing down the Virgin River to swimming in the off-the-beaten-path Pine Creek Waterfall, there are plenty of ways to cool down and have tons of fun at the same time. Don't forget your waterproof camera!
8. Enjoy a Picnic
I can think of very few picnic spots in the US that top Zion National Park. You can choose from the Grotto Picnic Area or the Kolob picnic site, both of which feature picnic tables, fire grates, and public restrooms. The scenery at both sites is absolutely breathtaking, and the nearby town of Springdale has plenty of options for food to bring.
Check out Weeping Rock
The mesmerizing natural phenomenon that is Weeping Rock features a massive rock where water flows right out, giving the appearance that the rock itself is weeping. The hike to get Weeping Rock is only 0.4 miles in distance, with an elevation gain of about 100 feet. Make sure to wear shoes with good traction, as you will probably get wet!
10.  Go Horseback Riding
If your kids are anything like mine, then horseback riding is a win no matter where you are. Take your family on an exciting excursion to explore Zion National Park the way the pioneers did—on horseback!
This is a truly spectacular way to experience the breathtaking sights throughout the park, with options for 1-hour or 3-hour rides that follow the Virgin River up to the Court of Patriarchs.
Tips for Visiting Zion National Park with Kids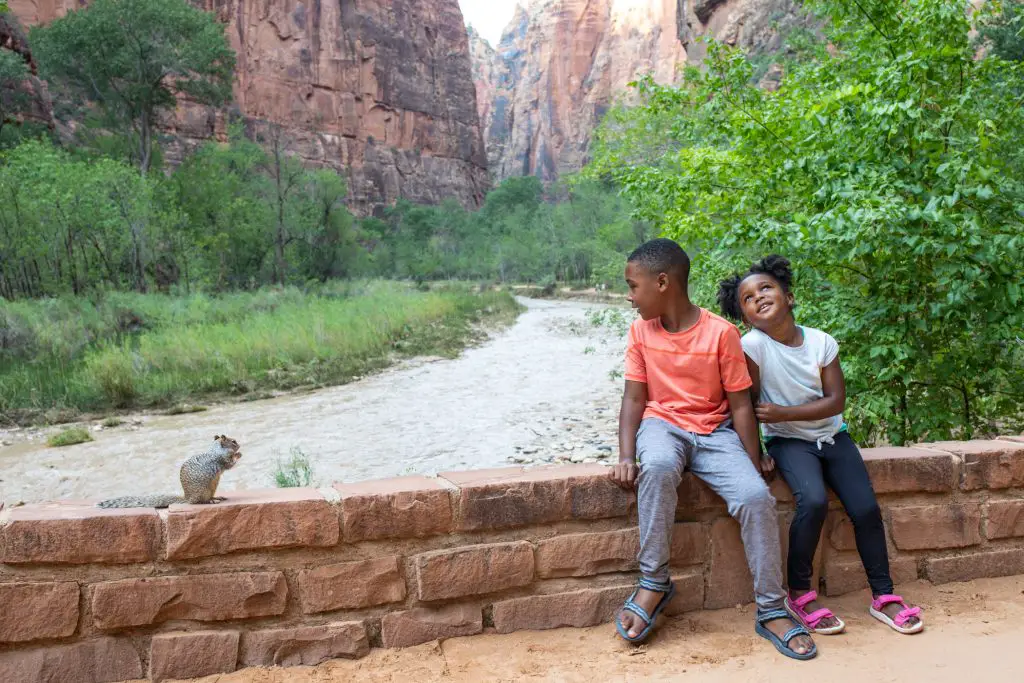 We all know that when it comes to traveling with kids, it's important to be prepared. To make the most out of your trip to Zion National Park, there are a few pointers you should keep in mind. Here are my top tips for visiting Zion National Park with kids:
Cost. It costs $35 per vehicle for a 7-day pass to Zion National Park. If you plan to visit multiple national parks, get the America the Beautiful National Park Annual Pass for $80.
Take the shuttle. Parking in Zion can be difficult (and downright impossible at times). That's why I recommend taking one of the free shuttles to and from the park. The Springdale shuttle has about 9 stops on its route, with the first one beginning at the Majestic View Lodge.
Kid-friendly lodging. There are tons of campsites and RV hookups near Zion that are perfect for families. Personally, I recommend Zion Campground and RV Resort (located at Springdale shuttle Stop 3). If camping isn't your jam, there are a number of family-friendly hotels nearby, including the historic Zion Lodge (Springdale Shuttle Stop 5).
Bring sunscreen. If you've never been to Zion National Park, trust me when I say the sun can be fierce. You're going to want to bring plenty of sunscreen, hats, and other protective gear to guard your family against those UV rays.
If you're planning on taking a trip to Zion National Park, you're in for a treat. I hope that these top 10 things to do in Zion National Park with kids gave you more than a few ideas. As always, let me know how it goes! And of course, don't forget your hiking shoes.
If you found this post on fun things to do with kids in Zion National Park helpful, you might also like:
How to Prepare Your Home Before Going on Vacation: 20 Things to do 
22 Amazing US Spring Break Ideas for Families in 2022
How to Save Money on Your Family Vacation: 14 Top Tips and Tricks
Pin these things to do with kids in Zion for later: