(Last Updated On: January 4, 2023)
If where to stay in Delaware means family-friendly amenities, comfy quarters, and being at the center of downtown Wilmington, you'll find everything you want at the Sheraton Suites Wilmington Downtown. Scroll down for our complete review!
After spending the better parts of a year at home, we decided to have our first family adventure with a road trip to Wilmington, Delaware. We only planned to explore the city for two days and wanted our lodging to be centrally located to save time. The Sheraton Suites Wilmington Downtown was the perfect location for our weekend trip to Wilmington.
[Updated January 2022]
Location
The Sheraton Suites Wilmington Downtown is located on Delaware Avenue near the bustling Market Street area. We parked our car in front of the building while we checked in and unloaded our bags. Once our bags were unloaded, we parked in the underground garage.
The hotel was recently renovated. Just off the lobby is the hotel's bar and restaurant, which were still under construction when we visited. The check-in process was quick and easy, but the elevators were slow. All in all, it only took about 15 minutes from check-in to arriving at our suite. Shortly after we were settled in our room, the hotel staff brought us a tray filled with complimentary snacks and juice, which was a nice touch.
Accommodations
 1-Bedroom Suite
We had the pleasure of staying in the Club Level 2 Queen Suite which features two queen-sized beds, a sofa bed, kitchenette, workstation, and two flat-screen TVs. Our suite was on the 16th floor and overlooked the downtown area and the Delaware River.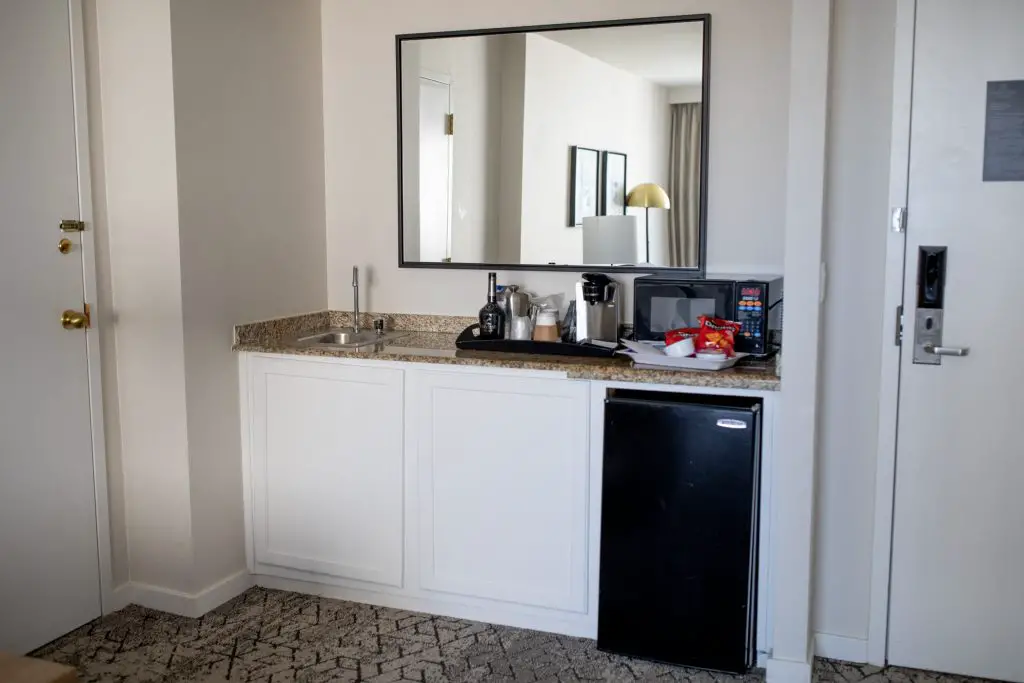 We travel with a lot of snacks, so it was nice having a mini-refrigerator in our room. The corner suite had a nice view of the city. The location was close to a lot of the attractions we wanted to explore.
Video Room Tour
Overall:
Our stay was only for one night, and although it was too short, the hotel room was perfect for our needs. While there are several Wilmington attractions within walking distance, and it's worth the stay. There are so many things to do while visiting Wilmington. The staff was gracious and accommodating, and our stay was memorable. I would love to return for an extended stay to explore more of Wilmington.
Address: 422 Delaware Avenue, Wilmington, DE 19801
Phone: 1+ (302) 654-8300
Distance from Philadelphia International Airport: about 30 minutes
Uber and Lyft are available
Disclosure: My family was invited to stay at the Sheraton Suites Wilmington Downtown and were provided with a complimentary stay. All opinions are my own.
Related Wilmington, Delaware content: 
Planning a trip? The following articles will be helpful:
Pin for later: