(Last Updated On: October 12, 2022)
We partnered with Discover Thomasville to check out some of the best restaurants in Thomasville, Georgia.  There are so many fun things to do in this small city.  I started my tour by visiting the local Black History Museum, then it was time to check out local fare with the Taste of Thomasville, a walking food tour. Although I'd never gone on a food tour prior to this, I couldn't think of a better way to learn about a destination, than through food.
The Taste of Thomasville is a three-hour food tour covering 1.2 miles of Downtown Thomasville. The food featured on this tour was so phenomenal, that I'll be scouting out food tours for all of my future destinations. Not only was the food scrumptious, but our guide (Mike Bozeman) was a sweet man that just happens to be a walking encyclopedia of anecdotal stories and interesting historical facts about Thomasville GA.
A small group (of about 10) and I kicked off our epicurean tour in the courtyard of Thomasville Visitor's Center. That's where Mike gave us a brief history of how Thomasville became a popular retreat for wealthy travelers at the start of the 20th century. These visitors would flock to Thomasville seeking respite from the brutal northern winters.
Mike then handed out nametags and a bottle of water to each of us tour-goers and we started our meandering journey through downtown Thomasville. First stop, Jonah's Fish & Grits.
Jonah's Fish & Grits
We started off our tour with the local culinary behemoth, Jonah's Fish & Grits. This restaurant is known for its shrimp and grits and boy does this dish live up to the hype!  The grits were creamy, and the shrimp were spicy, but the spice was offset by the sweetness of the hushpuppy. It was a delightful pairing.
I'm sure Mike, our knowledgeable docent, offered a story or anecdote about Jonah's but I honestly can't remember anything he said.  I was too busy trying to mind my manners and not lick the ramekin that the delectable shrimp and grits were served in.
Sweet Grass Dairy Cheese Tasting at Relish
We walked through Relish, a local store on Main Street that has some of the cutest Southern-themed houseware and décor.  We were ushered to the back of the store where there was a little tasting area set up for us.  It was there, that we got to sample some of the world-famous artisan cheeses made by the local Sweet Grass Dairy company.  The Sweet Grass Dairy storefront was closed the day that we visited. If you're interested in trying these cheeses, they're sold at Whole Foods.  
George & Louie's 
George and Louie's is a cute seafood restaurant that looks like it was lifted from the pages of an Ernest Hemingway novel.  It might have been the floor to ceiling windows and palm trees out front that made me think of Hemingway.  But I digress, the cool marquee outside looked like it used to belong to a retro gas station. This casual eatery has indoor and outdoor seating.
When we arrived, Mike raved about their Greek salad. The Greek salad was just okay for me.  But I was NOT ready for their earthshattering fried green tomatoes.  I say earthshattering because the flavors/seasonings in the batter of this appetizer blew the fried green tomatoes of my childhood out of the water.
During the tour, I didn't want to believe that George & Louie's fried green tomatoes were as good as I had initially thought. That's why I decided to return after the tour to double-check.  And they were, in fact, the best fried green tomatoes I've ever had. These. Things. Are. Absolutely. Sinful! The next time you're in Thomasville, stop by George & Louie's and order the fried green tomatoes. You're welcome in advance!
AJ Moonspin Pizza
We were then treated to the Florida Georgia pizza at AJ Moonspin, a gourmet pizza restaurant in town. The featured pizza was topped with Bradley sausages (world-famous sausages made at Bradley's Country Store in Tallahassee, Florida) and Vidalia onions from none other than Vidalia, Georgia. The spicy sausages, salty cheese, and sweet onions made my taste buds do a dance.  Our group devoured the pizza before I could snap a photo of it.
Grassroots Coffee Company
We stopped by Grassroots Coffee Company, for our last course.  We enjoyed a tutorial about the difference between light and dark roast coffee and how cold-brew and hot-brew coffee beans are prepared, as we sat on stools at a table in a private-ish corner. Our friendly coffee advisor paired our coffee with a sweet dessert.  The coffee was just the pick-me-up I needed after enjoying all of the rich foods on the tour.
The Bookshelf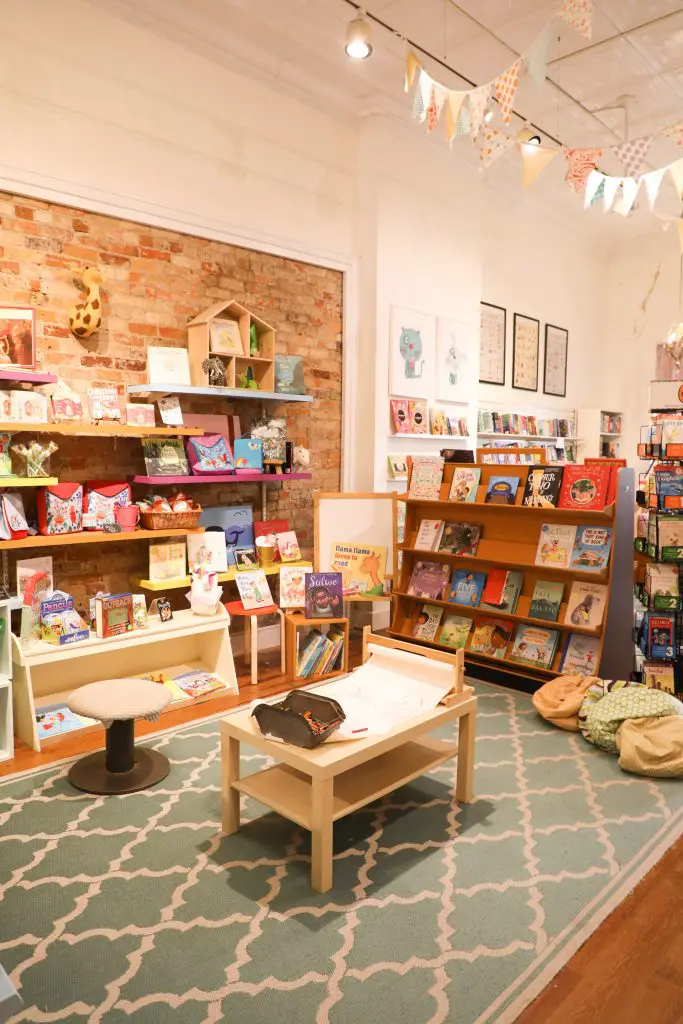 The Bookshelf BookstoreLastly, we walked a few doors down to The Bookshelf, an Uber-hip bookstore.  Mike gave us a sweet treat, as we finished our coffee.  Our parting gifts were tasty Georgia-shaped shortbread cookies that were made by a local baker, Marie's Kakes. The Bookshelf has a sizable and well-decorated kid's reading section.  My kids did not accompany me on this tour.  But the next time we visit Thomasville, I'll be sure to bring my kiddos to The Bookshelf so they can explore it.
Other Thomasville, Georgia Stops and Stories
In addition to all of the delicious eats to fill our bellies, Mike continued to inform and entertain us along the way.  He told us a number of stories about Thomasville's rich history.  During our tour Mike told the following stories:
Shortly after her husband's assassination, first lady Jackie Kennedy stayed in Thomasville for a few weeks;
There was a bricklaying mishap that had Main Street paved with bricks donning the name of a whole other city;
A theory about how free-range cows and other farm animals may have been the cause of a great fire that destroyed a lot of Thomasville's buildings;
 A wealthy Northerner spent millions of dollars (in the early 1900s) on Tiffany chandeliers or light fixtures to decorate a church for a wedding;
We stopped a few times to admire the architectural design of some of the buildings;
The life story of Thomasville native, Lt. Henry Flipper, the first black graduate of the U.S. Military Academy at West Point and we were advised to check out the wonderful artifacts housed at Jack Hadley's Black History Museum;
We continued our search for the lost quail, which are bronze-like figures placed in various places as a sort of scavenger hunt for visitors.
Mike was entertaining and knowledgeable, so much so that our allotted three hours zipped by. If you're planning a visit to Thomasville, Georgia, I highly recommend adding the Taste of Thomasville Food Tour to your list of things to do!
Booking Your Booking Your Tour of Thomasville, Georgia 
This company also hosts the Taste of Thomasville After Hours Tour, which includes alcoholic beverages and offers a tour of some of Thomasville's nightlife.
Disclaimer: I received a free ticket for the purpose of providing a review.  As always, all opinions are my own.