(Last Updated On: October 1, 2022)
Looking for amazing photos of Antarctica? Well, I've got you covered.  Antarctica is a travel bucket list destination for many.  The great white continent, land of ice, home to the South Pole, and the 7th and last continent for most adventurers.  I visited Antarctica on a cruise with Quark Expeditions.  It was such a fantastic journey that ironically I – a travel journalist and woman of many words – have struggled to find the right words to adequately describe it.
The 7th continent is so much more than a travel destination.  It wasn't anything like any other place I've encountered … the deafening silence, colossal icebergs, epic landscapes, and vast wilderness resulted in an incredible, awe-inspiring, and ultimately life-altering experience. Antarctica is, by far, the wildest, most unspoiled place I've ever beheld and it is stunning.
[This post on Photos of  Antarctica was originally published in September 2019, and updated May 2022.]
Map of Antarctica Peninsula
I visited Antarctica on a 12-day cruise of the Antarctica Peninsula with Quark Expeditions.  My journey started in February which is the perfect time to visit Antarctica since, its during summer season in the Southern Hemisphere. My cruise departed from Ushuaia, Argentina and crossed the Drake Passage. It took us two days to reach the Antarctic Peninsula. 

Photos of Antarctica
Below you'll find a collection of some of my favorite photos of Antarctica from my trip. I have one caveat though, photographs do not fully capture the size/scale of the mountains and the experience of utter silence that accompanies visiting the most remote place on the planet.  But I hope these help give you an idea of what the experience is like just in case you decide you want to visit for yourself one day.
Although Antarctica is uninhabited, it is teeming with life.  While on the continent I saw Humpback whales, two of the eight types of penguins (chinstrap and gentoo),  leopard, fur, and Weddell seals, a pod of  killer whales and countless birds. 
Photos of Antarctica: Wildlife
Of all of the wildlife in Antarctica, penguins were the most abundant.  When we visited in February, the young penguins had begun molting, the process of shedding their fuzzy fur for the sleek feathers the penguins are known for.  Each day on our cruise we would leave the ship on Zodiac to explore the peninsula. While penguins are super cute, they're also super smelly. Large penguin colonies were settled at nearly all of our stops I could detect the existence of a rookery from miles away. 
Photos of Antarctica: Icebergs 
During our daily Zodiac excursions, we saw a number of icebergs of varying sizes and colors. Some of these large floating ice chunks were so large they looked like islands.  Most of them appeared to be blue or white in color. We weren't able to get too close to them, we were warned that they are very unstable and known to crack and break or roll without any warning which is a hazard.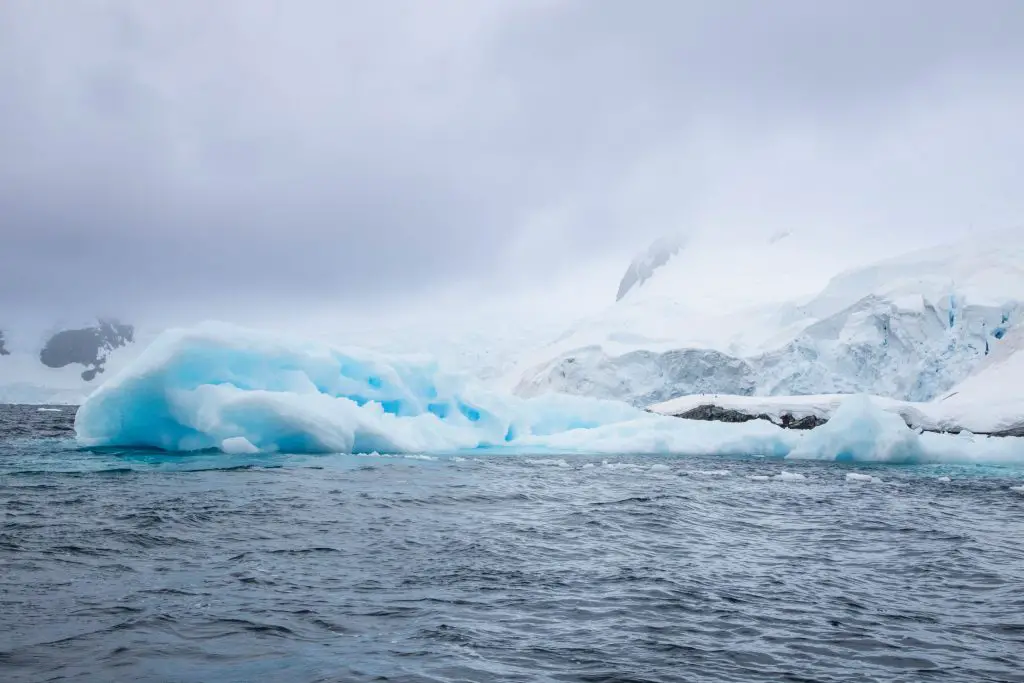 Photos of Antarctica: Melting Glaciers 
One of most jarring, striking, awe-inspiring experiences I had while visiting Antarctica was witnessing the calving of a glacier.  Calving ice sounds like a loud prolonged cracking noise, followed by the boom when the large piece of ice impacts with the water.
After spending days blanketed in silence, I nearly jumped our of my skin when the sound first started. Unfortunately, I did not capture it on film.
Photos of Antarctica: Research Station
While on one of our daily zodiac excursions we cruised by the Melchior Research Station.  This Argentine Antarctica scientific research base is located on Gamma Island. It was established in 1942, as the main source of Antarctic weather forecasts in 1952. The research station is made of four buildings can house 36 crew members.  
Photos of Antarctica: Cape Horn, Chile
Cape Horn. Chile is the northern boundary of the Drake Passage and marks where the Pacific and Atlantic Ocean meets.On our way home from Antarctica, we passed by Cape Horn, Chile.  When the captain made the announcement that Cape Horn was visible from the deck of the ship, many of us scrambled to the deck to get a glimpse. 
Photos of Antarctica: Environmental Impact 
Travel to Antarctica is not for everyone. I was concerned about the environmental impact of tourism to the most remote continent on earth. I did not make the decision to visit lightly. While the International Association of Antarctic Tour Operators (IAATO) has some strict regulations regarding tourism in Antarctica.  I chose Quark because of their policies to limit their carbo emission and a very significant "leave no trace" mission. 
I hope my pictures of Antarctica serve as inspiration for your travels.  If you found this post on Photos in Antarctica helpful, you might also like:
Pin for later: