(Last Updated On: October 11, 2022)
Need some ideas for your family's summer travel in 2021? Life as we knew it was altered considerably in 2020. With highly anticipated trips canceled, many of us were stuck at home and left feeling isolated. Life has started to slowly return to normal and new social distancing guidelines are put in place to allow us to travel safely, the idea of travel is finally back on the table.
With the travel bug itching now more than ever, it's the perfect time to discover the beauty right here in our own backyard. From kayaking in Yellowstone to museum-hopping in Richmond, the United States is filled with tons of fantastic summer break destinations for families. To give you a head start on your vacation planning, I've rounded up my top choices.
Here are the top 23 summer vacation destinations for families in 2021:
1. Memphis, Tennessee
Widely known for its phenomenal barbecue and blues music, Memphis is a lively and affordable place for families to visit. It also has a rich cultural history and is filled with museums to explore with the family. If you're interested in learning about American history visit the National Civil Rights Museum, and Slave Haven. Music lovers can tour Stax Music, Sun Studios, and Elvis Presley's Graceland. If you're looking for a summer destination with mouthwatering food, famous museums, Memphis is the spot for you. If you have a little extra time, you can drive approximately 45 minutes south of Memphis to visit the Tina Turner Museum which is part of the West Tennessee Delta Heritage Museum in Brownsville.
2. Yellowstone National Park, Wyoming
America's first designated national park is a bucket-list destination for travelers from all over the world. From famous geysers and hot springs to cascading waterfalls and sparkling lakes, Yellowstone National Park is filled with astonishing natural beauty. Summer family-friendly activities in Yellowstone include rafting, hiking, swimming, horseback riding, ziplining, wildlife spotting, and kayaking.
3. Alexandria, Virginia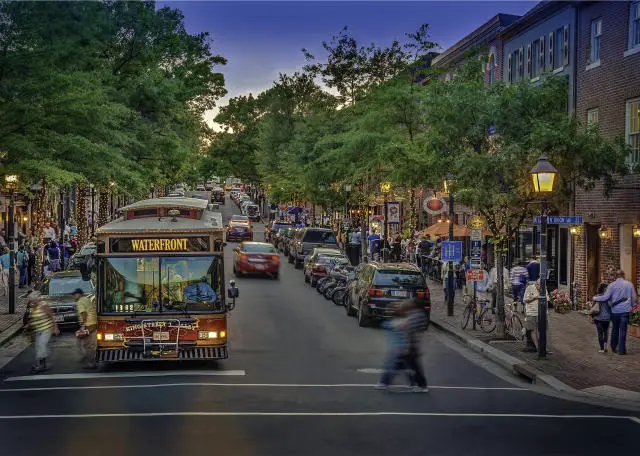 Located along the Potomac River just a short drive from Washington DC, Alexandria is a thriving city best known as the hometown of America's first president George Washington. From waterfront dining and trendy boutiques to prominent museums and well-preserved 18th-century architecture, Alexandria makes an exciting and enriching summer vacation destination. If you happen to be visiting this DC suburb on a Saturday, check out the Old Town Farmers' Market. It's one of the oldest farmers' markets in the United States.
4. New Orleans, Louisiana
From the delicious Creole cuisine to the abundance of live music and exciting attractions, the historic city of New Orleans makes a fantastic U.S. destination for family summer vacations. If your children love music, consider taking a day jazz cruise aboard a steamboat.
5. Chapel Hill, North Carolina
This charming city made this list not only because it is the home of my alma mater, the University of North Carolina at Chapel Hill, (Go Heels) but it's consistently placed on lists of top U.S. destinations to visit. From its unique murals to live music, and breweries, there's plenty to see and do in this quaint town that's also the home of the U. It's also part of North Carolina's Triangle Area, which means it's just a short drive away from popular cities Raleigh and Durham.
6. Jackson Hole, Wyoming
If you've got a family of adventure seekers or outdoors enthusiasts, Jackson Hole should be near the top of your bucket list. From staggering mountains to picturesque lakes, Jackson Hole is teeming with breathtaking natural beauty everywhere you turn. Family-friendly activities in Jackson Hole include whitewater rafting, hiking, swimming, rock climbing, horseback riding, and ziplining.
7. Nashville, Tennessee
Music City may be the bachelorette capital of the U.S., but it's also a phenomenal city for a family vacation. The food is amazing, the attractions are plentiful, and live music can be found all over the city. Top family-friendly attractions in Nashville include the Country Music Hall of Fame, the Grand Ole Opry, Broadway, the Parthenon, and the National Civil Rights Museum.
8. Astoria, Oregon
Astoria is a charming town that lies on the shores of the Columbia River, about two hours from Portland. As the first European settlement on the West coast, the town is filled with exciting historic and cultural sites for families to enjoy. Astoria is also home to tons of breweries, museums, and even a real-life shipwreck found in Fort Stevens State Park. For fans of the 1980s movie hit The Goonies, there's also a few tours available to explore sites in the city that were featured in the classic film.
9. Loudoun County, Virginia
As is the case with many areas in Virginia, Loudoun County is loaded with historical sites like Ball's Bluff Battlefield Regional Park and Aldie Mill Historic Park. The area has tons of fun activities for families; like museums, farms, adventure parks, sporting complexes, and wineries. Loudoun County is well-known for its historic charm and natural beauty, making it a popular spot for family vacations.
10. Austin, Texas
Known as the Live Music Capital of America, Austin is a vibrant and popular destination for travelers of all ages. It's filled with an abundance of exciting outdoor adventures, a rich arts and culture scene, and incredible food. From botanical gardens and museums to zipline adventures and river cruises, there's no shortage of fun things to do in Austin
11. Savannah, Georgia
The coastal city of Savannah is nationally regarded as one of the South's top travel destinations. As one of the oldest cities in the country, there is an abundance of historical landmarks found throughout the city. Top family-friendly activities in Savannah include strolling down the famous River Street, horse-drawn carriage rides, riverboat cruises, hop-on-hop-off trolley tours, museum-hopping, and driving over to the nearby Tybee Island to hit the beach.
12. Boston, Massachusetts
If you consider yourself a history buff, Boston likely already has a spot on your bucket list. From fun Boston Tea Party reenactments to renowned museums and historic forts, your family can have tons of fun learning about Boston's rich and exciting history. Admire the stunning old-world architecture, explore the beautiful public gardens, catch a game at Fenway Park, or take in a show at the Boston Symphony Orchestra. The options are endless.
13. Oahu, Hawaii
Home to Hawaii's capital city, Honolulu, the island of Oahu looks like something straight out of a postcard. There are many exciting things to do in Oahu like hiking, scuba diving, surfing, visiting the national monuments in Pearl Harbor, and taking in the rich and diverse culture. For families with Disney-loving children, there's even a Disney resort called Aulani that you can stay at.
14. Assateague National Seashore, Maryland
Known for its sandy beaches and wild horse sightings; Assateague Island in Maryland is a popular destination for those in search of a relaxing getaway. The coastal park spans 48,000 acres of wilderness and is one of the largest mid-Atlantic barrier islands.
15. Chicago, Illinois
If you're looking to switch it up this summer with a city trip, Chicago makes a fantastic choice. The beautiful windy city is filled with family-friendly museums, parks, and cultural attractions. If you have older kids, enjoy a family food tour by bike through downtown Chicago. If you have a family of pizza lovers, don't forget to try the famous deep-dish pizza during your trip to Chicago.
16. Anaheim, California
Most well-known for being the birthplace of Disneyland, Anaheim is one of the most popular travel destinations on the West coast for families. In addition to being the home to one of the most famous theme parks in the world, Anaheim also has a variety of adventure parks and popular shows like the Harlem Globetrotters and Stars on Ice.
17. Niagara Falls, New York
As one of the most famous waterfalls in the world, Niagara Falls is a geological wonder that brings in millions of tourists each year. Not only are the falls a spectacular sight worth seeing, but there's plenty of excitement to be had in the area as well. Top activities in Niagara Falls include viewing the falls by boat, amusement parks, museums, and the Buffalo Zoo.
18. Richmond, Virginia
Virginia's historic capital is a popular destination for families from around the country. Richmond is incredibly rich in history, has an incredible arts scene, and is filled with stunning natural beauty. From strolls along the waterfront to enriching days spent at the city's many museums, there's plenty of fun to be had by families.
19. Moab, Utah
If your family loves the outdoors, Moab is an absolute must-see destination. The city is home to national parks like Arches National Park and Canyonlands National Park, which are filled with incredible scenery that you'd have to see to believe. Popular family-friendly things to do in Moab include river rafting, hiking, biking, and ATV riding.
20. Sevierville, Tennessee
This city is not only the backyard of the Great Smokey Mountains National Park but it's also the hometown of country music royalty, Dolly Parton. While in this neck of the woods be sure to visit Ms. Parton's theme park Dollywood, and stop by the town square to take a selfie with the life-size statue of the superstar.
21. Steamboat Springs, Colorado
Although Steamboat Springs is a popular ski destination, this city packs in the fun even during the summer months. Known as "Bike Town USA" in the warm months bikers flock to the area to explore the city on two wheels. The city boasts of having bike trails for every ability. Additionally, visitors can enjoy soaking in hot springs, hiking, kayaking, and fly fishing. If you're looking for a destination filled with beauty and adventure, Steamboat Springs is a great location.
If you enjoyed this post, you will find the following articles helpful:
Pin for later: