(Last Updated On: May 27, 2022)
If you're ready to take an international family trip, one of the first steps in the planning process is to make sure that everyone in your family has a passport – that includes the smallest members as well. But the passport application process is a bit different for anyone under the age of 16. 
Travel is the best education.  Travel has afforded me opportunities to meet interesting people and have transformative experiences. Through those experiences, I've learned so much about myself, the world, and my place in it.  As a mom, I love to travel abroad with my family so that I can share those lessons with my children. We took our first international family trip to Sydney, Australia, our oldest was four and our youngest was 18 months old.  When going through the passport application process, I learned that applying for a passport for your child is a different experience than applying for an adult passport.
Here's how to apply for a passport for kids to help make the application process easier.
Passport Requirements for Minors
In the United States, a minor passport is issued to children under the age of 16.  Anyone above 16 years of age receives adult passports.  
1.  Get a Passport Application
Go to trave.state.gov and print the DS-11 Application for a U.S. Passport. Use the Children Under 16 menu to help walk you through the process. If your kids are 16 or 17 years old, click here.  There is also an option to complete the online fillable version and print it off once complete.
2.  Passport Photos
You will need 2 x 2 photos of your child to submit with your application. You can take the pictures yourself, but I think it's easier to have someone else take the photos.  For a fee, you can get the passport photos taken at a local UPS store, Walgreens, CVS, or post office.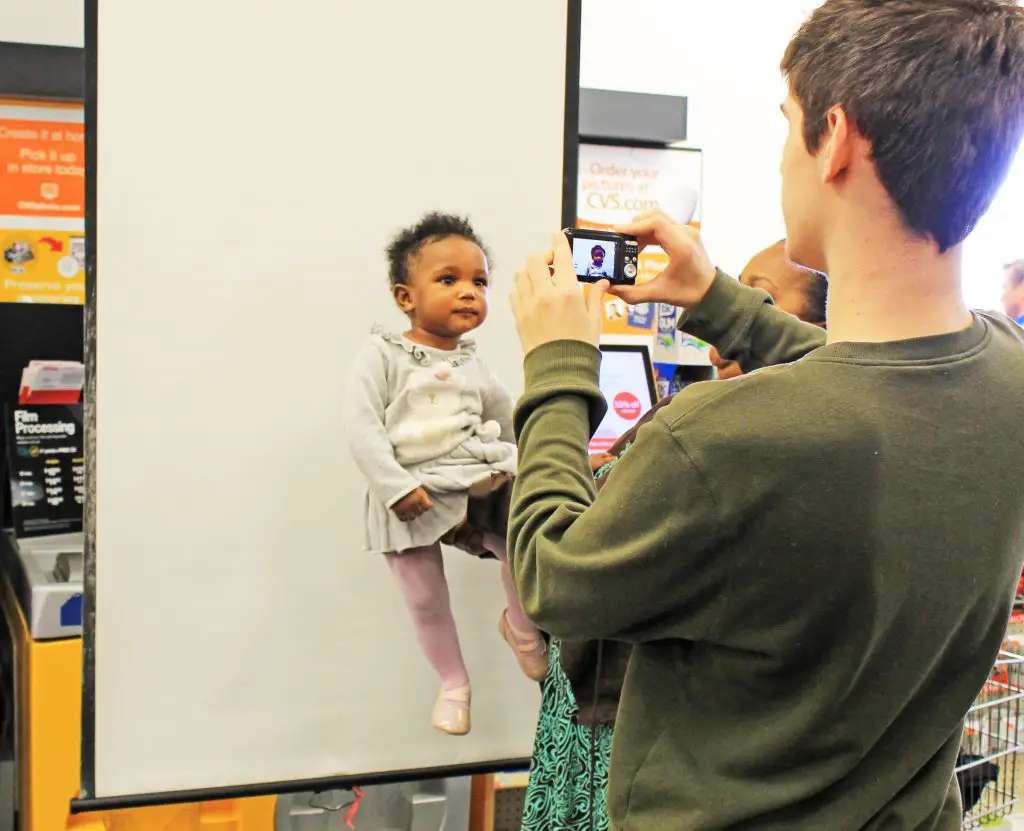 3.  Make an appointment
Make an appointment at your local Passport Acceptance Facility. If you're not sure where to find one near you, check here.
What You'll Need for Your Passport Appointment
4.  Evidence of U.S. Citizenship
Bring proof of your child's U.S. citizenship. A birth certificate should be sufficient as proof of citizenship, and it also establishes the parental relationship with the child/applicant, which is also a required step of the application process. If you do not have a birth certificate, click here for acceptable alternatives.
5.  Show Parental Relationship 
The passport application for a minor is easiest if both parents can be present when applying for the passport. It is required that the parental relationship to the child applying for the passport be proven. The following documents may be used to show the parental relationship and must be an original or certified copies:
U.S. birth certificate (which also serves as proof of U.S. citizenship)
Foreign birth certificate
Consular Report of Birth Abroad (also serves as proof of U.S. citizenship)
Adoption decree
Divorce/Custody decree
6.  Present Identification
Each parent in attendance will be required to present a form of photo identification during the passport appointment. Valid forms of ID include:
In-state, fully-valid driver's license
Valid or expired, undamaged, U.S. passport
Certificate of Naturalization or Citizenship
Government employee ID (city, county, state or federal)
U.S. military ID or military dependent ID
Valid foreign passport
Matricula Consular (Mexican Consular identification, this is commonly used by a parent of a U.S. citizen minor applicant.)
7.  Show Parental Consent
If both parents cannot be present, parental consent of the absent parent must be submitted by completing a Form DS-3053, Statement of Consent. This form must be signed and notarized.
How much are Passports for Kids?
8.  Pay Fees
Be sure to bring money to your passport appointment to pay the fees. There is a passport and a separate execution fee. These two fees must be paid separately.  To calculate the passport fees, check out the fee chart here.
How Long Will it Take to Receive a Passport?
9.  Passport Processing Time
Now that all documents are submitted and fees paid, you might be wondering how long does it take to receive the passport? Routine processing of your passport application takes 8 to 11 weeks. If you're in a rush, for an additional fee, you can expedite the application process and get your passport in 5 to 7 weeks. 
10.  Sign the Passport Book
Once the passport arrives, the inside of the passport book will need to be signed.  You can have your child sign on the signature line. If your child isn't old enough to sign, a parent or legal guardian can sign for them by printing the child's name, and signing their name next to it.
How Long Does the Minor's Passport Last?
11.  Minor Passport Validity
Passports for minors are only valid for 5 years.  That's half the life of an adult passport. So you will need to renew their passport before it's time to renew your own. You cannot renew minor passports by mail, so you will have to run through this gauntlet all over again.   
* DISCLOSURE: This is not legal advice. I am providing information on our experience with the United States Passport application process and the U.S. Passport Agency.  Please use the official United States Government Website, www.travel.state.gov, to answer any additional questions.
If you found this post on Applying for a Passport for Your Child helpful, you might also like:
[This post on How to Apply for a Passport for Your Child was originally published in March 2018, and updated May 2022.]