Experience the best of New York City's architectural history, culture, and diverse cuisine while staying in a swanky retreat in the heart of the Big Apple. Just a short distance from Manhattan's bustling Grand Central Station, you'll find condo-style amenities combined with great customer service at the Club Wyndham Midtown 45 resort. Upon check-in, I was greeted by the resort staff with an apple (for the Big Apple) and a "glass" of sparkling wine from the staff.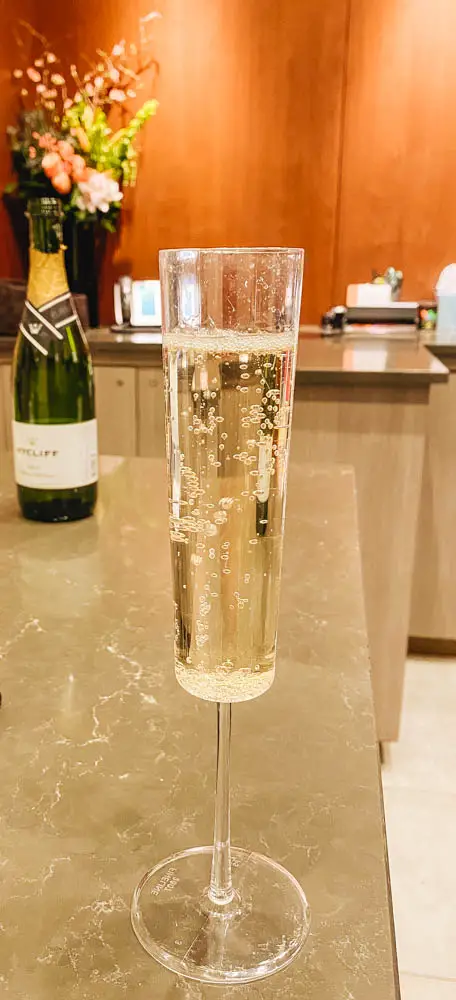 Club Wyndham Midtown 45 surpassed my expectations for a much-needed solo getaway (insert: Momcation). Centrally located, this resort is walking distance from the midtown Manhattan business district, Madison Avenue, Park Avenue restaurants, and Fifth Avenue shopping.  There's something extraordinary about this resort. Even though the resort is located in the heart of Manhattan, once I entered the building I couldn't hear any evidence of the outside hustle and bustle of the Big City.
My boutique-style, one-bedroom suite overlooking New York's iconic skyline was the perfect oasis for a mom looking for a weekend self-care getaway. There are a number of room options at Club Wyndham Midtown 45. I stayed in a One-bedroom Deluxe which comes with a kitchenette equipped with everything you'll need to prepare and enjoy meals. There's a dining table, separate living room area which doubles as a guest room since it has a queen-size sleeper sofa.
There is a separate bedroom that has a king-sized bed, two closets, one dresser, and wall-mounted flat-screen television.
There's one bathroom that is accessible from the hallway outside of the bedroom. The bathroom includes a bathtub/shower combination, a pedestal sink, a small vanity mirror, and a television.
My favorite feature of the room was the breathtaking view of the Empire State Building. Every time I looked outside, I was reminded of the fact that I was in the Big Apple.
In addition to the one-bedroom suites, you can book a studio, or two-bedroom resort suite as well.
Video Walk-through
In a Nutshell
Pros:  The king-sized bed was very comfortable. There's a sleeper sofa in the living room for guests. The kitchenette has a large refrigerator, microwave, toaster, coffee machine, and comes equipped with dishes, and utensils. The bathroom has a shower/tub combination with a TV.
Cons: The living room was a bit small but it's New York City. The sofa in the living room was really firm and therefore not comfortable to sit on.
Amenities
24-hour fitness center
Private meeting spaces
Valet parking
Free Wireless internet for up to four devices.
VIP Owners' Lounge: There's an exclusive lounge on the 33rd Floor for VIP guests. The VIP Lounge offers coffee, tea, water, and light snacks throughout the day. There's even a terrace where VIP guests can enjoy spectacular views of the Empire State Building and the Hudson River.
Costs
One-bedroom typically costs $249+ a night. Parking costs $55 per vehicle, a night for a small vehicle, $80 a night for large vehicles, and $110 a night for pickup trucks or large vans.
Address
205 East 45th Street, New York, NY 10017
Overall, Club Wyndham Midtown 45 in Manhattan exceeded all of my expectations. You'll enjoy every minute at this resort with swanky accommodations, amazing hospitality, and a variety of activities that you and your family will enjoy.
Disclaimer:  *We are owners with Club Wyndham. We were not compensated for this review. All opinions are my own.*