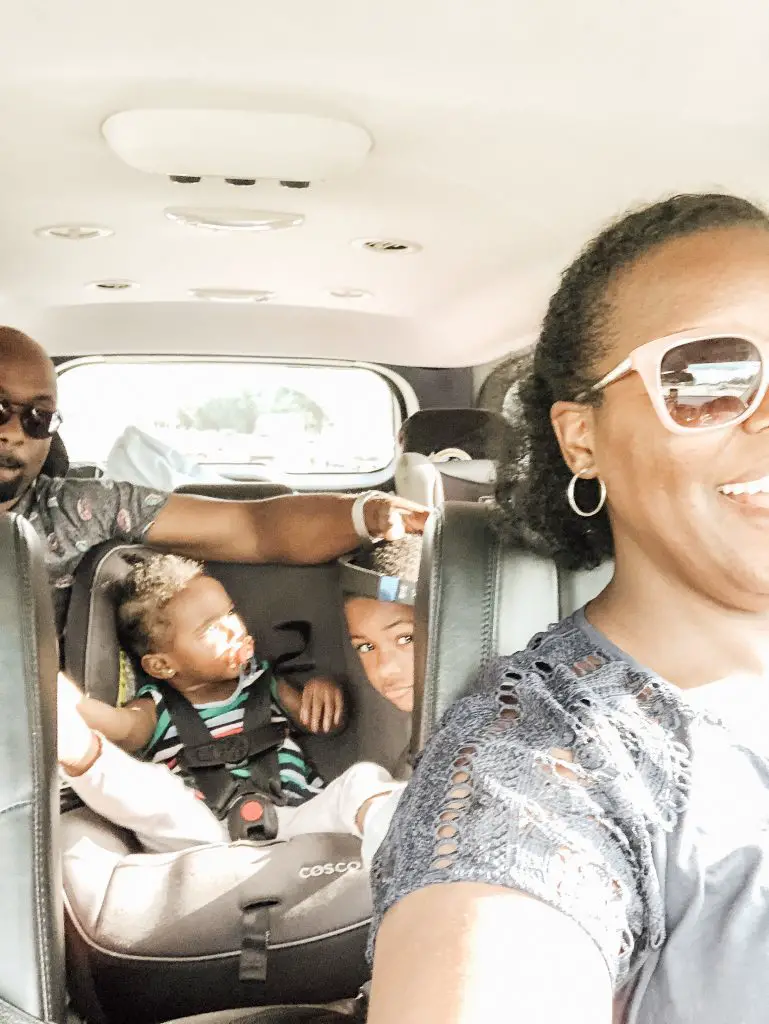 Updated December 23, 2019
As a kid, I LOVED road trips. Being on the open road, enjoying the change of scenery, seeing new places and meeting new people excited me. But as a momma of two young children, road trips have become the stuff that nightmares are made of.
Our oldest child (Aubrey, 5) is okay with any car ride that's as long as an Avengers movie.  That's about 3 hours, thanks to Stan Lee.  But our youngest (Austen, 2.5) hates being restricted; ergo car seats are the devil.  She's getting better with this as she gets older but any car trip longer than an hour equals a meltdown.
Last year, we decided to take the bull by its horns and work to make car travel easier for our smallest passengers.  We figured ease for the little ones would translate into ease for us parents.  And it worked!!!  I'm not saying that there weren't any meltdowns or that we still didn't have to make a bazillion stops for potty breaks…but I am saying that tweaking our road trip preparation routine is very helpful.
Road Tripping with Small Kids: Top 10 Tips
Taking the steps below helped to reduce our stress which made the overall road trip experience more enjoyable.
1. Download a New Movie
Download a new movie before hitting the road. A new flick should occupy your children for a couple of hours.  As I mentioned, my son loves superhero movies.  He can watch the same video a bazillion times.  But nothing captures his attention like a brand spanking new superhero movie.
2. Pack Plenty of Snacks and Water
Bring snacks that your children love to eat.  I like to pack dry snacks since they are easier to clean up.  I also pack the snacks in individual Ziploc bags for each child.  Lord forbid that they would have to share.  World War III might pop off in the backseat.  Nobody needs the added stress.
3. Use Tablets/iPads and Chargers on your Road Trip
Technology is a gift… use it.  Both of my children have Kindles, and I do not hesitate to use them for a bit of entertainment.
4. Allow Each Child to Choose A Toy to Bring
Allow each child to select a toy they'd like to have with them in the car. The toys come in handy when the kids get tired of playing with their tablets and watching movies.
5.  Make Stops Fun
Look for a playground on your route and plan to stop to let the kiddos play.  You can enjoy a snack or lunch while the kids run off their energy.  Having a little break from the confines of the vehicle is great for everyone.
6. Bring Wipes and Napkins for your Road Trip with Small Kids
It's always a good idea to keep wipes or napkins on hand.  I'm a bit of a germaphobe, so I ALWAYS carry antibacterial wipes in my purse.  But it would be a good idea to have a pack of diaper wipes to clean off sticky fingers after a meal.
Here are the kind of wipes I typically use Wet Ones.
7.  Have a Relative Ride with You
Ask a family member to tag along, if you think you need some help.  I always prefer to travel with my momma.  The kids love spending time with her, and she makes travel with little people a cinch.
8. Have One Parent Sit in the Back During the Road Trip
If a relative can't ride along, take turns sitting in the back with the kids.  Having an adult in the back makes handing out snacks easier.
9. Be Prepared for Potty Training Mishaps
Pack a full change of clothes, to include a spare pair of underwear.  If your children are potty training or just finished potty training, it would be a good idea to have some pull-ups in the vehicle too.
10. Relax and Enjoy Road Tripping with Small Kids!
Don't read up on road trip horror stories the night before your big trip like some people.  I am some people.  Seriously, relax and enjoy the adventure. Try to remember that your kids will get bored and it's okay.  In fact, in my opinion, boredom is good for kids.  As kids, before the advent of tablets, we were bored and we survived!  Boredom builds character.
Have any good road tripping with small kids stories of your own?  Share them in the comment section!