(Last Updated On: February 17, 2023)
The Blossom Kite Festival is one of many events planned during the National Cherry Blossom Festival, in Washington, DC. This year, the National Cherry Blossom Festival runs March 20-April 16th and the Blossom Kite Festival is slated for Saturday, March 25th. The National Cherry Blossom Festival's website is a great resource to help locals and visitors stay on top of all the festivities taking place in the city.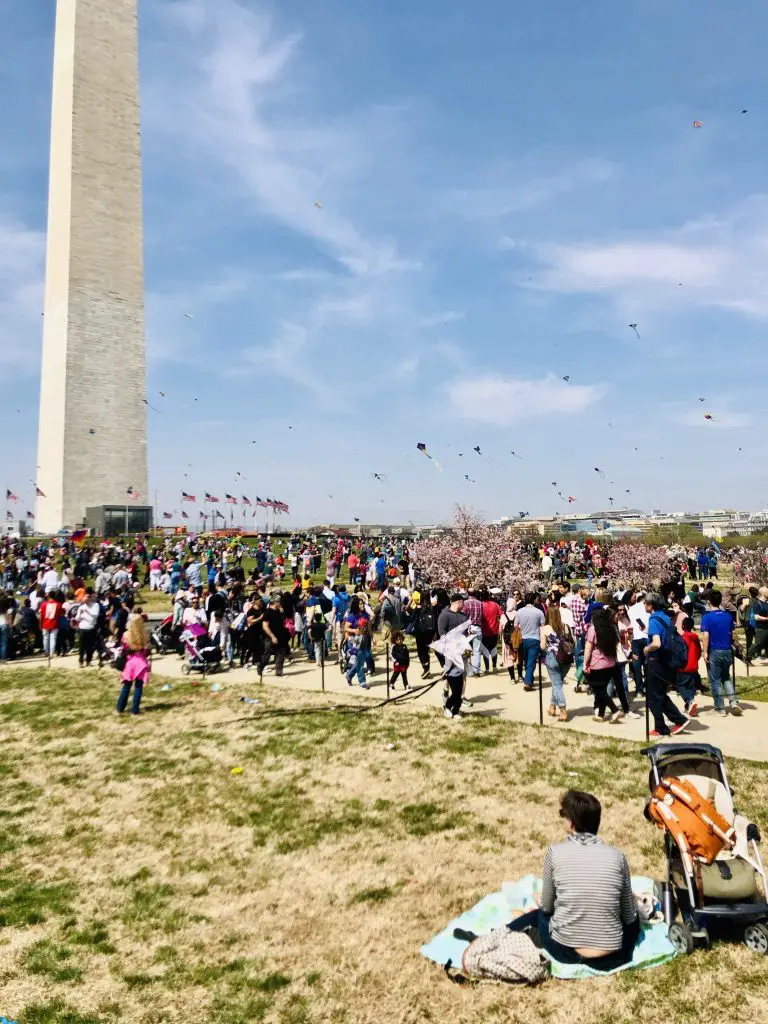 Updated February 2023
Where is the Cherry Blossom Kite Festival
The Blossom Kite Festival takes place on the grounds of the Washington Monument, near 15th Street and Constitution Avenue, N.W., in DC.  There is no cost to attend. But the Kite Festival is usually scheduled during peak bloom for the cherry blossoms, meaning that droves of people will visit the National Mall to see them. Which makes finding parking near the attractions difficult. So, anticipate paying a fee to park.
The Best Way to Get to the Cherry Blossom Kite Festival
We made the mistake of driving directly to the Tidal Basin and immediately regretted the decision.  We were stuck in bumper-to-bumper traffic for about 30+ minutes.
When we exited the Metro we realized that the crowds were so large that even the sidewalks were crowded.  Despite having to change our plans and walk a few blocks to get to the Blossom Kite festivities, seeing hundreds of kites in flight with the Washington Monument as a backdrop made the journey worth it.
Many families were sprawled across the National Mall, either participating with their own kites or just watching as others tried to get their kites airborne.  If you decide to attend next year, you can bring a kite you already have, or make your own at the Kite Makers activity station on the Public Field.  During the festival, there are kite flying competitions for young ones and professionals alike, including a Hot Tricks Showdown, and Rokkaku Battle.  All information about events scheduled during the National Cherry Blossom Festival can be found here.
Photos from the Cherry Blossom Kite Festival
Here are some of our favorite photos from this year's Blossom Kite Festival. We spent most of our time at the festival trying and failing to get our kite off the ground.  Unfortunately, it had been a while since my husband and I had flown kites.
There will be many food options from dozens of food trucks lined up along 14th Street.
Some of the lines for the more popular trucks were really long.  It was a warm day when we attended the Kite Festival.  We opted to get ice pops but had to wait for a little over 30 minutes to get them from an ice cream truck.
My little ones had an amazing time at this fun-filled event that catered to their interests.  We are definitely planning to make this an annual tradition.
3 Cherry Blossom Kite Festival Pro-tips:
If you decide to attend the Blossom Kite Festival, pay to park and either catch an Uber/Taxi or walk along the National Mall to the Washington Monument to avoid the terrible traffic near the festivities.
Bring a blanket so you and your family can sit and enjoy the show as professional and novice kite flyers show off their skills.
If you don't want to bring your own lunch, don't fret…there will be plenty of food trucks along the National Mall.
If you found this post on the Cheery Blossom Kite Festival helpful, you might also like:
Planning a trip?
Planning a trip and looking for some travel tips to help you save money and ease the stress on your next family adventure? Then click the links below to read exactly how I plan my family's travel, save money on vacation, and more. 
Pin it for later: