(Last Updated On: September 18, 2022)
This post contains affiliate links which means that if you click and make a purchase I may receive a small commission, at no cost to you. All opinions are my own.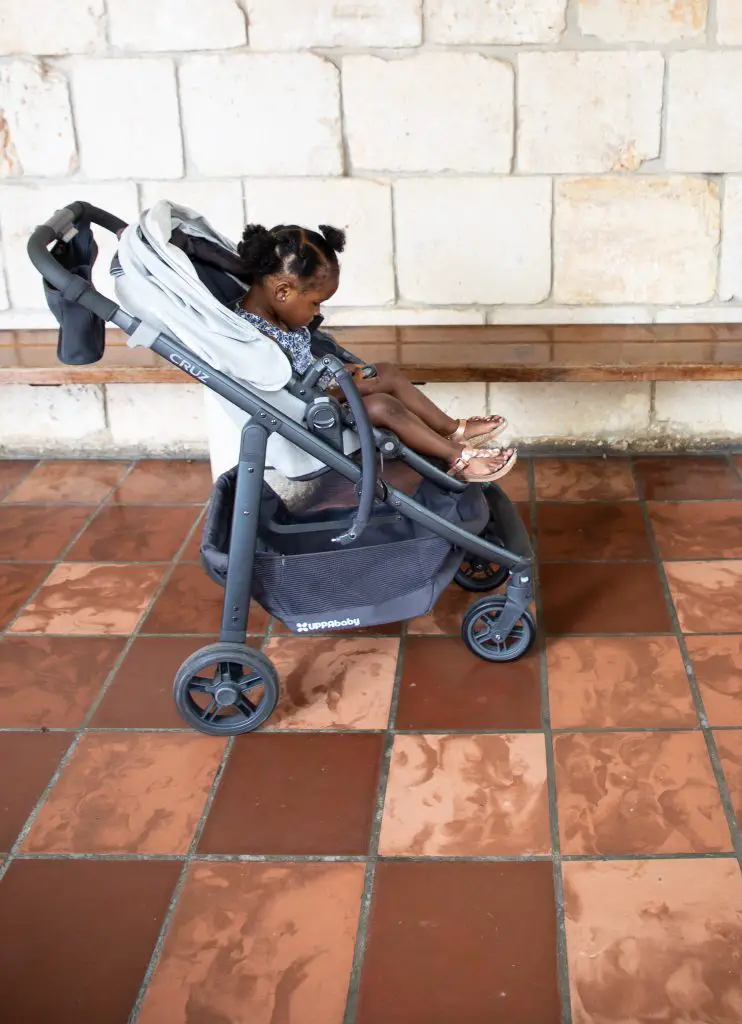 BabyQuip Rental Stroller at the Ancient Spanish Monastery in Miami, FL
Let's face it…traveling with toddlers/babies is stressful.  If you're anything like me, you pack almost everything in an attempt to preempt anything from kid meltdowns to all-out mutiny.  But overpacking only makes family travel cumbersome and even more difficult.
A couple of months ago I learned about a baby equipment rental company for traveling families called here) but I don't have a Cruz and I thought it would be fun to take it for a spin while on vacation.  The rental price for a BabyQuip stroller in South Florida is roughly $10 a day.
You can opt to have all of the equipment delivered and set up at your hotel, resort or Airbnb for an additional fee. I decided to save money and pick my rental stroller up. Since we were staying in Broward County, I booked my reservation with Devanne Barr, who lived nearby.  When I arrived to pick the stroller up,  I was pleasantly surprised by how IMMACULATE the stroller was.
The provider (Devanne) was so sweet.  In addition to making sure that the stroller looked almost brand new, Devanne and I had a chat about the area and some kid-friendly activities we should check out.  And as I was about to leave, she handed me a bag filled with stroller accessories to include a rain cover, snack tray, attachable fan, and a cute little coloring book for our daughter.  Austen loved the gift by the way!
How it works
Making my reservation was easy. I created a profile on the BabyQuip BabyQuip Locations">destination, selected a provider (all of whom have had background checks), entered my destination location and within a few minutes, I was done.  So easy!
The Plug
I thoroughly enjoyed my experience using BabyQuip and I'd TOTALLY use them again!!  Here's the link to the BabyQuip website.  Use my promo code MOMMAWANDERLUST to save 10% off your next BabyQuip rental.
*Disclaimer:  BabyQuip sponsored our rental stroller.  As always, all opinions are my own.
For help planning the perfect family check out my post on Top Family Travel Hacks.
Looking for more travel hacks and inspiration? Follow me on Pinterest.